What are the best guitars and amps in the world today?
Okay, we admit it: fundamentally, there is no one best guitar or best amp. Besides the fact that they come in countless shapes and sizes (Fender's Stratocaster and Gibson's Les Paul being the most iconic electric outlines), guitarists' needs are too wide-ranging to pick just one winning product. But we can recommend a host of instruments across several key price points.
Each of these categories feature only the most highly rated instruments from our rigorous reviews, ensuring that whichever one you pick, it will provide years of faithful service and great tone.
You could be after the best guitar for blues, rock or metal; an amp loud enough for gigging or quiet enough for home recording; an electro-acoustic guitar to plug straight into a PA or a vintage replica designed for use with mics. And then you get down to the nitty-gritty: pickup outputs, locking tremolos, tonewoods…
No matter what kind of music you play, or what you want to hear from your gear, we've got you covered: these guitars or amps are sure to hit the mark.
We've also singled out one product from each category that's noteworthy in some way, to give you a flavour of what you can expect when you dive in to our full electric, acoustic and guitar amp buyer's guides. So, without further ado…
Best electric guitars
Beginner guitarists and those on a tight budget have never had it so good. Whereas once the budget electric guitar market was awash with poorly made knock-offs, rising standards and production innovations have seen the big brands' Korea- and China-based factories turning out stunning models for the money.
In this gallery, we've gathered a selection of electric guitars that we reckon offer the best bang for the buck in the sub-£500/$750 market. You may recognise some of the perennial budget classics, but there's a raft of high-scoring options out there for the more adventurous...
Best semi-hollow and classiest looker: Gretsch G2622 Streamliner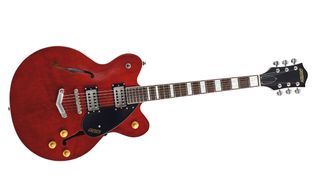 The Streamliner concept is simple: to create more affordable Gretsch guitars without losing their specific DNA.
So, this new range centres on three body styles: the large 406mm (16-inch) wide G2420T; the same-sized double-cut thinline G2622, with spruce centre block; and a downsized 340mm (13.375-inch) wide Junior version, the G2655. There are two Bigsby versions of each model (the only difference being the sole colour they are offered in), and one hardtail version that, along with a single G2622 lefty, creates a 10-strong range.
Despite the different styles, there are just two prices: the non-Bigsby versions cost £350; the Bigsby-equipped models and the lefty are £395, pretty much half the price of the existing Electromatics.
Read the full review: Gretsch G2622 Streamliner
Also: Yamaha Pacifica 112V, Cort Manson MBC-1 Matthew Bellamy Signature, more of the best budget electrics in our full round-up
What is the best mid-price electric guitar? £1,000 buys you a whole lotta axe. For a grand (or roughly $1,500 US) you can buy a brand-new instrument built for life on the road that will see you through hundreds of gigs and recording sessions.
Here we've gathered a carefully curated selection of the highest-scoring guitars to hit the mid-price category in the past few years. It's not all Fender and Gibson, either - there's a whole world of well-appointed designs now available outside of the high-end market.
Best for shred and metal fans: Charvel Pro Mod San Dimas Style 1 HH FR
This San Dimas echoes the Pro Mod spec sheet - Duncan pickups, neck profile and compound radius, switching arrangement - of the hardtail model, right until you get to the bridge bit itself.
Here, you get a Floyd Rose vibrato with locking top nut, with all the tuning stability and dive-bombing potential that entails. Like the equally Floyd-blessed So-Cal, here the vibrato occupies a recess in the guitar's top to allow you to pull back its arm. That means you can do those accelerating motorbike impressions everyone with a Floyd did in the 80s.
Read the full review: Charvel Pro Mod San Dimas Style 1 HH FR
Also: Fender Deluxe Series Roadhouse Stratocaster, PRS S2 Standard Singlecut Satin, more of the best mid-priced electrics in our full round-up
If you're lucky enough to find the £1,000/$1,500+ required to play with the more serious electric toys, you'll find the extra investment will, with a little care, buy you a guitar that should serve you faithfully for a lifetime.
In this £1,000 to £2,000 - or approx. $1,500 to $3,000 - section of the market, Fender still rules the roost, and you'll see a sizeable chunk of the Big F's big hitters, but premium builds with clever, cost-saving design tweaks are increasingly common.
Best for big rock tones: PRS S2 Singlecut
This is a thoroughly pro working tool that combines some pretty classic single-cut tones with lighter, brighter and edgier partial coil-splits to really expand the sounds you have at your fingertips.
It's a stark reminder of why some of us play PRS guitars: not because of the fancy maple tops or bird inlays, but because they are simply superb instruments for the working musician who's more concerned about getting the job done than the quality of the flame. If that's you, this guitar comes highly recommended.
Read the full review: PRS S2 Singlecut
Also: Gretsch G6118T Players Edition Anniversary, LTD BW-1FM/ET, more of the best high-end electrics in our full round-up
If you've got £2,000 (approx. $3,000)-plus to spend on an electric guitar, chances are you're looking for more than another plank to bash on weekends. This is the realm of the luxury guitar, the zenith of your G.A.S. ambitions - either a solo star, or the centre-piece of a collection.
However, with a big budget comes a big responsibility - and an even bigger range of potential six-string suitors. This kind of money gets you into USA Gibson and PRS territory, to the upper echelons of the Fender lines and - perhaps, more excitingly - to a world's worth of tone woods, exacting hardware specifications and incredible custom builds.
Endlessly desirable: Gibson True Historic 1960 Les Paul Murphy Aged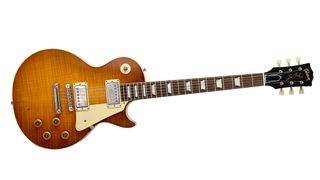 With the latest Les Paul Reissues boasting ever more vintage- accurate detail, Gibson has decided to change the name of the range to True Historic, to more accurately reflect what these guitars are all about.
All True Historic models (in '58, '59 and '60 guise) are available aged, for a hefty £1,750 up-charge; the legendary Tom Murphy is responsible for their creation, and they come with an exclusive hardback booklet proclaiming so.
Read the full review: Gibson True Historic 1960 Les Paul Murphy Aged
Also: PRS McCarty, Gretsch G6120T-55GE Reissue Chet Atkins and more of the best luxury electrics in our full round-up
Best acoustic guitars
When putting together this gallery of our best budget acoustic guitar picks, there were three key factors to consider: how does it sound, how does it look and, most importantly, how much does it cost?
Undoubtedly one of the most congested areas of the six-string market is the affordable acoustic guitars sector, where there are literally thousands of models and manufacturers to choose from.
This gallery contains the most popular and best-reviewed guitars we found. Among them there are some truly spectacular guitars on offer, acoustics that punch way above their weight and prove that affordable needn't mean cheap and nasty.
Not only do they all sound great, most - if not all - are easy on the eye, and best of all, they all retail at under £500 / $750.
Best all-rounder: Sigma OMR-21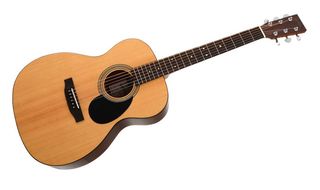 The diminutive, but nonetheless fully formed 14-fret OMR-21 exudes class and heritage. It has a solid Sitka spruce top, a satin neck, back and headstock crafted from laminated Indian rosewood and the mahogany neck appears of a high visual grade.
As a starter guitar for the serious student there's little to bemoan here and we suspect the OMR-21 will impress even the more experienced players.
Read the full review: Sigma OMR-21
Also: Washburn Woodline 10 Series WLO12SE, Martin Little Martin LX1, more of the best budget acoustics in our round-up
So, you want to buy an acoustic guitar? We've plucked the best mid-range guitars we've reviewed over the past five years to show you the very best of what's out there.
We've already looked at the best budget acoustic guitars, and now we're moving on to the mid-priced - that's instruments with suggested retail prices of between £500 (that's around $790) and £1,000 ($1,590). Some official SRPs will have gone up slightly since the time of review, but many in-store/web prices from retailers will be lower.
Every guitar in this guide has been reviewed within the past five years and gained a minimum of a 4-star rating. That means we feel their build quality, sound, playability and value for money are not in question at their relative price points.
In this price bracket, the vast majority of guitars feature solid tops, and all-solid builds are increasingly common. You'll find preamp and pickup systems onboard many of these models, too, making for quick and easy live performances and recordings.
Perfectly formed downsized dread: Martin Dreadnought Junior
Unlike Martin's own X Series, or indeed, the minimalist cool of Taylor's Big Baby, the Dread Junior might be downsized, but it's very grown-up in build, with all-solid wood construction, proper mortise and tenon neck joint, a bound top edge and simple soundhole rings.
Internally, the X bracing and struts are finely done in classic style. Then there's that headstock, again slightly downsized with regular small-button tuners and the all- important, and full-size, logo.
Read the full review: Martin Dreadnought Junior
Also: Taylor Big Baby Taylor-e, Yamaha CPX700II, more of the best mid-range acoustics in our full round-up
These guitars are very best of the high-end, the guitars that are reserved for those lucky folks who have north of £1,000 (or $1,500) burning a hole in their pockets.
All of the guitars in this gallery are either time-proven classics or have been reviewed within the past five years and have gained a minimum of a 4.5 star rating. That means we feel these models' build quality, sound, playability and value for money are not in question at their relative price points.
Here, you're looking at the best of the best in terms of build quality and tonewoods, while the trend for pre-aged wood via torrefaction processes is making it possible to buy new acoustics that already sound like well-worn vintage classics.
Beautiful 'bird: Gibson Hummingbird Vintage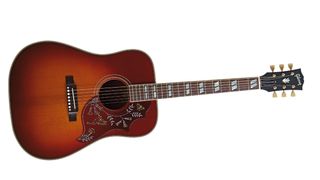 Acoustics sound bad, good, very good or great au naturel and the Hummingbird certainly has an air of greatness about it. The consensus was that its main attribute was clarity and separation.
Play a chord and you get an almost three dimensional effect, where every note has its individual place in space without any tendency at all to descend into a mush at any point.
Read the full review: Gibson Hummingbird Vintage
Also: Martin 000-15M, Taylor 814ce, more of the best high-end acoustics in our full round-up
Best guitar amps
From tiny desktop amps to do-it-all modelling machines and tasteful vintage-aping valve combos, there has never been a better choice of affordable amps available.
Of course, a low price point is nothing without a strong tonal performance, so in this gallery we've gathered every amp reviewed in the last four years (and still available) that scored at least 4.5/5 in our stringent reviews process.
We believe these amps represent the best bang-for-your-buck value in the world today - ideal starting points for beginners, those looking for a small 'at home'/studio boxes, gigging guitarists and, of course, those among us who just can't help themselves.
Budget brown sound: EVH 5150 III LBX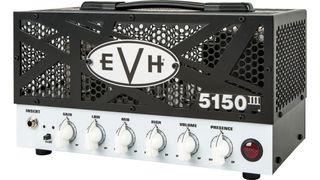 While the 5150 LBX is small, there's no compromise in the construction or circuitry. It's built to a very high standard, with a robust printed circuit board holding most of the components, and a tough steel chassis supporting two oversized transformers.
The 5150's preamp section is all-valve, with no less than five 12AX7s generating a huge onslaught of rock and metal overdrive tones. The designers have opted to do away with the clean channel and keep the blue (crunch) and red (lead) channels everyone uses, so the smart front panel is clear and easy to understand, with controls for gain, low, mid and high EQ, volume and presence.
Read the full review: EVH 5150 III LBX
Also: Orange Micro Dark, Blackstar ID:Core BEAM, more of the best affordable amps in our full round-up
If you're forking out between £500/$650 and £1,000/$1,300 on a guitar amp, you expect great tones and the reliability to keep them singing every night - and that's precisely the case with any of the heads and combos that lie ahead.
The majority of the best amps in this sector are still tube/valve-based but they span a huge range of formats The majority of the best amps in this sector are still tube/valve-based, but they span a huge range of formats, from single-channel pedal platforms to all-encompassing MIDI-enabled multi-channel beasts.
Amps in this area of the market are becoming increasingly compact, too, with the lunchbox head phenomenon still very much in effect, although you'll still find a few high-powered 2x12 combos amongst the ranks.
Clean pedal platform: Blackstar Artist 15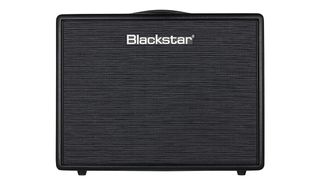 Many players are returning to simple non-master-volume vintage amps and using pedals for their drive sounds. If that description fits you, then Blackstar's new Artist series could be a real revelation, combining a vintage-inspired tone experience with modern features like the superb digital reverb.
Channel 1 is a very clean, low-gain affair with clarity and transparency that brings out every nuance of the guitar you plug in. The single tone control works smoothly to add or remove just the right amount of high frequency, making this channel very easy to dial in for any guitar.
If Channel 1 is clean, then Channel 2 is the Artist's 'nearly clean' channel. Here, with a fully featured EQ network, there's a lot more flexibility and the ISF control makes dialling in any sound very easy.
Read the full review: Blackstar Artist 15
Also: Yamaha THR100HD, Marshall DSL40C, more of the best mid-range amps in our full round-up
When spending £1,000/$1,500+ on a guitar amp or combo, you still want to know that you're getting your money's worth - and a box that will faithfully serve up killer tones for years to come.
In this price bracket, you run the gamut from top of the line, off-the-shelf products from the likes of Fender, Marshall, Blackstar and Orange, through to boutique pleasure boxes courtesy of retro-flavoured brands like Magnatone and Tone King.
Expect high wattages, top-notch build quality, and for the more tonally adventurous, advanced MIDI switching and effects loop capabilities, as well as power scaling for great tube/valve tone at any volume.
Sought-after reissue: Marshall JCM 25/50 2555X Silver Jubilee Reissue
Apart from its association with Slash, Joe Bonamassa, and various other high-profile users, the main reason why 2555s are so sought after is their sound.
We're pleased to report that the reissue amp is tonally as accurate as it possibly could be, with perhaps a touch more gain and low-end punch than the original. The overdrive channel will turn even the politest of Strats into a fire-breathing monster, but if you really want the Jubilee to sing, then a Les Paul with a good pair of PAF-style humbuckers or active pickups is the way to go.
Read the full review: Marshall JCM 25/50 2555X Silver Jubilee Reissue
Also: Hughes & Kettner TriAmp Mark 3, Mesa/Boogie Mark Five: 25, more of the best high-end amps in our full round-up