7 of the best all-in-one guitar rig solutions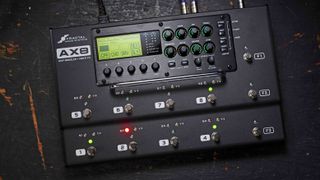 Introduction
Digital used to be the dirtiest word in a guitarist's vocabulary. Yet since the debut of the Line 6 POD in 1998, the tides have gradually turned, to the point where one good modelling unit can replace an entire guitar rig's worth of gear.
Ahead is a round-up of some of the best all-in-one modelling solutions on the market today, as well as a handful of analogue solutions, all of which will make your rig-to-gig transportation a whole lot easier.
For a more effects-focused take on cutting-edge processors, check out our guide to the best multi-effects pedals in the world today.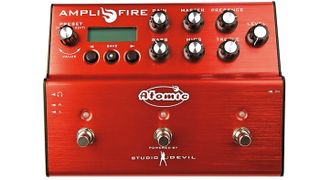 Atomic AmpliFire
The compact AmpliFire is a fraction of the price of some of its high-end competitors, but still features dual-DSP processing and Cirrus Logic converters.
There are three assignable footswitches, 128 onboard presets, a set of amp-style knobs for quick tweaks, and good connectivity options.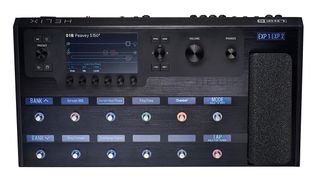 Line 6 Helix
There are a massive 1,024 preset locations onboard the Helix, organised into eight setlists that contain 32 banks with four presets each. Each preset can have up to four stereo signal paths, each made up of eight blocks populated with amps and effects.
With the current count of 41 modelled amps, seven bass amps, 30 cabs, 16 mics, 80 effects and the option of loading speaker impulse responses, there's great potential for sound creation. Line 6 has implemented an easy editing system, complete with a joystick, and – get this – touch-sensitive footswitches offering a shortcut to parameter adjustment; you can even use these with your feet to select a parameter before adjusting it with the pedal treadle!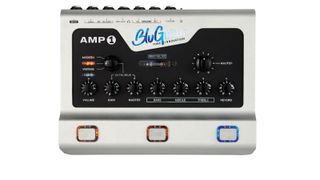 BluGuitar Amp 1
Roughly the same width and length as an iPad and not that much taller, the Amp 1 could easily be mistaken for another multi-effects 'board.
But the Amp 1 isn't necessarily restricted to the floor; it can also sit on top of a speaker cabinet in the traditional way, using a standard latching footswitch for basic control.
It packs four channels, plus a switchable boost and reverb, as well as built-in cab simulation for an ultra-compact do-it-all amp solution.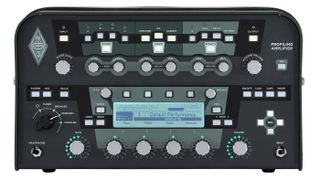 Kemper Profiler
Kemper's Profiling technique is like taking a snapshot of a mic'd up guitar rig - not just the amp itself, but every aspect of the cabinet and microphone confi guration.
It's a process you can carry out yourself, but there's a massive library of sounds available.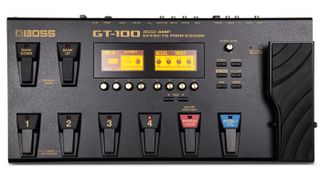 Boss GT-100
The GT-100 version 2.0 has COSM modelling technology and 400 preset memory locations.
Dual amp and effects chains can be blended or toggled by footswitch, frequency or picking strength, and there are effects, including the Tera Echo. It also features monophonic guitar-to-MIDI conversion and works as a USB audio/MIDI interface.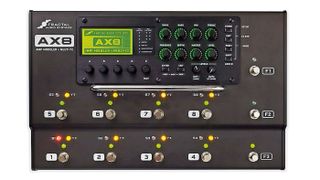 Fractal Audio Systems AX8
Up until recently, to use Fractal amp-modelling on stage, you'd need a Fractal rackmounted unit and to combine it with pedalboard switching - its MFC101 or a generic MIDI switcher.
Now, there's the AX8, which puts Axe-FX II amps and effects into a self-contained pedalboard. It features 512 presets with a traditional single amp plus effects chain, as opposed to the Axe-FXII's dual amp chain capability.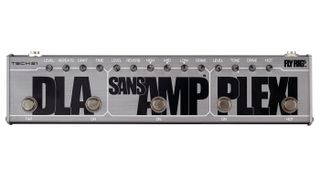 Tech 21 Fly Rig 5 & Fly Rig 5 RK
Before digital modelling processors, there was the Tech 21 SansAmp - an analogue amp simulator the size of a stompbox.
The portable Fly Rig 5 is the newest member of its extended family and is designed as a complete gigging rig. It features a SansAmp (with reverb), Plexi overdrive (with boost) and delay.
A signature Richie Kotzen version, the Fly Rig RK5, puts the OMG overdrive in the place of the usual Plexi at the start of the signal chain.