7 steps to making better acoustic guitar recordings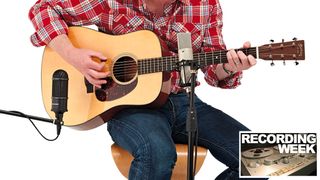 Introduction
RECORDING WEEK: When you think of great acoustic guitar sounds, you imagine big-ticket microphones, preamps and the like. Having these things at your disposal is useful, but it's not vital. Some of the most crucial ingredients for getting a solid acoustic guitar recording start before you touch a mic.
It starts with a well set-up acoustic with fresh, stable strings, and continues with the right environment and knowing your parts, until, finally, you're ready to record.
We're here to guide you through the process from beginning to end, starting right now...
Recording Week is brought to you in association with Universal Audio. Check out the Recording Week hub page for more tips and tutorials.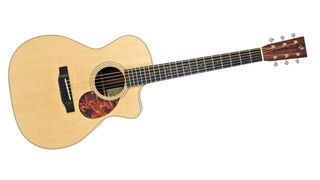 Your guitar
Before you even think about recording, make sure your guitar is match-fit. Spend a little bit of time playing the guitar and listening out for any strange noises.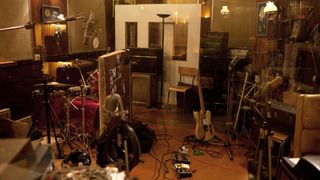 Your environment
It sounds obvious, but unlike a close-mic'd amp, your acoustic sound will vary massively depending on the space you're recording in.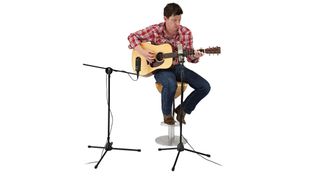 Using microphones
Once you're happy with your guitar, your environment and your playing, it's time to position the mics.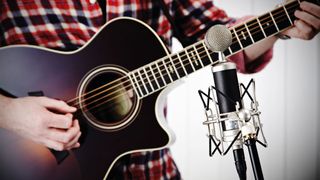 One microphone setup
If you want a simple, solid way of recording your acoustic, we'd suggest starting with a single-mic technique.
Think about the way your guitar produces its sound: most of the bass comes from the body of the guitar, and is projected from the soundhole.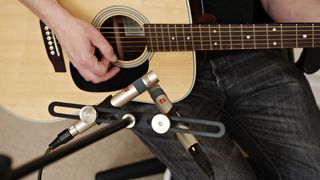 Two microphones (X/Y configuration)
Recording your guitar in stereo will give you a wider sound to play with when you're mixing, and the simplest way to do it is to use two identical mics, in what's called an X/Y setup.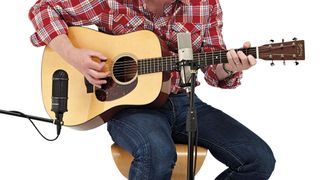 Two mics (spaced-pair)
If the first stereo technique isn't quite giving you the width you're looking for, try this one. This time, instead of placing the mics in a tight configuration, we're going to physically space them out.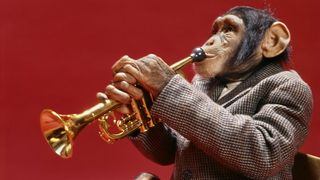 Go ape!
These mic'ing setups are tried and- tested standards, and while they work as guidelines to get you started, there is no right or wrong.