22 cool electric guitars under £300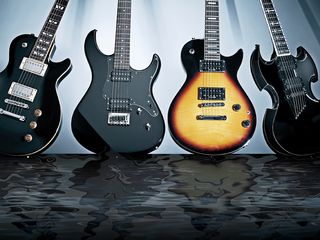 22 cool electric guitars under £300
UPDATE: We've added two new humbucker-loaded models to this gallery of cool, affordable electric guitars. See them both on the next two slides of this gallery or, if it's your first time here, keep on scrolling for a selection of guitars to suit every player - all under £300...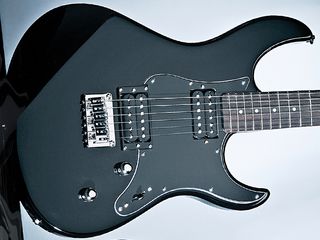 Yamaha Pacifica 120H £270
The Yamaha Pacifica is 21. But instead of going out, getting slaughtered and being sick in a taxi, this entry-level marque toasts its longevity by unveiling yet another no-nonsense doublecut that's beyond reproach considering the price.
The 120H is cheap for its class and not very flamboyant. It's a simplified take on the 112V and while we can see the all-humbucker format's draw, why Yamaha are proud of ditching the vibrato is anyone's guess.
It's a very different beast to the JTR and this is a more solid, all-round playing experience that's presumably meant to support you while you find your niche. It's great for open chords and barres on the 'C'-shape profile, the longer horns run a Strat close in the comfort stakes, while the scale gives a slightly 'tighter' feel that's great for punchy single-note riffing.
Build-wise it's a slugger too. Typically for Yamaha, there's a coil-split, but the resulting singlecoil quack is a little bland. Really, you want both humbuckers selected, combining with the alder/maple timbers for a tone that's funky and fruity, yet wide and warm enough to clean up at heavy rock.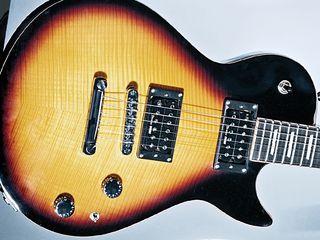 Washburn Mighty Idol WMI PRO W £289
In the event of nuclear war, only three things will survive: cockroaches, Keith Richards and the Washburn Idol. This long-running series is part of the furniture, but credit to Washburn for shaking up its cash cow, with this year seeing the launch of the Mighty Idol.
Front-on, you'll snort that it's just another '50s singlecut, but spin this baby and you'll find it's a slim slice of mahogany/maple that's far more svelte than the LP and its brethren. After the Hamer, the Mighty Idol is a veritable feather.
But if you want old-school thrills, you got 'em. The body's put together in bulletproof fashion, while the neck's set deep and fills the palm in style, combining with a smooth fingerboard and subtle fretwire for a pretty flawless playing experience.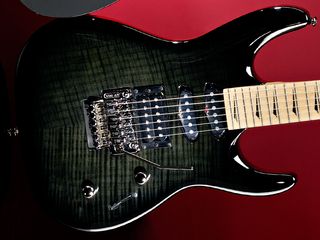 Kramer Striker 211 Custom £269
Despite being re-branded for the new millennium, we suspect shred legend Kramer is still happiest knocking out '80s widdlesticks, and likely needed all its willpower not to scallop the Striker's 24 frets.
Boringly, it's built on a derivative doublecut shape, but with a mix 'n' match pickup configuration and floating vibrato it's well up for the fight.
Minor finish issues (untidy frets, wires visible in the pickup cavities, stiff micro-tuners) are swept aside by a strong physical performance, with a flat neck, low action, light strings and the test's best access confirming that, yes, the Striker is aimed directly at technicians.
Indeed, you'll play so fast that it will take a moment to realise that tonal character is a little thin on the ground. Five options are on the table, but the general impression is of competence, rather than brilliance, with the bridge humbucker crunching away without scaring the horses and the twin singlecoils bringing admirable bite but negligible body.
It's better dirty, though.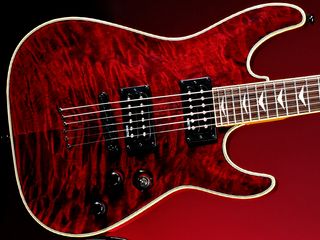 Schecter Omen Extreme £299
The sub-£300 market is populated by floorboards with strings, making the Omen Extreme seem positively exotic. Contoured mahogany body, quilt maple top, recessed controls, coil tap wizardry, stylish binding, arrow fret inlays, Chianti-inspired paint job, revolting yellow neck stain…
Schecter is clearly trying to stir our loins and bust open our wallets - and it's working. The Omen shape is old news, but we're still fans. Like a go-faster Strat, it balances well, feels chunky without swamping you and gives decent command of an easy-playing, jumbo-fretted board (although a less blocky heel would improve access).
We're not gonna make overblown Les Paul comparisons, but the fusion of maple, mahogany and humbuckers gives this axe a full, ringing, memorable voice that's easily the best in the test for clean open chords, and breaks nicely into classic, frayed overdrive when you push it.
The coil tap, meanwhile, brings in useful snap for special occasions, but you'd be mad to demasculate those mighty humbuckers for long.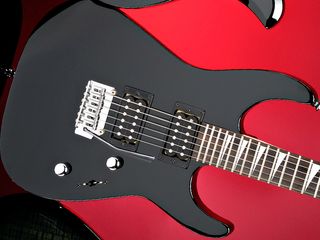 Jackson JS22R Dinky £239
Ladies and gentlemen, we've hit rock bottom. In Jackson's entire product line, you will not find a cheaper 24-fret electric than the JS22R Dinky: a new model that squeezes profit margins until they weep for mercy with a spec built on high-output humbuckers, basswood body, bolt-on maple neck and fulcrum bridge.
After the relative luxury of the Schecter, this model feels a little stripped, but it's still a Jackson through and through. It's cool to see the shark fin inlays, and the physical feel should please Soloist fans too, with a dead-fast neck that isn't miles off the more expensive models, a compound radius fretboard that excels at lead over rhythm, and a good vibrato in a test dominated by hardtails.
With basswood in place of its rivals' mahogany, the clean tone is inevitably a little flat, but we're impressed by the punchy performance on the gain channel where the output is loud, lean and hard: perfect for gigs, pushing it in the studio.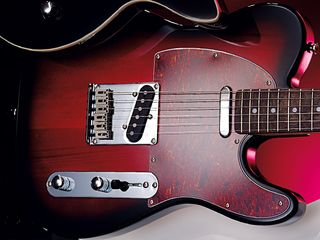 Squier Standard Telecaster £219
As the official entry-level division of Fender, Squier is the only brand that can recreate every detail of the Tele without a cease-and-desist order landing on the doormat.
The best thing about Fender's involvement is the sharing of trade secrets. When Squier claims this model has "a fast-action neck profile modelled on a late-'60s Tele", you're more inclined to believe it. The agathis body and maple neck have been executed in much the same way as its US sibling too.
The pickups aren't Fender-spec, but the "hot single-coil in the bridge provides bite for stinging leads, while the chrome neck single-coil helps you find your own voice."
After playing a number of US Fender Teles, we were fully expecting to pick holes in this budget equivalent. Instead, we were left slack-jawed. OK, so the Squier model doesn't feel as luxurious, but there is nothing tangible to fault here, with a deliciously playable neck and fingerboard feeling totally professional, the build more than competent, and only the headstock logo reminding us we're in the bargain basement.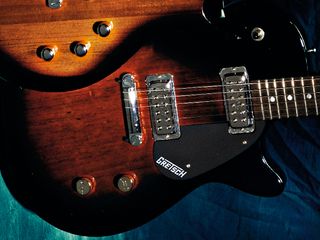 Gretsch Electromatic Junior Jet II £230
The single pickup, single cutaway Junior Jet I really floated our boat, so we thought it would be cool to have a look at what is one of Gretsch's most Spartan efforts yet. The Junior Jet II is a solidbody guitar with the confidence to stand alone.
Vintage-style tuners, two Gretsch mini-humbucking pickups, a slab of mahogany, a fat bolt-on maple neck and that's it. The Electromatic Junior Jet II is a guitar for those who want to stand out. Gretsch players don't want to join the herd - they're the ones branding 'been there, done that' on the rump of their audience.
The clubby neck profile is a bit like holding a baseball bat, but it's the responsive retro punch of those pickups that gilds this Gretsch's lily. A three-position toggle switch lets you switch between them and those macho G-Arrow knobs will roll back the volume and tone.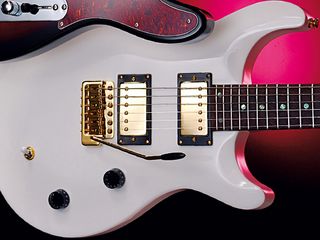 Vintage VRS100 £239
Despite looking like the kind of electric that should be kept in a display case, this is a dues-paying workhorse that's gagging for a gigging. The VRS100 is a marriage of "ultra-modern looks with classic values", citing in evidence the smooth knife-edge vibrato, the carved top and the Wilkinson humbuckers.
"Their meaty double-coil tone will capture the heart of the most sceptical guitarists. These versatile guitars move from fruity-toned neck pickup sounds to flat-out bridge pickup excitement."
The VRS100 looks incredible, but this is no skin-deep performance: the tuners hold pitch, the whammy whams well and the finish is decent for the price. The neck has a chunky old-school profile and it suits this axe perfectly, prompting you to squeeze meaty rock riffs from that luxurious fretboard and suggesting you'll always hang onto this model as a spare.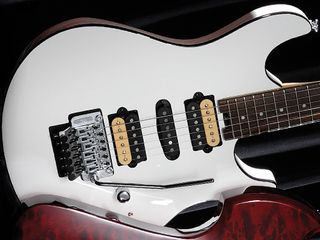 Peavey HP Special EX £229
Being the man who developed the Wolfgang range for Van Halen, Hartley Peavey knows a thing or two about shred axes. He reckons this one "encompasses everything I've learned over the years."
You could power a wind farm with the hot air on Peavey's website. The US giant refers us to the unmistakable looks, stellar construction and stunning raw materials of the new HP Special range, before concluding these are "guitars for true player's players." It's only because of Peavey's impeccable track record that we're not arching a sceptical eyebrow.
The new EX looks a lot like the Wolfgang, so if you're after a VH vibe, you'll be hot for the flat-as-a-pancake basswood body, the hooky headstock and the liberal sprinkling of custom-wound single-coils and humbuckers. You won't even notice that it's the only HP to be built in China (not the US). You've only got 22 frets, but the cutaways ensure you can hit them all, while the trem response gives you nuance-rich riffs.
The bolt maple neck's profile is described as 'ultra fast' and lives up to the billing when you start tapping, while clunking through the pickup settings cemented our impression that this is one versatile axe.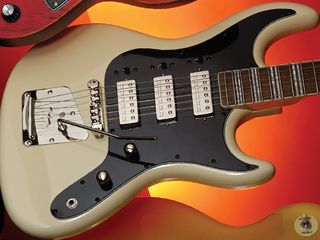 Höfner Galaxie £259
Genius is never appreciated in its own time. Thus, while most rockers looked at the Galaxie in the '60s and thought "too many switches", Höfner's CT Series reissue is just what the retro-obsessed market is crying out for.
With three humbuckers, umpteen dials and an art-school quirkiness, this is the axe equivalent of Franz Ferdinand. Should you take it out? Stupid name, but we love everything else.
The offset body is fresh enough to catch your eye, but close enough to a standard doublecut to offer true comfort and access. The unfinished neck is a great surface for pretty much any technique, and the inlays give a sense of retro whimsy you don't expect for under £300.
That extends to the pickup configuration, switching system and vibrato. It's hard to imagine a post-millennial luthier designing 'em, but a certain type of player will be charmed by the scope of warmth and twang, and left misty-eyed by the Shadows-style wobbles that roll off the bar.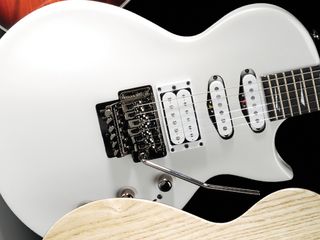 Kramer Assault 211 FR £299
Kramer ruled the '80s off the back of Eddie Van Halen's striped 5150 model, but even the official website admits it "slowly burnt out" alongside the shoulder pads and Police Academy movies. Enter Gibson, with a fistful of dollars and a new run of models including this stylish singlecut.
It was acceptable in the '80s - but is it now? The Assault moves with the times, concealing Superstrat features within a modern package that doesn't scream, "I love 1984!"
Best news is that Kramer's trademark neck speed has come through, with the wide mahogany profile delivering velocity and comfort. Also welcome is the versatility: with both pickup formats, it makes a decent fist of most rock styles.
Granted, its clean tone sometimes sounds comparatively thin, but it bites hard in the high end and that (along with the Floyd) has gotta make it the virtuoso's choice.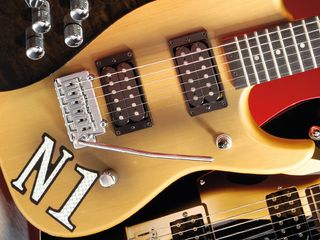 Washburn N1 Relic £229
Extreme hottie Nuno has barely aged a day since he became Washburn's highest-profile poster-boy in 1990. Not so his trademark Washburn N4 - a grizzled old warhorse that provides the visual inspiration for this aged version, if not the spec.
Alder is swapped for the disconcertingly vague 'solid wood', Bill Lawrence and Seymour Duncan pickups are downsized for Washburn items, and the Floyd Rose goes MIA. Nobody is going to be fooled by the aged 'relic' finish, but physically the N1 is right on the money, equipped with the kind of fast, unfussy neck that Washburn does so well, and a body that manages to do a decent impression of a Strat, even if it doesn't have as much meat behind it.
It's hard to get as enthusiastic about the sounds though. Thanks to a coil tap there's good versatility here, but the output feels slightly uneven, and when you strip away the distortion, the tone is sometimes a little flat and lacking in character (a by-product of the undistinguished timbers).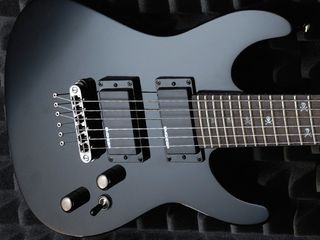 LTD KH Junior £219
Metallica's Kirk Hammett has shifted more ESPs than any other player - now he turns his attention to the bumfluff market with LTD's dinky take on the KH202. Don't expect James Hetfield to do the same…
There's a genius concept behind Kirk's scaled-down LTD Junior. At three-quarters the size of a normal electric, and with a 20.5-inch scale, this model can be negotiated by small hands and is sufficiently light that it won't stunt anyone's growth. There aren't many credible 3/4 electrics on the market, and with a cool reverse headstock, skull inlays and EMG humbuckers, this is one of the coolest we've seen.
The KH Junior probably isn't an option for full-grown guitarists. You'll almost certainly graduate from this mini model as your hands get bigger. Still, for its market, you can't fault the quality of this pocket rocket.
Dig beneath the cool looks and you'll find some solid materials put together with great attention to detail, meaning that the fingerboard is smooth and playable, the neck profile won't slow anyone down, and the twin cutaways let you rock right up to the 22nd fret.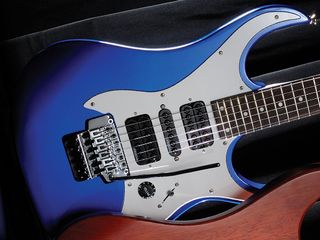 Vintage Raider VR2000 £229
Vintage has fingers in pies throughout the entry-level sector, but the Metal Axxe range is where things get loud. The Raider looks more conservative than most, but they probably said that about Fred West…
The Vintage boys build the foundations of their axes in China, which in this case, means a doublecut body with reverse headstock, bolted maple neck and genuine Floyd Rose tremolo. Then they pass it over to design guru Trevor Wilkinson, who adds sexy bits like his own respected pickups and hardware. The result, they say, is "dominant, expressive and versatile."
It might not look overtly 'shred', but the Vintage Raider has all the features we were looking for. The maple neck plays fast and unfussy, combining two octaves with an obedient Floyd Rose. The balance and weight are perfect, and although the body is a generic timber, its contours let you get right on top of the action.
To address Vintage's claims, the Raider is certainly 'expressive' and 'dominant'.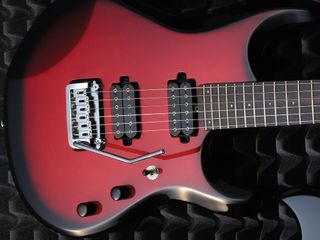 OLP John Petrucci £264
You know how this works. If you're minted, you go direct to Ernie Ball and fill your boots with Petrucci's bells-and-whistles signature model. If not, you take a punt on the official entry-level version from OLP.
"I'm really excited about this affordable version of my current guitar!" frothed the Dream Theater virtuoso as the OLP model made its debut. As are we, Johnny. Despite the lowly price tag, this China-built model boasts an imaginative spec, with a heavy mass tremolo unit wobbling at the bridge, a tasty bevelled body and the distinctive 4-to-2 headstock that has been carried over from the Ernie Ball original.
It even comes with a free poster. Woo!
Rock stars tend to create signature models in their own image - thus, while the OLP John Petrucci isn't much to look at, it turns in a dazzling technical performance.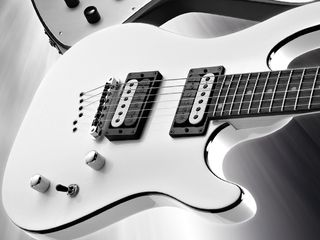 Cort KX5 £269
Inevitably, given the price tag, Cort can't wave aftermarket pickups or premium timbers in our faces, but it can be proud of a spec sheet that's tough and professional. The subtext is that, no, you wouldn't choose the KX5 if the record label gave you a blank cheque but, yes, it's plenty good enough for serious gigging and will die for your cause.
"Our KX Series has a sleek body design that is lightweight and well-balanced," notes Cort, quietly. "Its string-thru body design with Tone Pros locking bridge system delivers endless tone and sustain."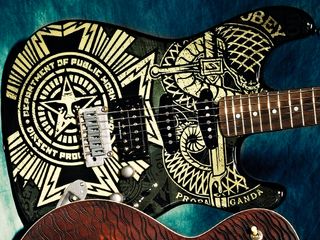 Squier Stratocaster Obey Dissent £270
The Obey Dissent looks every inch the product of a difficult upbringing: its hardware is 'rustic and worn', giving it a Detroit, circa RoboCop vibe. You have 20 seconds to comply…
Leo Fender was a good sort. His vision to produce a guitar for every man, woman or child (regardless of their income) is more prescient than ever. Crafted in Indonesia, this Strat has the hardware to back its lairy appearance: a basswood body, a super-smooth Synchronous Twin-Pivot Tremolo and that Duncan Designed humbucker backing up the singlecoils in the middle and neck.
The 9.5" fingerboard radius is quintessentially Fender Stratocaster, and is reassuringly familiar on the fingertips. With the larger '60s style headstock and a comfortable 25.5" scale length completing a guitar that just feels like, well, a proper Fender guitar.
The vibrato might look rough with its moody finish, but there is both a stability and a liquidity that make it a joy to throb, wobble and wangle. But while the neck and middle pickups offer a classic Strat tone, snappy and bright, it is the Duncan Designed bridge humbucker that starts the riot.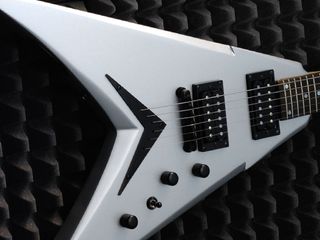 Dean Dave Mustaine Vehement £269
Dean Zelinsky's hand was on the bandsaw when Dime created the Razorback, and the luthier's talent for getting hellraising metallers to knuckle down and deliver the goods continues with Mustaine's beast.
If you've got Dave's face tattooed on your kneecaps, you'll want the USA Vehement at £3439 - or at least the Korean version for £799. Those who just 'quite like Megadeth' will be satisfied with this Chinese equivalent, which slashes the price to £269, but doesn't suck the blood from the spec.
Mustaine proudly informed us that he designed the Vehement shape himself, but it's not so far removed from other V-style electrics, albeit with cool 'notches' that give the basswood body the look of a barbed arrow. We expected something more from the most outrageous man in metal.
Things get better fast when you pick up the Vehement though. As the only Dean model to feature the thin-as-a-broomstick neck profile specified by Mustaine, this is an absolute belter for technical play and equally satisfying for thrash rhythms at the bottom end.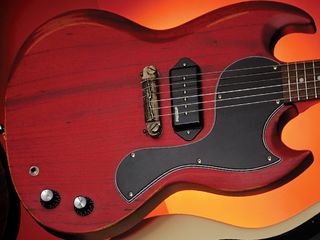 Vintage VS6MRP £279
Finding an adult-size school uniform is hard enough, but the real ballbreaker for AC/DC fans is trying to pin down a budget substitute for Angus' SG. At £279, it's hard to believe the VS6MPR can compete… but then it was built by entry-level hero Vintage, with hardware and bridge pickup courtesy of in-house expert Trevor Wilkinson. Let's see if it shoots to thrill.
You can kinda see how Vintage keeps these models so cheap. The body is totally simple (just a faux-battered mahogany slab), the set neck is somewhat generic, and the absence of a neck pickup may frustrate rhythm players who want the beef of Malcolm to go with the bite of Angus.
Horses for courses, but we'll take one great pickup over two lame ones, and we think the bridge item qualifies. It's got the spit and sawdust tone of a 'textbook' P-90, and even though turning the tone control full treble doesn't quite deliver the razor's edge we'd like, it's a decent all-round voice that you can tailor with a good amp.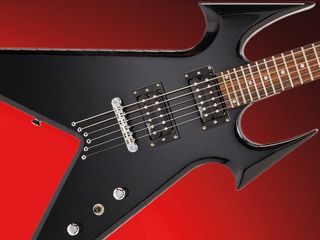 BC Rich Kerry King Beast V £279
As the only luthier with balls big enough to work with Mr King, BC Rich was unphased by his plan to splice the Beast body with the barbs of his Speed V. The resulting Beast V has taken mere months to prototype, but that's probably because it's quite derivative, featuring the kind of bolt neck, B.D.S.M units and string-thru tail that BC Rich can knock out in its sleep.
King's bone-snapping sound is built on active EMG pickups, a thru neck and a Kahler vibrato, so if you want to sound like the big man, you'll need to save for the pricier Beast V NT.
Inevitably, this minimalist version suffers by comparison, but it's a pro package for £279 and one that gets you in the Slayer ballpark with an unfussy two-octave neck capable of thrash chugs and squealies, and a set of 'buckers that (while not desperately memorable) fuse with the natural sustain of the basswood body for a useful, dark grind.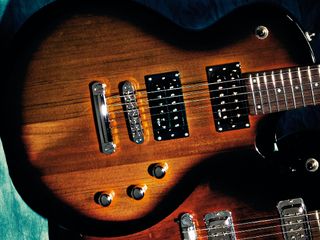 LTD Eclipse EC-50 £299
LTD is like the Red Cross of luthiers. For those less fortunate than your average rock star, these chaps slim down the spec and build some guitars with serious kudos. Take the EC-50; it's way more than the sum of its parts.
At this price there are going to be a few concessions to the spec. That's OK. LTD knows where to trim and where not to. Firstly, the body is made from basswood. LTD has bolted a thin U-shaped maple neck onto the body. The neck is slim enough to accommodate those flash bastards who dash off speedy arpeggios while sticking their tongue out like a dog in heat.
When you consider the ESP LH- 150 pickups, warming the bridge and neck positions, then the Eclipse EC-50 must have a bit of tonal wallop.
With such a sartorial debt to the Les Paul, the EC-50 would be forgiven for being a dowdy wee copycat. But it's no clone. Both tonally and ergonomically the EC-50 has a real feel of its own. The back is contoured and, in a brave concession to modern rock guitar playing, the upper fret access is fantastic - the cutaway is contoured allowing even the chubbiest hulk of a mitt up there.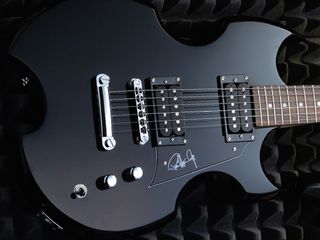 Washburn PS80 £299
Considering Kiss merch ranges from condoms to coffins, it shouldn't surprise anyone that frontman Paul Stanley has licensed his name to a series of Washburn electrics.
Ever the narcissist, Stanley has thrown in a personalised gigbag, a glossy photo of himself, a handful of plectrums and a studded leather strap. Once we'd tipped that lot out of the window, we were faced with the PS80, which the Kiss man reckons is the kind of guitar that "can only come from a great partnership of talents and experience."
Well, nobody does cheap electrics like Washburn.
Anyone who followed Kiss across America in the '70s will lap up PS80 trimmings like the star child 'stock logo and bespoke pickguard. Rockers who weren't born until 1991, meanwhile, might argue that Paul's baby beauty looks like an SG after a shark attack, is too heavy and almost the wrong side of £300.