Strandberg Boden Original NX 6: What is it?
The electric guitar has an enduring cultural cachet as an icon of youthful rebellion, and yet it is remarkable how conservative our tastes can be when it comes to its aesthetic and feel.
Some designs just work – Stratocasters, Telecasters, Les Pauls – and there are infinite variations on the theme, subtle modernisation, painstaking vintage reproductions. But there is another path, along which you'll find Strandberg Guitars.
The headless design might give pause at first. And then there's the Boden body shape, which looks like a shark has taken a bit out of it. If so, then kudos to the shark; its calling should be in 21st-century lutherie.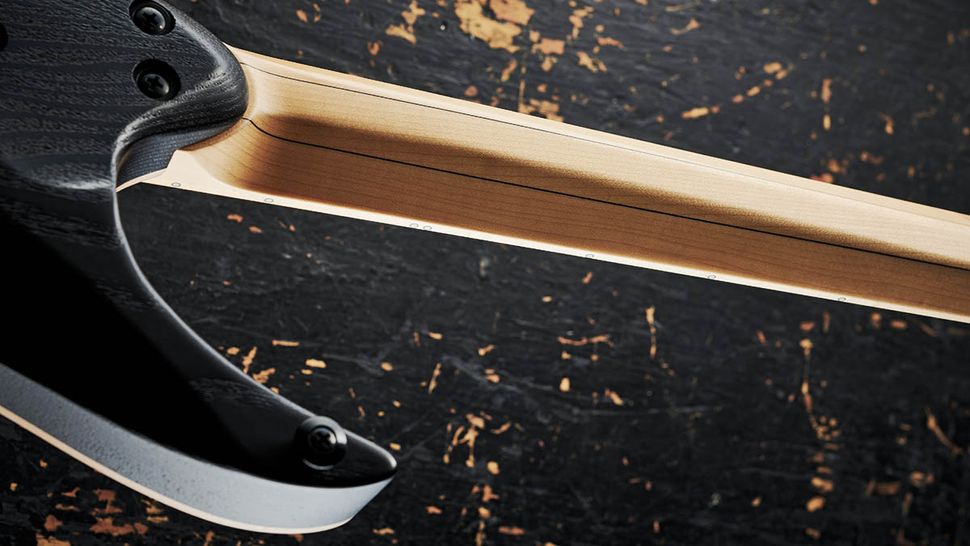 Strandberg offers a cornucopia of bleeding-edge specs on its website. They don't run cheap. While the NX Concept series is hardly anyone's idea of a budget guitar, made under license by Cor-Tek in Indonesia, these are more affordable, presenting what could be the mainstream breakthrough for what has hitherto been a huge underground success for Ola Strandberg's brand.
Ola Strandberg has been at this for a while now. Based in Uppsala, Sweden, the company's history dates back to the early '80s. It was in the '00s when things really started happening.
Strandberg's goal was to make something different. One of the first ports of call was augmenting another frontier design, in the shape of a Hohner Steinberger copy. He gravitated towards a headless design, but above all, his design had to be ergonomic.
This commitment to ergonomics would be key; it informs everything about the Boden Original NX 6's dimensions. The first thing that might grab you when taking it out the box is how small it is. It turns out, that once you take a headstock off and trim up the body, you've got something that's a lot more compact. And that makes it super-light, with this model weighing just a little over 2kg.
This sounds great on paper, but it's even more consequential in the real world, where such paradigmatic differences in dimensions can make you approach the instrument in a totally different way. The body is made of chambered sassafras and is finished neatly with a figured maple veneer, satin-smooth on top and almost unfinished on the bottom.
The three-piece maple neck is quarter-sawn and graphite-reinforced for strength and resistance to temperature fluctuations. The fingerboard is Bird's eye maple, topped with 24 stainless steel Jescar frets and inlaid with Luminlay dot markers. The Luminlay is reprised on the side of the fingerboard, too.
This being a headless guitar, you'll find the tuners integrated with the EGS Rev7 bridge system, an adjustable system that holds the string in a heavy-duty aluminium tube, and there's a zero fret at the nut.
Pickups arrive courtesy of Suhr, with a Suhr SSH+ open-coil humbucker in the bridge position partnered with an SSV neck 'bucker. Both are direct-mounted and are controlled by a five-way position switch, and master volume and tone pots.
Strandberg Boden Original NX 6: Performance and verdict
There's nothing quite like the Boden Original NX 6 on the market today. To pick it up is to surrender wholesale to the idea that this is – as intended – something different. First, you have to contend with the weight, or the lack of it. What is this? And so well-balanced? That, in itself, takes a moment to get used to, or rather, to appreciate.
Second, there's the neck profile. The body shape might look bonkers but there's a similarly innovative approach to the EndurNeck profile. Its so unique and out there that Strandberg has it patented, and it's almost trapezoid in its profile. It's not thin, there's no taper per se.
Also consider...
• Ernie Ball Music Man Sabre
The Sabre shows a different side to Music Man, with a classic double-cutaway body the launching pad for an all singing, all dancing modern electric that's got heaps of tricks up its figured-maple sleeve.
• Charvel Pro-Mod DK22
A sophisticated S-style that balances a hot-rodded hi-jinks and a shred-ready feel with a tonal range that invokes rock of all decades from the '60s onwards. Bravo!
• Strandberg Boden 8
If you're serious about eight-string instruments this is one of the most innovative and intuitive designs out there.
Strandberg recognises that thin doesn't necessarily mean comfortable, and thick doesn't have to be slow; in this instance, it's the shape more than the thickness of the neck that matters most. As you climb the neck, the centre of the trapezoid-esque profile shifts a little, just as your fretting hand tends to do as you climb the 'board, with its flat back moving towards the bass side of the instrument. It's an ingenious approach, moving beyond the C, D, U and V profiles into, again, something different. And it works.
Combined with the balance and weight, the EndurNeck makes good on Strandberg's pursuit of ergonomic advancement.
Once you've got the feel down, this is a guitar you can cut loose on. What to play? That's left up in the air here. There are others in the NX range that are explicitly for the specialist among us – the metal head, the prog wizard, the tech-forward fusion cat. This? Well, it's all of these and more.
The Suhr SSH+ bridge humbucker is one of those all-purpose pickups that is medium-hot enough for rock, full-bloodied across the frequency spectrum, and this is complemented by the more old-school voicing of the neck. In that hot bridge, vintage neck combo, there's a little bit of electric guitar classicism creeping in here that in a way draws more attention to the fact you can be playing denim rock classics on an instrument that feels like it was sent back from the 22nd century.
With a five-way switch, we know we are in for a festival of in-between tones, with the single-coil precision and snap extending the guitar's range. This, of course, would make an exceptional prog guitar. If Allan Holdsworth is your jam, this could support you dutifully through such adventures in legato.
The factory setup is geared for speed; super-low action, almost too easy. You might have to get used to having no headstock but such periods of orientation are to be expected and soon overcome.
Some players might find the headless aspect of the Boden Original NX 6 too much. Or maybe the silhouette a little on the bonkers side of things. But people said strange things about the Flying V and the Explorer, too. And guitar history has proven time and time again that fortune favoured those brave enough to go big and bold with their designs, especially with those that foreground the player's needs like this does.
MusicRadar verdict: Once you acclimatise to the shock of the new, Strandberg's judicious design principles soon earn their keep on a guitar whose unique feel is superbly playable.
Strandberg Boden Original NX 6: Hands-on demos
Guitarist
Strandberg
Strandberg Boden Original NX 6: Specifications
Bolt-On Construction with new sculpted neck joint heel
Chambered Swamp Ash Body with Arm and Torso Carves
Solid Maple Top with 4A Flame Maple or Quilt Maple veneer
Available Finishes: Charcoal Black for Flame, Autumn Red for Quilt
Approximate Weight: 2.3kg / 5 lbs +/- 10%
Manufactured in Indonesia
.strandberg* EGS Rev7 fixed bridge & string locks
Black anodized hardware
Original Luminlay™ Green Side Dots
Original Luminlay™ Green Inlays
Maple neck – Quartersawn, Carbon Fiber reinforced
EndurNeck™ Profile
Birdseye Maple Fretboard
20" Fretboard Radius
24 Frets
Jescar 51100 Stainless Steel Fretwire (57110 for zero fret)
D'Addario NYXL 10-46 strings
Standard tuning EADGBE
H-H Pickup Configuration
Neck: Suhr SSV Neck
Bridge: Suhr SSH+ Bridge
5-Way Pickup Selector: Neck Series Humbucking; Neck Outer Coil; Neck Outer Coil + Bridge Outer Coil in parallel; Neck Inner Coil + Bridge Inner Coil in parallel; Bridge Series Humbucking
Master Volume + Master Tone
CONTACT: Strandberg Guitars