Noise Engineering Tymp Legio: What is it?
Percussive voice modules aren't hard to find, so why would a developer release another? Noise Engineering has answered that question with Tymp Legio, that offers some useful extra features on top of a versatile voice module.
The 6hp module is well built and graphically interesting while staying clearly labelled. The layout is simple, with three large knobs for pitch, decay and Wackitude (more on that later), a toggle switch for selecting the three modes and one for Tang, a sub mode selector. The bottom half is dedicated to a full set of CV ports. These allow patching of pitch, decay and wack, alongside a trigger input. Beneath them you'll find a stereo input and output pair. All good, although the stereo pairs are positioned top to bottom (and horizontal would make more sense).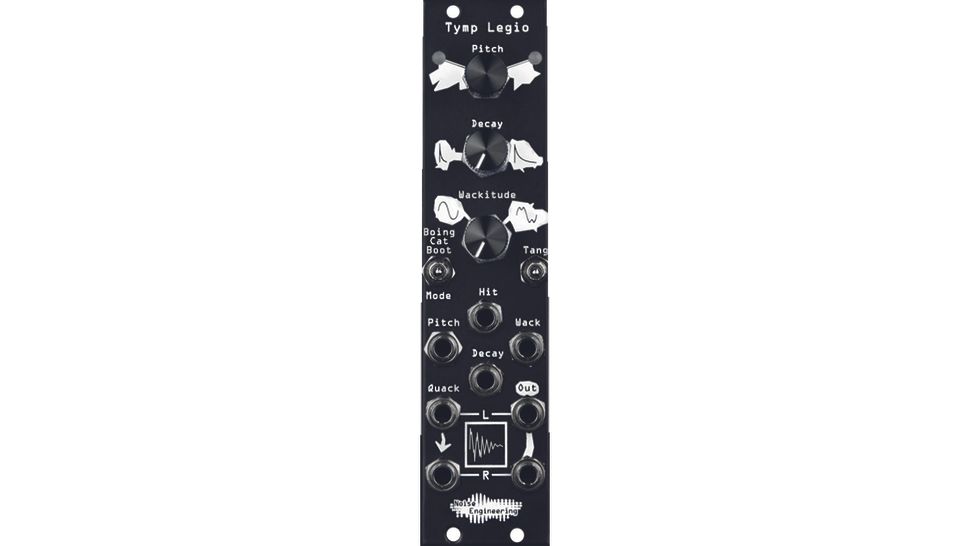 Noise Engineering Tymp Legio: Performance and verdict
So, what makes this module stand out? First is the sheer tonal variety on offer. The three modes are named onomatopeiacally, Boot, Cat and Boing and each covers a decent tonal range in itself. Having all three and the Tang options really delivers a vast array of possibilities. The Boot option can do every kind of kick you can think of, or patch in as volts per octave to produce some great bassline sounds. Cat is good for noisier sounds, like snares, and has as much range as Boot does, while Boing is good for crisper, more metallic sounds, ideal for cymbals.
Tones is further shaped by the wackitude control, that works a bit like a wavefolder and, in conjunction with the mode switches, allows a great deal of tonal refinement. The CV inputs make for some excellent modulation, really adding life to a patch, especially the Wack input.
The stereo inputs, labelled Quack, can be used as a simple mixer in Boing mode, or in Boot and Cat modes you can duck the audio, based on the position of the decay knob, a useful performance feature that saves space elsewhere in a rig and is not common on drum voices.
Lastly is the fact that Tymp Legio, as the names suggests, can have Legio firmwares installed, for free, over USB – potentially breathing new life into the device when the need arises. The stereo oscillator and dynamics processors are already available and Noise Engineering even provides printable overlays for the front panel.
MusicRadar verdict: Huge versatility, excellent build quality and tones to suit any need. The ability to install different firmwares is an excellent extra.
Noise Engineering Tymp Legio: Hands-on demos
Noise Engineering
Noise Engineering Tymp Legio: Specifications
KEY FEATURES: Multi timbral percussion, CV controllable, Legio firmware options.
DIMENSIONS: 6hp.
CONTACT: Noise Engineering