The story of Fender's iconic Tweed guitar amps
Introduction
It's easy to forget that Fender was building amplifiers before the Tele and Strat even saw the light of day. We look back to the 1940s where it all began…
From the late 1930s, Leo Fender had a radio repair shop in Fullerton that also sold records and musical instruments, so it was a natural progression to start building his own guitar amps.
The Tweed era
In the same year, the film Blackboard Jungle was released, featuring the song Rock Around The Clock over the opening credits.
This cultural watershed lit the blue touch-paper for a global revolution in pop music that brought the electric guitar to centre stage, and with it, Fender's tweed amps.
Influential tone
The bigger, punchier Deluxe, with its cathode-biased push-pull output stage and 12-inch loudspeaker was perfect for small clubs but still small enough to get a great cranked tone in the studio.
This was the amp of choice for most of Neil Young's early recordings, as well as the solo vehicle for Larry Carlton's epic performances on Steely Dan's Royal Scam, including Kid Charlemagne and Don't Take Me Alive.
Boutique builders
Prominent boutique tweed tone specialists today include Victoria, Clark, Headstrong and Swart, who all produce excellent replicas, as well as modern designs that incorporate some features of the original circuits.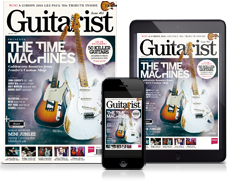 The magazine for serious players
Subscribe and save today!