The Seven Decades stage show reveals its wealth of vintage guitar gear
Introduction
A few years back, we covered the launch of Seven Decades, the London show that uses rare vintage guitars to perform 70 years of rock hits. With new shows in the offing, it's time to visit the guitar vault of founders, Phil Hylander and Michael Ross, to take a closer look at their 'Bursts, tweed amps and Teles…
If Carlsberg made offices, to paraphrase a popular beer commercial, they'd probably look like this. Just off Oxford Street, we're taking it easy in the headquarters of Seven Decades, the show that brings one of Britain's best vintage guitar collections to the London stage.
There's a vintage Porsche in the garage at the back, a BMX on the wall and scores of vintage guitars, including a 1958 Gibson Les Paul Standard, stored in battered cases on well-lit shelving.
But Seven Decades' vintage Fenders and Gibsons are not playthings nor museum pieces - it's a working collection of gigging guitars. Every one of the Seven Decades guitars is played at full tilt through classic Fender and Marshall amps as the show romps through 70 years of the world's greatest guitar music, from Buddy Holly to Buddy Guy.
"We started off just as 'guitar heads' - buying one or two things to play - but we started getting obsessed," says Michael Ross, who is the show's guitarist and co-founder, along with long-time friend Phil Hylander, who is the hawk-eyed collector on the team. It was Phil's love of John Frusciante's guitar playing that drew him to the '57 Strat that became Seven Decades' first guitar, which still takes pride of place in the show today.
"I think we've probably got about 25 guitars in total now," says Phil Hylander. "It's not that we've stopped collecting, but it was never purely about collecting guitars. We actually moved a little bit away from that so we could put the show together. We are not doing this on a snobbish level - our motivation is to have a deep relationship with each of the guitars and that limits the amount of guitars that we're ever going to buy."
Seven Decades returns to the Clapham Grand on 10-12 October 2017 - tickets are available now from Eventbrite.
The holy grail collection
"We need to have a guitar in our hands and make a connection with it before we'll buy. Instinct is massive," Michael Ross adds, explaining how they choose guitars.
"When it comes to buying guitars for the show, we want the holy grail," Phil admits. "Not too beaten up, but not so perfect you'd be afraid to play it."
The Seven Decades show started out at the famous Wilton's Music Hall in London, but Phil says the show is set to branch out into other forms in the near future.
"After we did the big Wilton shows we went into partnership with Bill Curbishley, who is the manager of The Who," Phil explains, "along with another guy called Rocky Oldham, who is another very famous film-maker and also, incidentally, Alvin Lee's ex-roadie and U2's documentary maker. And we are now working on two versions in parallel. The setlist is the same in both, but each of them is made for a very different theatrical setting."
Phil says that the longer-term project is to produce a more character-driven, theatrical version of the show, though he stresses it will not be a musical. In the near term, they'll also be working on a shorter, punchier version of the original Wilton's spectacular - with an evocative new filmic backdrop by rock film-maker Nick Morris and a streamlined set.
"We're trying to do that in a way that respects the guitars and the music but didn't leave people thinking, 'I've got to go home - we've been here for seven hours now…'" Phil jokes. "It'd just be guitar geeks left in their seats," Michael smiles, imagining such an epic vintage guitar performance. "Everyone else would be gone."
And with that, it's time to take a look at some guitars. Would Phil and Michael like to put their favourite vintage rigs together for us, we wonder? They were happy to oblige and talk us through their enviable collection, piece by piece…
1957 Fender Stratocaster & 1958 Fender Super
"So this is the 1957 two-tone," Michael says. "Still got the original frets on it - they're hanging in there just about. That was the first vintage guitar we ever bought.
"For me, it's an amazing pairing with the '58 Tweed, and we use that in the show for Buddy Holly. He played a '54 and a '57. But that pairing is great - and we also use it on Buddy Guy tracks. The bridge pickup is a really cool sound.
"'54s are real big-sounding guitars, but these have a little bit more of a V-profile neck, a little bit lighter, a little bit more modern. It's a very transparent tone… really, really clean. Because of that, we also use it for the Gilmour stuff we play. It has a lovely neck… that V-neck is just so playable.
"So it's a really interesting guitar, that one, and it has just the right amount of wear. It's got a little bit of history: you can see that the neck pickup cover has worn away and that's likely [a sign of] how someone who owned it once liked to play.
"Although when we first got it Phil called me and said, 'I've got my plectrum stuck underneath the cover!' And I was like, 'What are you doing? It's a '57 Strat [laughs].' It's got tons of character and it's a really good blues guitar. Pickups aren't too loud, so you've really got to manage the tones and volume levels right.
"As for the '58 Fender Super, we borrowed a tweed amp a while back and realised that we actually needed one for the show. And then it was a case of playing a few. We tried a Bassman and they're great amps, but they are just massively too powerful for our show. But the Fender Super breaks up much sooner - you can just put anything into that amp and the guitar comes alive."
1956 Gibson Les Paul Goldtop & 1959 Fender Champ
"This one's a '56 and when we first did a Wilton's show, we borrowed a friend's '55. I really, really enjoyed that guitar," says Michael.
"So we needed a Goldtop - but there was no point buying a '52 with the trapeze bridge on it, unless you're gonna convert it. They're not actually very good guitars, the '52s, in my view. It's funny, because people think, 'Wow, first-year Goldtop, they're a bargain.' And yeah, they're £15,000 less than one of these. But they're completely different guitars.
"We got this about two years ago from a friend who told us it was possibly for sale. That was enough for us to go and check it out, put it through its paces. It has had a refret, but that's fine - although it's gonna need new tuners at some point. We can usually repair them, but it's very delicate up there. It sounds great, and the P-90s are just awesome. I'm a real fan of P-90s.
"Actually, we've had a lot of people who've seen the show say this is the nicest-sounding guitar in the show. We play Guitar Slim stuff on that, because he was an early Goldtop player and, again, had a little tweed, and so we do him, and Rosetta Tharpe who played a Goldtop and, of course, Freddie King, who was an early Goldtop player. All the players who bought them because they were gold and they were flash, and it showed the world that they'd done good.
"The amp's a '59 Champ and we've even got the original card box it was shipped in."
1958 Gibson Les Paul Standard
"We bought this 'Burst about two years ago. We wanted to give ourselves enough time to find a particular kind of '58 and it's obviously not something you walk into lightly.
"But, eventually, the right one came up and it was a case of doing our homework and spending time playing it before we pulled the trigger," Michael recalls.
"Before we bought this, we borrowed two 'Bursts several times for the show. So we'd played some before and we knew we had to get one," Phil continues. "Obviously, it's a massive purchase, but through the show we became very friendly with [vintage guitar expert] Drew Berlin."
"Drew is a good friend of the show," Michael resumes, "and his first question was, 'What sort of 'Burst are you after? Are you after a lot of figure, do you want it in a certain condition - or can anything be changed on it? Do you want a real player's 'Burst?'
"But, for us, it came back to the same thing: we needed a 'Burst that we would not be afraid to go out and use and play. But it also had to be absolutely 100 per cent clean [original]. And that's not an easy criteria. We were also both really keen on a '58. We've been lucky enough to play lots of '59s and '60s where necks get a bit slimmer. But the '58 was what we wanted, so we didn't rush into it."
"I think it's particularly complicated with a 'Burst," Phil interjects. "Because if you think about a sunburst Strat, it doesn't matter whether they're really beaten up. But there is a different level of tolerable wear on a 'Burst, I think, before it doesn't look right.
"A Goldtop's different. They look great when they're worn and patinated. But all the same, people ask, 'Do you ever have doubts or regret buying it?' But I think it was quite clear from the moment we first played it, that we were going to buy it. On the technical side, the pickups measured as 8.2k DC resistance at the bridge and 7.5k at the neck."
"When we played it, we hooked it up to a little tweed amp," adds Michael. "And it was like, 'Yeah, this is really good.' It's quite a mellow 'Burst, which again is quite nice because they're all different. You can sit there and be like, 'Oh, which one's better?' but really that's not what it's about. They're all so different. But '58s, I think, are very generally a bit mellower; I tend to think of a '59 as being much more potent.
"We play all the Led Zeppelin and Jimmy Page stuff. On the 'Burst we do Peter Green, we do Man Of The World or Oh Well… a selection of Fleetwood Mac tunes. Allman Brothers as well. But it has got a very mellow vibe to it. It's a good weight and it's still got the original buttons on the tuners. They crumble away over time on a lot of 'Bursts, so it's unusual to have them in working, original condition."
"Mike nearly dropped it once…" Phil adds, mischievously. "Nearly," Michael admits. "But it's an instant reaction, isn't it? You feel it slipping from you - it's like your trousers falling down."
1963 Fender Telecaster Custom & 1963 Fender Vibroverb
"It came up that we needed something different to the 50s tweed [Super], because that amp breaks up quite fast: the break on it is much more intense. So we got this Vibroverb.
"Again, it has two 10-inch speakers. Nice and punchy - I'm a fan of the 10-inch speakers. I'm a massive fan of Deluxe Reverbs as well, although, weirdly, I found I preferred the reissues to the original ones. We had a few. So what were looking for was something similar to a Deluxe Reverb, but something that wouldn't break as quickly. Something with a bit more oomph to it. And I didn't want a Twin. Because I just didn't want to lift the bloody thing!
"So I'm a massive fan of these amps. I think this period was really interesting and very much underrated. Before they switched [to 'blackface' amps] - and the sound is really good." "This is the first amp Fender made with Reverb," Phil adds. "And they only made 600 of them."
"With the Tele, there's a bit of an Andy Summers story behind that," Michael continues. "We were looking to purchase a Tele to play So Lonely on. We've got a lovely '52, but we actually wanted to get something a bit different on the Tele front, you know? So we went and bought the '63 Custom. It's hot as hell. Those pickups need to be dipped [wax-potted] big-time, but you just can't do that with an original guitar like this. You just have to control it - I always have to watch it on stage.
"Phil's in the back going, 'Oh, fuck. Here we go… it's gonna start feeding back. And I know it's gonna happen!' But it's worth it." "It's unusually fancy for a Telecaster," Phil adds. "It's got this beautiful combination of binding, green 'guard, the spaghetti logo, clay dots… it's all there. It also goes with the '63 Strat that we have."
1969 Gibson Les Paul Custom & Marshall JTM45
"This is an early '69 Black Beauty. I've always liked '68 and early '69 Black Beauties, and it's pretty hard to find a clean one," says Michael.
"It's got a really fast, slim neck and it's a lot of guitar, I think. If you think that Gibson are doing a Collector's Choice '68 reissue for about nine grand now, it's about what we paid for that. So we were on the lookout for one, because we had the Goldtop and the 'Burst and we wanted a Black Beauty, but we didn't want a 50s one - too expensive - and so this one came from Chicago Music Exchange.
"Phil saw it on their website and said, 'It looks really clean,' so I called Angelo who runs it and he got the staff there to put it through its paces: play it, check it out… And so he personally saw the deal through.
"In fact, this is about the only guitar we didn't play ourselves before we bought it. They're so hard to find in clean condition. But it is a great Les Paul and for the money, those guitars are amazing value.
"The Plexi is a reissue JTM45. We get through tons of Marshalls, but we haven't yet gone down the vintage Marshall route. We've got friends who collect them, but, for me, the reissues do the job - and always with a 2x12 cabinet. It's really important to have a good cabinet, hopefully with original speakers, Greenbacks or whatever."
"Partly the show drives the collection, partly the collection drives the show," Phil adds. "Mick Ronson figures heavily in our musical backgrounds and he played a Black Beauty that had been stripped back. We always wanted to find a '68 like his, so we bought it because of that. We're not going to take the black finish off it, though!"
For more on information and upcoming shows, see the Seven Decades website.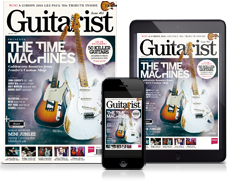 The magazine for serious players
Subscribe and save today!