The best new studio gear of 2018
9. HEDD Type 20
The Future Music/Computer Music/MusicRadar Best in music tech 2018 polls received thousands of votes, and we're now ready to roll out the winners. The nominees were what we considered to be the personalities and gear that have excelled in 2018. Here, we present the best new studio gear of 2018. First up we have the HEDD Type 20...
We say: Outperforming monitor speakers twice the price, they are a worthy investment for the serious producer or mixing/mastering engineer.
Read the review: Hedd Type 20 review
8. AKG C636
We say: A handheld vocal mic's job is to reproduce the most important instrument in tricky settings; this does so with uncommon ease.
Read the review: AKG C636 review
7. Adam S2V
We say: Quality components and sonics in a compact near field. Dear? Yes. But for critical monitoring in smaller rooms it's a fine choice.
Read the review: Adam S2V review
6. Adam Audio T5V
We say: The T5V delivers plenty of clarity, decent imaging and volume from a pretty compact footprint. A tidy package, at a good price.
Read the review: Adam Audio T5V review
5. Audified Synergy R1
We say: The Synergy R1 takes two CPU-heavy effects, reverb and saturation, and puts them in a unique double-wide box of excellence.
Read the review: Audified Synergy R1 review
4. Erica Synths Acidbox III
We say: A characterful, gritty analogue effect, made all the more flexible by its stereo signal path and modulation options.
Read the review: Erica Synths Acidbox III review
3. Focal Shape 65
We say: Delivering delicious frequency balance, terrific transient detail and crystal-clear stereo, this is a worthy monitor upgrade for the price.
Read the review: Focal Shape 65 review
2. Audio-Technica ATH-M50x BT
We say: The new wireless edition features touch controls for access to the voice assist function, which also utilises the new on-board microphone and further music playback and volume buttons. With the former requiring AT's Connect app for access to Siri and Google Assistant.
Winner: Korg Volca Mix
We say: Power is the Mix's most useful feature. Unlike the rest of the range, the mixer ships with its own power supply - it can't run on battery power - as well as a trio of cables that allow other Volcas to be hooked up to its three front panel outputs. Being able to power three instruments from a single hub is really useful.
Read the review: Korg Volca Mix review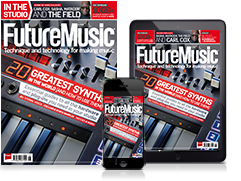 All-access artist interviews, in-depth gear reviews, essential production tutorials and much more.
Get the latest issue now!