What's better than a Taylor? Two, of course! From now until 15 January 2024, folks in the UK or Europe buying a new Taylor 200 Series or higher from Thomann can add a baby Taylor BT1 or a GS Mini Sapele absolutely free. Yes, you read correctly, free! And if you live in the States, at Guitar Center you can add a Baby Taylor BT1 to your basket for just $99, or a GS Mini Sapele for $199, saving $300 off the RRP.
Taylor makes some of the finest guitars on the planet, period. Founded in the mid-70s, it doesn't have the heritage of some of its rivals but that means it's been free to pioneer new techniques and technologies without upsetting the traditionalists.
The upshot is there's not a bad guitar in its catalogue. Unlike some travel-size guitars that are horrible to play and awful to listen to, the Baby Taylor and GS Mini are true Taylors through and through. The Baby Taylor is a three-quarter-size solid-top acoustic that's perfect for smaller hands and a wonderful guitar for young beginners. It's also a great travel guitar.
The GS Mini is a step up. Its body is a scaled down version of Taylor's renowned Grand Symphony shape, its top is solid Sitka Spruce, the neck is mahogany and the fretboard ebony. An unrivalled travel guitar, it's the ultimate songwriting tool that's always to hand wherever you are. You can read our full 4.5 star Taylor GS Mini review here.
In the UK/Europe?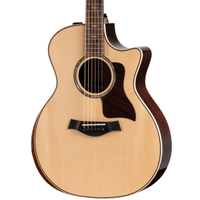 Buy a Taylor, get a Baby Taylor BT1/GS Mini for free
Thomann has a vast range of eligible guitars in this promo, so a good look on the site is a must. Generally speaking, spend from around £1,000 to £2,000 on an eligible guitar and Thomann will bundle a Baby Taylor BT1 - with a £319/€359 value - for free. Or, spend from around £2,000 upwards on an eligible Taylor and you'll receive a GS Mini Sapele - worth £425/€485 - for free. Either of these cute little guitars would make a wonderful addition to your collection, or give one away to a loved-one this holiday season.
In the US?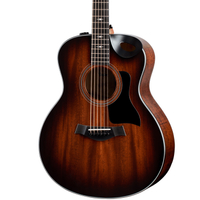 Get a Taylor, Gift a Taylor: Travel guitars from $99
Buy any Taylor 200 series or higher model from Guitar Center and add an acoustic Baby Taylor BT1 for $99 or an acoustic GS Mini Sapele for $199. The saving on the RRP is a generous $300 and the promotion runs until 15 January 2024. So, buy your dream Taylor and get a second guitar to take on vacation or give away to a loved one this holiday season.
Not sure where to start with the Taylor's on offer? There are so many eligible guitars in this promotion that choosing 'the one' can be a little daunting. Don't fret, we're here to help and have selected three of the best.
Starting from the top, if there was ever a desert island guitar, this is it. The magnificent Taylor 814ce (view at Thomann / view at Guitar Center) is the absolute epitome of Taylor build and tone. Its Grand Auditorium body size is Goldilocks perfect, imparting a tone that's sublime for fingerpicking but powerful enough for bursts of strident strumming too. The classic combination of Sitka spruce top and Indian rosewood back and sides not only looks great but provides a clear, balanced tonality that's near perfect. Read our full Taylor 814ce review.
If you're a lover of the midrange - you know, that powerful, punchy, meaty tone that blues players adore but that can also be delicate when it needs to be - then you'll be wanting a 'hog guitar. Taylor makes a superb range of mahogany guitars, but our pick is the Taylor 326ce (View at Thomann / view at Guitar Center). At around the $2,499 mark it's a little less expensive than the 814ce but it oozes similar levels of quality. Its large Grand Symphony shape is formidable both in size and power, but the mahogany build inhibits the bass from being too overpowering. It's a very balanced guitar that loves to be strummed but will tolerate a light fingerstyle touch too. Very pleasing.
If you can't stretch to a $2,000 guitar, don't worry, we get it. For maximum return on investment and supreme value consider the Taylor 210ce (View at Thomann / view at Guitar Center). It's Taylor's take on the traditional Dreadnought shape and costs just over $1,000. Which admittedly isn't cheap, but you'll be glad of the investment because bundling a travel-size Taylor with it makes for remarkable value. Good dreads like this one sound robust and articulate, with an unmistakable bottom end that's fully present but never overbearing. With a solid spruce top, and rosewood back and sides this classic build also features a Venetian cutaway for easy access to the dusty end of the fretboard. This and the Baby Taylor BT1? A bargain bundle.
With this year's Black Friday guitar deals just over the horizon, this is hopefully a sign of more great offers to come.