Introduction
There's always been as much economy to Weezer's guitar sounds as there has been behind the songs they've been writing since 1992.
The Californian quartet penned some of the most infectious rock music to land in the aftermath of Smells Like Teen Spirit, throwing pop sensibilities and college angst into a neon wall of garage band fuzz, yet always favouring simplicity.
Standing in a cavernous Wembley Arena as roadies rush by to complete their duties before doors open, guitarists Rivers Cuomo and Brian Bell laugh and shrug about only having a handful of guitars between them - it's all they need.
As they've shown time and time again - in the right hands, simple and straightforward methods can go a very long way indeed…
Warmoth Strat Copy
Rivers Cuomo: "This is actually a copy of a copy! Our original guitar player Jason [Cropper] was a very hands-on guitar techy sorta guy and he built the original.
"He played it and I liked it, so we traded. I had some kind scholarship from the community college where they give you work money to buy things, so I got a Telecaster, which I gave him in return for this Strat copy.
"I played that guitar for Weezer's first couple of years of existence. And then my friend broke it, smashing it on stage. I've been building exact replicas of that copy ever since. There's Seymour Duncan and DiMarzio pickups wired in, I think. It was never meant to sound like a Strat, it was always meant to sound like a Gibson with more of a high output! This thing is even hotter than my SG, it actually sustains."
Gibson SG
Rivers: "Here's an SG that I had painted white. I originally got it in 2005 when I had this dream that I was playing a white SG. I remember it was such a great feeling in the dream… so I had to get one.
"All the pickups are stock, I'm not sure about the tuning pegs. I'll use it for the majority of the set, sometimes I don't even get the green one out. I always used to use the Warmoth but on one tour it was going totally out of tune, which never used to happen. There must have been some kind of on-stage disaster or we might have had a new guitar tech, so I had to switch.
"Instantly, I felt totally liberated - as a guitar player and a frontman. It weighs only half [of the Warmoth] and I could run around doing rock star poses! A lot of people told me it sounded better. Our drummer pointed out it sounds better playing with Brian, because he also uses a Gibson, the guitars seem to have a better tuning together.
"Courtney Love has been on the back for a while… somewhere along the road, I had to name all my guitars to tell them apart. So I'd say, 'Hey, give me Courtney!' which is a bit cooler than 'the white SG', which sounds pretty lame."
Kemper Profiler
Rivers: "I just profiled the setup I was using before. It was the Diezel VH4 - I did all my main crunchy rhythm sounds, plus my crazy sustain lead.
"There's also an ultra clean for Say It Ain't So or Island In The Sun, plus a slightly crunchy tone for Troublemaker. I got everything I need and then over time I started adding things into my lead channel, like an octave lower or a crazy chorus or a little flange. I built all these different sounds, it was really a lot of fun. And all I use beyond that is my Boss tuner!"
Gibson Explorer (Champagne Gold)
Brian Bell: "This is actually Rivers' guitar - it's never been mine, so I don't know the story of how he got that one, but I do know the story of how I got it… We were rehearsing at Rivers' house and I saw it sitting in the corner. I asked if him if he was using it and he said, 'Nah, go for it!'
"After plugging in, I thought to myself, 'Damn this thing sounds great!' and it didn't feel as fragile or precious as my vintage guitars, taking them out on the road brings the risk of damaging them. This thing is a solid guitar. If it falls, I know it will be okay. If an SG falls, the neck is snapped! I don't want to do that to my guitars.
"We have one back-up Explorer that's just there and ready to go. It actually sounds better than the Champagne Gold on certain songs too. I very seldom break strings, but I did the other night and needed an immediate change. Luckily, it was at a point where I could drop out, during a verse so I could come back in during the chorus.
"We both use Gibsons for pretty much the entire set - though there's something to be said for combining Fender and Gibson together, which we've done in the past. You can get a great sound that's kinda like having the best of both worlds. For the last couple of records, I have a beautiful '64 SG that I've been using, and that's it! The guitar is so versatile, but I can only use it for hometown gigs or rehearsals. In a live situation, anything can happen in a moment… it feels a bit unprotected. So I keep it in this vintage case, and it has to be on a locking stand, never a normal one.
Rivers: "I got this particular gold Explorer around 2002 when we had lots of pyro and a big, heavy metal stage show! We used this all over Maladroit - it's all that guitar. I just really love the sound of it. I reckon that it probably qualifies as vintage now!"
Matchless Independence
Brian: "I've been using these amps for a long while. There was one show, I think it was a festival in Korea where I had to use a Kemper, but I didn't really have time to profile or program it like these guys did and I couldn't find the exact sound I was after.
"It was a little weird for me that I couldn't find something I was happy with. And I can't use the Kemper for the Talkbox effect, it doesn't feed back right. I still like my Boss and Rat and Holy Grail pedals… I like my analogue amps and pedals because I understand them. I can see the parameters and adjust them on the fly, if there's too much reverb or whatever. I don't need to flip through any banks."
Rivers' pedalboard
Pro Co RAT
Brian: "I've got an original one. They've made a reissue that sounds really close, almost identical to that distortion sound. It just bites and pops more than any other pedal.
"Sometimes you put on distortion on top of something already distorted and it's like a math problem, everything cancels each other out, you know? This gives a big boost and I can always hear the notes really well. I'll kick it in for any lead sounds."
DLS Effects Rotosim
"The last pedal I incorporated, because I try to keep all of this real simple, is the RotoSIM for a Leslie effect, a bit like a Rotovibe.
"A friend of mine got some deal with this pedal company and they gave me this big box of pedals. I didn't really need delay or anything like that in this band, I just wanted another colour. I didn't even know what a Rotovibe was… but this was perfect and exactly what I was looking for. If I'm not kicking in distortion or reverb, this is what it'll be!"
Boss AC-3 Acoustic Simulator
"This is the best pedal there is! I cannot believe it's taken this long to figure out this box is all you need to make electric guitars sound like acoustics, which usually sound like garbage on stage.
"This box nails the idea of an acoustic - it has that timbre, that percussive sound. In other situations, you'd want the real deal. If you ever went to see Tom Petty or Neil Young, you'd want the big jumbo and everything all mic'd up. It's kinda funny because I'm up there playing this mirrored Explorer on My Name Is Jonas and it comes out sounding like the most beautiful acoustic."
Balls Effects Black Balls
"This is a little fuzzier than my other pedals, I use it primarily for Back To The Shack, which I felt needed a bit of a creamier sound."
Jim Dunlop Heil Talk Box
"This thing sounds great for the solo I do in Beverly Hills. Whenever you need a special sound that's unlike anything else, a Talk Box will defi nitely do the trick. I also use the Jim Dunlop wah."
Weezer's album Pacific Daydream is out now on Crush Music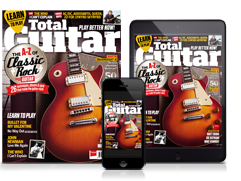 Stay up to date with the latest gear and tuition.
Subscribe and save today!