Introduction
Sum 41's trio of guitar players invite us onstage for a walk through their current rigs…
While many musicians might tell you they've been to hell and back, Sum 41 singer/guitarist Deryck Whibley means it. The party-loving pop-punk hero who penned Fat Lip and In Too Deep was hospitalised in 2014 with chronic alcohol addiction and doctors were unable to guarantee his survival.
But you can't keep a good man down - Deryck turned his life around and penned last year's sixth full-length, 13 Voices, on his road to recovery. Today we find him - along with fellow guitarists Dave Baksh and Tom Thacker - on top form…
Fender Thinline Telecaster Deluxe
Deryck Whibley: "Both of my guitars are new-ish semi-hollow bodies and very lightweight, which is great for my back.
"Along with everything else, I had a really bad back injury too; using guitars like this helps. It weighs nothing but sounds pretty heavy.
"I had it modified with this push/pull pot that flicks to single-coil for the cleaner stuff. I have no need for a neck pickup - I'm straight rhythm and not trying to be Slash or anything. The maple fingerboard gives a little bit of a brighter attack.
"At the moment, it's the stock humbucker in there - which sounds good - but I will be getting it changed to a Seymour Duncan JB. That's what I normally use, and the only reason I haven't yet is that this pickguard is bigger so they have to make a custom set which I'm waiting for."
Fender Custom Shop Thinline Telecaster
Deryck: "This other one Fender Custom Shop made for me.
"It's another Thinline tele, but it's got a 60s single-coil pickup in there, plus a piezo bridge, which goes out to two jacks so I can toggle between them.
"I'll grab this for Pieces and the piezo is used on the song With Me, so I'll use this guitar less. Now we have three guitar players - Dave has the PRS sound, Tom's got the Les Paul sound, so I wanted a different kinda vibe to separate my tone. I'm a loyal person in general and Fender have been so cool to me, I have no reason to try anything else out."
Kemper Profiler
Deryck: "All the amps we use are my own ones profiled at home… none of us use the Kemper shit.
"I see a lot of guys using these but I haven't seen anyone profiling their own sounds. I don't fuck with the factory sounds at all, I wipe them clean and put my own shit in there because my amps are amazing!
"My bandmates play my gear, and they're better players, but I own it - ha ha! The problem is I can't bring it on the road; a lot of the amps are old. So I'm mainly using my old Jubilee and Superbass combo profiled as one sound, which I often do.
"There's a Vox AC30 and Bogner Ecstasy on there, or a Diezel Herbert blended with a JCM800. I also have a VHT Pitbull doubled with one of those Marshall Valvestate amps that weren't tube… they sound great in conjunction.
"When I brought that modded '69 Superbass out with me, my tech had to rebuild it every day; finding all the parts was a bitch. My clean sound is a '79 JMP with the gain set around three, so it's semi-overdriven. Then my 'War' sound is a '62 Vox AC30 - which the other guys use too."
PRS Singlecut [Black]
Dave Baksh: "This is a single-cut from around 2003. When Mark Tremonti started playing them, he asked for a flat black one.
"PRS made him one but it needed a few tweaks, so their artist rep asked me if I wanted it. It's one of two made that year… I'm getting it off the road as soon as possible!
"There's a sticker from a band called The Independents, who have a Legion Of Doom - kinda like this club if you've toured or made a bond with them; we also joined Turbonegro's Turbojugend gang.
"There's another sticker from Pennywise, who have been super sweet to us from the beginning. And, of course, a skull. We're all big metal fans, but I was the heavy kid in high school."
PRS Singlecut [matte brown]
Dave: "This is one PRS made for me in 2006. In fact, all my single-cuts are pre-lawsuit, made before PRS and Gibson got into it.
"It's matte chocolate brown; we put the orange racing strips on there and got brown sound written on the 12th fret. The pickups I use are the Rio Grande Barbeque humbuckers, modelled after the PAFs. They really chase that Billy Gibbons tone - which is one of the greatest of all time if you ask me!
"Getting around a thicker neck works better for me; thin ones feel like squeezing a piece of paper. I guess without sounding too innuendo-ish… I need a thick piece of wood in my hand. I have big palms - ha ha! The scale-length of single-cuts against the Les Pauls work together really well - you get a really good harmonic balance."
Mission Controller Pedals
Dave: "Mission pedals over in the States made these two foot controllers for me. The green one controls a two-octave whammy sweep.
"I use it in the solo for the song No Brains, but not really anything else. Tom Morello's a massive influence for me! And the one on the right is a straight wah."
Kemper Profiler
"My main sound is a Marshall JMP, profiled at Deryck's studio. It's in between a Plexi and an 800, with all the cut, warmth and oomph… plus more gain!
"My 'War' sound is a Fender Deluxe, for semi-overdriven tones and the clean is a Silverface. The lead channel is a JCM Slash, but the older one from the '90s, like a Jubilee with a heavier mid-sweep.
"I kick in the flanger during Fake My Own Death, and for solos I use the Treble Booster as a Tube Screamer to thin out the sound and help it cut a little more. I also use the pitch shifter to take me down three semitones for the beginning of Goddamn I'm Dead Again, as we're tuned to D# standard. It sounds really low and chunky; at soundcheck I can't resist playing Roots Bloody Roots!"
Kemper Foot Controller
"We adorned the whole thing with Newcastle United stickers… because they're the best, ha ha!
"I was on a rugby tour in 1995, got served breakfast in Wales, which had a Kellogg's hologram of Alan Shearer scoring a header against Leeds United. I thought this guy looked pretty rad and he ended up being one of the best strikers of all time!"
Gibson Les Paul Standard 2016 T
Tom Thacker: "I actually preferred the way the LP Traditionals felt, but this one just sounded right for Sum 41… a bit more metal, I guess.
"The pickup selector is blocked - the neck is disengaged because I used to accidentally knock it up and down when playing live. Nowadays we play with a little more finesse than simply trashing our guitars!
"They've got the locking tuners, but honestly, I was thinking about finding one without them… I like a guitar very basic. It's funny, Dave picked this up not long ago and said, 'I don't know, maybe I should try out some more Gibsons?' I was like, 'I don't know dude… that's my territory!'"
Gibson Les Paul Goldtop
"When I first joined Sum 41 about 10 years ago, we were talking about what I'd play. Deryck had a Goldtop which he loved so I went with that, though it got retired eventually.
"This is a newer one with Seymour Duncan JBs and it's my backup for this tour. I've taken the tone knob off - I don't need it. Whatever makes my tech's life easier, I'm happy with… they just remove knobs and tape things down so I don't cut my hand.
"I prefer my guitars with a bit more weight, I pick and fret quite hard. I don't like super thin guitars - especially for live, I need something a bit more substantial to beat up."
Kemper Profiler
"For this record, Deryck wanted to go out with Kempers. I like tube amps, and used to bring an 800 as well as a Fender Deluxe Reverb, but we do a lot of international touring.
"You lose and break things very easily, it gets expensive. So we profiled all our sounds and they're really similar if you do it right. My main rhythm is a JCM800 with Vintage 30s, that's the classic sound I've always used.
"Interestingly, for leads, I use the AC30 - because the Kemper can give amps gain they wouldn't have. And it doesn't even sound shitty! You can add different tubes, rebias it… all sorts of stuff in the digital realm."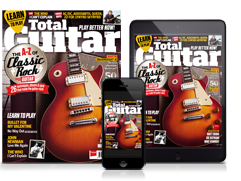 Stay up to date with the latest gear and tuition.
Subscribe and save today!