Introduction
Amps rescued from gardens, Yorkshire-made stunners and hot-rodded distortions: welcome to the world of Marmozets.
Don't Miss
Watch Marmozets storm through every guitar and bass part on belting single Habit
Not only are Marmozets duo Jack Bottomley and Sam Macintyre living proof that the UK is still capable of producing great rock bands, when it came to recording Marmozets' second album, Knowing What You Know Now they (stomp)boxed clever, using their live rigs to cement their identity and it also enables them to recreate their weird and wonderful dynamic on stage.
"I fill in the gaps," explains Jack of their core chemistry. "Sam's sort of the bricks and I'm the cement in between."
Let's take a look at the unusual components they're building the Marmozets sound with...
Alpher Mako Elite Thinline
Jack Bottomley: "They started making guitars about four years ago and they've just moved HQs towards north Yorkshire. I've been friends with them for years and they got in touch early on.
"They brought one round to my house and I played it and I thought, 'This is insane'. Because it was the first time I'd played a handmade custom guitar. It felt so different.
"These just fit everything I want. In a sense these play like a PRS and sound like a Tele. Quite a fast neck on all of them. All the guitars I used on the record were Alphers. I'm lucky to have had that because on the first record it was a free for all.
"This is the first one I got [of the three pictured], it's been Frankensteined a touch since. When I first got it I had a boost pedal built into it by Pedal Project. It was kind of like a prototype for me to tour with. There's a killswitch as well that would react with it. Now they're dummy pots.
"When I was touring with the Tele I'd never touch the neck pickup with anything I played and I never use the tone or volume knob much. So it's got one pickup, a Bare Knuckle Mississippi Queen. A hot P-90 because I like the sound of a P-90. You get the balls and the nice top-end cut as well.
"It's an ebony top and a flamed maple body under. The reverse f-hole was kind of a joke for us at fi rst and now normal f-holes look weird to me now. It's a roasted maple neck and the fi ngerboard is ziracote. If you look at it in the light, it looks like there's a mountain landscape on it. This is the only one I've got with Hipshot tuners."
Alpher Thinline: #2
Jack: "This is the second one we did and my spare on the tour. It has liquid copper binding and on the fretboard too - it's been set and dried into it.
"We bounce ideas off each other and it progresses so the first guitar's side is quite Strat-like in the way it dips in but for this one I wanted it to be solid, and there's a bit more of a honkier sound with this one because it's a bit deeper. The neck here is wenge and the fingerboard is rocklite, which I think is a combination of ebony and oil. It sets completely flat and solid.
"The pickup is a Supermassive 90, but it sounds more like a humbucker than a P-90, I don't know if it's the depth of the body or the woods used. It's darker compared to the other, brighter one."
Alpher Thinline: #3
Jack: "This is my newest and the main guitar for me. No controls - it's naked! This is designed more for the newer songs we were writing. It's a straight-up TV Jones, a Magna'Tron. It's quite a bright humbucker and a rounded sound.
"There's no pot inside either so the pickup is literally wound straight into the input - it's so hot. But it seems to work, and the volume of it compared to the others isn't that significant at all. I also have a Bigsby on my brass-topped Alpher, which I don't have out with me. At first with the Bigsby it was more an aesthetic thing. I do mess about with it a lot in the set and there are songs where I do use it."
1974 Fender Silverface Twin
Jack: "This was actually given to me by my next door neighbour. He was moving out and I was walking past with my dog and I looked through the gate into his garden and there was this amp with its back facing me and a plant pot on it and a spade resting on it too.
"He was a proper old Yorkshireman and I said, 'David, what are you doing with this?' He said, 'What? These speakers here?' He knew I played in a band and he said just take it. I've had it re-valved a few times and the reverb tank fell out of it the other day. Whoever had it before had taken the tolex off and stained it. That covers the high-end sound and both amps combined make my one sound."
1964 Silvertone Twin Twelve
Jack: "This is more mid-heavy and bassy. It says it's 50-watts but it's 25-watts, but as it's on for longer it gets louder. It's literally the equivalent of buying an amp from Argos in 1964.
"I've been a fan of old stuff anyway but I've always been a fan of Jack White. He didn't actually use this model but he used Silvertones. I left it for years and I was using a Hiwatt with a Twin and then I got hold of one of these for about £300, which was next to nothing really. And there's something about it. I've got a spare behind it just in case."
Jack's pedalboard
GigRig G2
Jack: "That came into the equation as we were recording the first album. I don't think many people were using them then but I saw one online and it looked like exactly what I need. I used to run more pedals than this and the signal chain was horrible. I'd have pedals for no reason at all - a little noise over a drum fill. You have to trim the fat and work out what you actually need.
"These G2s are amazing things. A lot of the things I'm doing on this new album, I wouldn't be able to do them live without it. Not without looking like a total idiot with all the tap dancing I'd have to do."
Death By Audio Fuzz War
"It's like a Big Muff on steroids. It adds a shitload of db, it's actually my favourite fuzz pedal ever. I just love it. It's bonkers. It feeds back like crazy, which I want for certain bits."
Third Man Records Bumble Buzz
"This is based on a fuzz sound, like an old Maestro. A super-squishy, farty buzzsaw fuzz. It's the main sound of a song called No Reality and one of the main fuzz sounds in Play as well. It's in the start of Habit too with a whammy."
ZVex Fuzz Factory
"My third fuzz is set on a really gated setting. Kind of like a Smashing Pumpkins-type sound but it's completely gated in the pedal so it's really tight. There's no feedback, you could hold your hands up and there's nothing. If you mix that with the chorus setting on the whammy, that's the sound in the verses of Play. It sounds like a synth when you cross those two things together."
Boss DD-500
"This is amazing because you can save delay times by bpm and Josh is on the click so we can fit everything to that. You can title them and save to patches. I'm not very good at doing the whole tap tempo thing while I'm playing, so this has worked wonders for me because it's just really easy to work with."
Stone Deaf PDF-1 Parametric Distortion
"It's a boost with a clean or dirty mode. It goes from -20 to +20 with the parameter, which is quite cool so you can have it super-bright or like you're upstairs at a nightclub. then you sort of blend it between so it's really good for a general EQ. That's on almost every patch to shape the sound of the amps together because there's not quite enough gain through my amps naturally."
DigiTech Whammy 5
"I use that all over the shop. On our first album with the song Why Do You Hate Me? there's a really high bit that's like +2 and then I'll use +1 for fiddling about with live. I use the drop octave on that with the chorus."
Electro-Harmonix POG
"I use the POG to substitute the low octave sound on the Whammy if I'm using the plus settings. Just so I've got the octave thing as well in Why Do You Hate Me?. I could probably get away with not using it live and people wouldn't be able to tell at all."
Maxon Flanger
"It's got everything set to full. A Larry LaLonde-esque what-the-hell-is-that? type thing. I use that on a couple of songs on the new record too."
Fender Pro Series Telecaster
Sam Macintyre: "I've always been a single coil player live. Single coil, bridge pickup. Simple. Because I am quite a simple player - my sound is quite simple. I've got two sounds and that's pretty much it really.
"This is my main one in C standard. They sent me the Deluxe Thinline before that but I didn't really get on with it. I was getting too much sub, rather than high end. So they sent this over to the studio when we were recording the new album and I literally plugged it in and it sounded awesome, especially through my Hiwatts. I got a nice sub but also that top end I was missing out on the other one.
"So I actually recorded most of my guitars on this as well. I recorded the other parts on this amazing Gretsch Electromatic. That was full chambered and it sounded unbelievable because it was set up so well. Really good for the dirty deep fuzz stuff."
Gibson L6-S
Sam: "It's bizarre. It doesn't sound like a Les Paul or a Junior and I've never seen one before.
"There's a song called Major System Error on the new record and I recorded it on the Telecaster but live you don't get that proper oomph. This gives it loads of balls. It's got a dial with six settings [parallel, series and out-of-phase options] and I think it was designed to be more of a studio guitar - I use it on setting two [neck pickup only]."
Fender Mustang
Sam: "This is the new Mustang, tuned to D-standard. I've seen a lot of bands using them.
"I was going to go for a Jazzmaster or a Jag but I changed my mind to go for a decent sounding 'stang. I only use it for Captivate You at the moment, I tried it with other songs but it didn't really work. It was too twangy. But it's great for Captivate You because it's chime-y."
Sam's pedalboard
Boss LS-2 Line Selector
Sam: "That's a simple AB to run to amps. I think we got this from somewhere else and it already said Mr Echo on it."
Boss DM-2W
"When we were writing the record I was using this a lot for sounds. I don't really use it a lot for delay parts in songs - only a pre-chorus in a new song and the second verse of Captivate You on one setting. The rest of the time I'm using this for speeding up delay and those crazy sounds you can make when you're turning the knobs. I use it mainly for atmosphere."
Boss DS-1
Don't Miss
Watch Marmozets storm through every guitar and bass part on belting single Habits
Sam: "It's been modded. It sounds unbelievable. My tech Tom did it..."
Tom [tech]: "I'll give you a hint. There are two diodes in the circuit, which you don't need. Get rid of them and swap out a few bits."
Sam: "I know it's a distortion pedal but even if you have it at zero and you put it on it's too much. So we've modded it so you have a lot more control of the distortion. But it sounds like a completely different pedal. I have this on all the time, if it's off it's because the Mastotron is on. The great thing about it is that it sounds amazing if I'm playing hard but if I play lighter it sounds a lot cleaner."
Z.Vex Mastotron
"I recorded the Play riff with this and all the other stuff to do with fuzz on the new record. It really squashes and compresses your guitar but it still has that volume. I've struggled with a lot of fuzz pedals losing volume. If anything this boosts it a little, which is really good."
DigiTech Whammy
"That's for Why Do You Hate Me? and some other riffs. When I first got one I went through a phase when I had it on all the time. I only use it for big riffs. I just have it on a higher octave - I don't use any of the other settings. Having that extra octave kind of boosts a riff a little."
HiWatt Custom 50 Combo
"I've been using these for five years. The only problem is they're extremely loud so we have one of them facing backwards on stage. I've stuck with them because they sound really, really good. You know an air cannon? It's like that. The amount of bass you get underneath it is ridiculous.
"I've never had a bassier amp but with this tube amp the definition on chords and riffs is all there as well. It's not a distorted amp at all - if anything it's a really loud, clean amp. It's a completely different tone to Jack's Fender and Silvertone because they've got a lot more bite - whereas this has a lot more boom on it."
Knowing What You Know Now is out now on Roadrunner Records.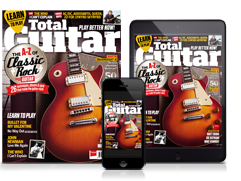 Stay up to date with the latest gear and tuition.
Subscribe and save today!