NAMM 2018: Meet TC Electronic's Sonic Specialists, 4 new tone-specific digital pedals
NAMM 2018: TC Electronic has added four new pedals to its rapidly expanding range of affordable stompboxes, dubbed the Sonic Specialists.
The Drip Spring Reverb, Fluorescence Shimmer Reverb, Gauss Tape Echo and Vibraclone Rotary are all aimed at capturing classic tones from well-known artists.
All four promise "state-of-the-art digital algorithms and high-quality materials", and will be available late Q1. No price has been confirmed as of yet, but we'll wager they'll clock in at a similar figure to others in the line, which is $49.99/€49.99.
Scroll on through the gallery for a closer look and listen to each pedal, and pay TC Electronic a visit for more info.
With these new additions, plus the 13-strong Smorgasbord of Tones, November's eight Analog Armada pedals and the Tube Pilot Overdrive, that brings TC's new line up to a whopping 26 pedals.
TC Electronic Drip Spring Reverb
PRESS RELEASE: The main ingredient of a solid surf guitar sound has always been a heavy spring reverb, conjuring forth a wash of resonance like a wave breaking on the shore. Drip Spring Reverb is named after its uncanny ability to produce the unique "drip" sound after picking a muted string on a reverb drenched amp.
But that's just half the story - on subtle settings, Drip yields a wealth of classic guitar reverb known from all the old blues recordings, providing a sense of substance and sustain to a clean tone.
TC Electronic Fluorescence Shimmer Reverb
PRESS RELEASE: Harnessing the immaterial ether for a cavernous, stratospheric reverb wash, Fluorescence Shimmer Reverb puts the colossal, interstellar tones of Eno & Lanois at your disposal for an instantly grandiose orchestral guitar sound.
And if by chance you spent the early 90s gazing at your shoes while constructing haunting soundscapes, Fluorescence will definitely pour a gallon of fresh fuel on your fire.
TC Electronic Gauss Tape Echo
PRESS RELEASE: With the characteristic warm tones of the vintage tape echo machines of old, Gauss Tape Echo epitomizes the rich psychedelic sounds of Gilmour in the 70's, Page's wild oscillating explorations and Van Halen's pitch altering fireworks.
Gauss features ultra-saturated delay tones with authentic low end attenuation and authentic wow and flutter that really thickens up your tone. It also works perfectly for 50's slapback, elevanting your Scotty Moore licks into rockabilly heaven.
TC Electronic Vibraclone Rotary
PRESS RELEASE: The swirly sixties vibe of a spinning speaker cone was immortalized by Hendrix, Harrison, and Trower, providing a sonic background to match their skills.
Vibraclone Rotary features the syrupy Chorale mode and the watery Tremolo mode to accurately reproduce that old school whirl with the ability to meld the characteristic rotary modulation with some truly tasty saturation for a tornado of Texas tone á la SRV.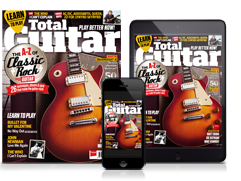 Stay up to date with the latest gear and tuition.
Subscribe and save today!