TC Electronic announces Analog Armada of 8 new ultra-affordable pedals
No sooner had we reported on the TS-aping El Mocambo Overdrive than TC Electronic announced seven more ultra-affordable pedals, resulting in what it calls its Analog Armada, complementing its 13-strong line-up announced last year.
The eight new stompboxes comprise a trio of gain boxes (overdrive, fuzz and metal distortion), three modulations (chorus, tremolo and octaver), as well as two dynamic stompers (auto-swell and noise gate).
Quite a few of these are clearly "inspired" by some Boss classics (3rd Dimension Chorus and Crescendo, we're looking at you); you'll recall Behringer had a similarly derivative line, before the company bought out TC Electronic. We'll say no more.
Anyhow, when the prices are this good - a mere €49.99/$49.99 a pedal - we're not going to complain.
Head on through the gallery for a closer look and listen to each one, and visit TC Electronic for more info.
TC Electronic El Mocambo Overdrive
PRESS RELEASE: As far as versatile and ubiquitous effects go, an overdrive emulating a pushed tube amp is number one.
El Mocambo will fatten up your tone with some extra girth around the waist, giving you that highly sought-after mid-range "oomph" that cuts through the mix when your band is pushing decibels.
This particular gritty mid-range honk gives the guitar a certain vocal quality that is ideal for a singing blues solo but also works formidably in a hard rock setting as a lead boost on top of an already overdriven sound.
TC Electronic Honey Pot Fuzz
PRESS RELEASE: Honey Pot Fuzz is the kind of fuzz box that blurs the lines between fuzz and distortion in a most pleasing way.
There's plenty of volume on tap. It's just begging for a loud tube amp to really open up and breathe.
The range of gain available in Honeypot Fuzz goes from a slightly gritty grind, almost like an overdrive, and all the way to massive walls of sticky honeycomb-structured distortion with seemingly endless sustain and a tone that's fat and nasty but with thick, sweet highs.
Honeypot covers a wide musical territory that spans all the way from The Black Keys and The White Stripes to 90's alternative rock all the way up to the Dark Side Of The Moon with a beautiful creamy and vibrant sustain.
TC Electronic Eyemaster Metal Distortion
PRESS RELEASE: Eyemaster Metal Distortion brings back the original metal credo of "loud and brutal" with its "simpler-than thou" 2-knob operation.
Just set the volume (all the way up, right?) and adjust the gain (anything less than all-the-gain is sacrilege) and start riffing.
Eyemaster was specifically designed to channel the Swedish death metal tone, endearingly nicknamed the "Swedish buzzsaw". As that term implies, Eyemaster is not a subtle overdrive.
It is not transparent and it does not "sit well in a mix". Rather, it burns an unholy path straight through the mix.
TC Electronic 3rd Dimension Chorus
PRESS RELEASE: 3rd Dimension Chorus is a unique type of "motionless" chorus effect that reproduces that recognizable eighties clean tone.
It's full and lush and expands your tone with a three-dimensional feeling that is at once rich and sweet as well as shallow and smooth.
3rd Dimension has no knobs for you to obsess about - just 4 preset buttons ranging from "just a bit" to "quite substantial".
TC Electronic Choka Tremolo
PRESS RELEASE: Tremolo is the subtlest and simplest of modulation effects and as such, no good amp should be without it.
However, as it turns out, many of them are.
Choka Tremolo's intuitive 3-knob layout lets you easily crank out fast waves that either cut deep or leave shallow furrows across your tone, or slow tides that ebb and flow with just the right amount of white-capped tubes you need for a satisfactory surf tone.
TC Electronic Nether Octaver
PRESS RELEASE: Level up your tone with the vintage-sounding Nether Octaver and unleash a gnarly pitch-o-rama that will slay all the posers and make you irresistible to the mall chicks.
Nether Octaver gets you the recognizable glitchy synth sound reminiscent of an old arcade game hall. Use it subtly to fatten up your sound or use extreme settings for all out synth tones.
Alternatively, you could put on a purple satin suit and play the solo from "When Doves Cry" until your fingers bleed. The mall chicks will love it.
TC Electronic Crescendo Auto Swell
PRESS RELEASE: Every once in a while an effect shows up ahead of its own time and before guitarist figure out what do with it, it's gone out of production.
Sometimes this results in effects that, in spite of their retail price, become extremely valuable because of the rarity of the effect. The only way to get your hands on these kinds of effects is to buy them used in varying conditions with no warranty and at sky high prices.
If you're the kind of guitarist who actually has that amount of money to spend you can buy the pedal. But then what? Take it gigging on the road? On tour? Or just leave in a vault somewhere and never really use it?
Crescendo Auto Swell brings an iconic and rare effect and makes it readily available and built to withstand a lifetime of abuse.
TC Electronic Iron Curtain Noise Gate
PRESS RELEASE: The signal-pollution from the decadent, noise-producing effect pedals is not welcome behind the iron curtain!
Iron Curtain is a classic, simple no-nonsense noise gate with intuitive controls, high quality components and zero tolerance for any unwanted noise in your signal - only the purest tone is welcome in the noise-free republic!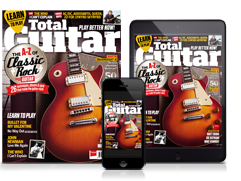 Stay up to date with the latest gear and tuition.
Subscribe and save today!