Indigo Girls' Emily Saliers talks Four Voices, guitar roots and multi-instrumentalism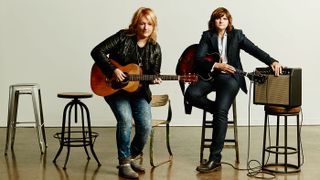 Introduction
Grammy-winning US act Indigo Girls are approaching 30 years in the business. Acoustic spoke to one half of the duo, Emily Saliers, fresh from their sell-out Four Voices shows with Joan Baez and Mary Chapin Carpenter.
Over the course of 30 years in the business, the music created by Emily Saliers and Amy Ray has genuinely, it can be said, touched lives - just ask one Bon Iver, who even has lyrics from the duo's 1994 single Fugitive (from the Swamp Ophelia album) tattooed on his body.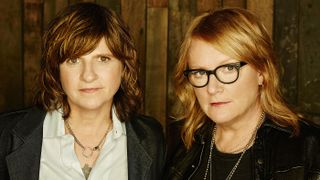 It's written
Was your songwriting process any different than usual?
"A couple of them were old songs I had. One was co-written with my friend Kristen Hall, one of the founding members of the band Sugarland. We wrote this song that I loved but it always sat around, so for this record I said 'I'm going to bring that out!' There was another old one that was my fi rst song on ukulele - I'd just been to Hawaii and brought back this beautiful ukulele and came back and wrote this song.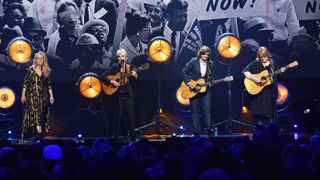 We could be heroes
Who were your guitar heroes growing up?
"Honestly, when I was taking classical guitar I did listen to a lot of classical guitarist records. Andrés Segovia and Christopher Parkening. I listened to a lot of Earl Klugh. And then James Taylor always had good guitar parts. Jackson Browne. Joni Mitchell, who was my favourite guitarist of all time. A lot of those influences happened. Honestly, though, I didn't pursue guitarists, just music I loved."
Which artists do you listen to these days?
"I love Miranda Lambert, who has an incredible voice, Angaleena Presley, and her Pistol Annies group with Ashley Monroe and co. Angaleena is one of the great songwriters out there right now. I listen to a lot of rap that has social commentary, like Kendrick Lamarr and Chance the Rapper. I can love the beats and vibe, even of certain misogynistic rap music - I don't like the message but I'm intoxicated by the beat.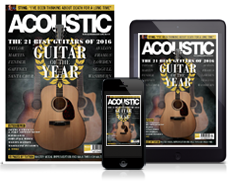 We're the UK's only print publication devoted to acoustic guitar.
Subscribe for star interviews, essential gear reviews and killer tuition!