Indigo Girls' Emily Saliers talks Four Voices, guitar roots and multi-instrumentalism
Introduction
Grammy-winning US act Indigo Girls are approaching 30 years in the business. Acoustic spoke to one half of the duo, Emily Saliers, fresh from their sell-out Four Voices shows with Joan Baez and Mary Chapin Carpenter.
Over the course of 30 years in the business, the music created by Emily Saliers and Amy Ray has genuinely, it can be said, touched lives - just ask one Bon Iver, who even has lyrics from the duo's 1994 single Fugitive (from the Swamp Ophelia album) tattooed on his body.
Ardent activists who have flown the flag for LGBT and environmental issues consistently throughout their career, at the heart of their sound has always been solid, complex guitar honed through having played together since childhood in Decatur, Georgia.
We chatted with Saliers the day after a reprise of the Four Voices tour, a joint effort with folk super-icons Joan Baez and Mary Chapin Carpenter, decades after the four first joined forces for a series of benefit gigs in 1991.
How did the idea of coming back together first come about?
"We've known Joan and Mary for years - since the early 90s when we did a show at Newport Folk Festival in Long Island together. So we just decided we wanted to bring the group back together and do a special tour. Joan recently got inducted into the Rock 'n' Roll Hall of Fame and we sang with her for that on the heels of this tour. We just finished the second show. It's been very special.
"First of all, when Joan Baez walks onto that stage things get electric. She means so much to so many people. And she's warm and beautiful; her presence is powerful. So I'm on stage feeling that energy and going 'this is amazing'.
"Then of course Mary Chapin Carpenter is one of the great contemporary folk songwriters. Listening to her onstage - wow. Amy and I have loved learning the harmonies. I've felt more like a fan than a performer!"
Why did you choose now to do it?
"Our managers are all friends and they really spearheaded the idea of doing the tour. The timing was right; everyone is just so busy. Mary has been recording in the UK and has fallen in love with the place. Joan has also just finished recording, as have the Indigo Girls. Our agents have worked very hard to put it together."
Where is your next date?
"We're making our way up to Chicago, then Canada - I love Toronto - and we'll end near Boston. Then it's my solo album!"
You've been part of a duo for such a long time. How does it feel to go it alone?
"We did our first professional gig in 1980. It's remarkable when I think about the number of years. We've had an incredible partnership and friendship. It was just the time. I decided I wanted to do something different. This album has, at the heart of it, a lot of groove."
In your Pledgemusic blurb you've described yourself as a "groove/beats/world music/ electric guitar/ukulele fanatic in an acoustic guitar singer-songwriter's body"? What new styles did you explore for this new album?
"I like a lot of hip hop, R'n'B, and rap. I like beats. The music I grew up with was Jackson 5, Stevie Wonder, Earth Wind and Fire: black gospel music, particularly from the South. That's the kind of stuff that stirs my spirit. But I'm a folk singer. So on this album we bridged the gap a little bit. My producer Lyris Hung [session musician and one half of comic musical duo Slanty Eyed Mama] did a lot of beat arrangement. Then for the recording we got in real players to add the human vibe, rather than the strictly metronomic beats. At the centre of it is a love for groove. But I'm not an R'n'B singer. I'm not a rapper!"
It's written
Was your songwriting process any different than usual?
"A couple of them were old songs I had. One was co-written with my friend Kristen Hall, one of the founding members of the band Sugarland. We wrote this song that I loved but it always sat around, so for this record I said 'I'm going to bring that out!' There was another old one that was my fi rst song on ukulele - I'd just been to Hawaii and brought back this beautiful ukulele and came back and wrote this song.
"The others I was writing with this record in mind. I sent snippets of songs to Lyris and she produced the little bitty parts in her home studio. Every part she sent back I would freak out over - they were just so good. Then I would go back and finish the songs based on that production. A lot of them started out as fragments of songs and were inspired by what she did on them."
We also heard that you had (recent Acoustic interviewee) Lucy Roche Wainwright on the album?
"We're old friends, we tour with her a lot and she has sung on our records. We love Lucy, she's like a family member now. She was absolutely, always going to sing on my record. She has wonderful pitch, a bell-like quality to her voice. The great thing about having people you love on the record is that they are embedded on it forever."
Indigo Girls have got quite a community of talented female musicians around them - do you feel a responsibility to hire other women?
"Speaking from the United States perspective, it's always been a male-dominated industry - there just aren't enough women in the business. We have a lot of women artists opening for us because we know and love their music. Sara Lee [notable session bassist] played with us for years. We just know so many amazing female musicians!"
You play ukulele and banjo as well as guitar. What's your instrument of choice right now?
"I feel like my guitar-playing abilities are actually growing at the moment, which is exciting at this point in my life. I'm becoming a better guitar player. On this Four Voices tour it's been particularly gratifying to play lead guitar on some songs. Guitar is my goto instrument.
"Basically I can pick up any string instrument that you can strum or pick, though, and make sounds out of it. With banjo, obviously I'm not a real player, but I treat it like a guitar and because it's a very different instrument, it leads me to write in a very different way.
"Then I play some mandolin because I know a few chords. And I love the ukulele. Of course, there's different kinds, with different musical range. I'm very fond of the baritone ukuleles. And when you plug it into a sound system, it just sounds gorgeous; where it lies in the sound spectrum is particularly stirring to me. I just love it."
You're on tour so much - what's your setup?
"It depends on the tour. But largely we have two acoustic guitars, both Martins, an electric guitar - a Collings - two different ukuleles, a mandolin, a classical guitar, a banjo, twelve-strings, a bouzouki, a dulcimer - like a million! Thank God for our guitar tech. Amy and I at first only played acoustic, but after a while we wanted more textures. So gradually, we built up our arsenal."
Is it fair to say you're the fingerpicker, whereas Amy handles more of the rhythm side? How did you develop the roles between you in songwriting and playing?
"We write each of our songs on our own. But when we come to arrange the parts, Amy does do more of the strumming. She has more of a rock 'n' roll heart; she's naturally more of an aggressive player. I had classical lessons and a higher vocal range - I'd been in choirs and I knew about descants and harmonies and ended up doing more of that naturally. We just went off what we had. Now when we come together we just brainstorm."
What made you pick up guitar as a kid?
"I came from a musical family. We all just tried different instruments, but when I was nine, I saw a flier for guitar lessons and there was a little lightning bolt. My cousin Kevin was at Yale and was playing professionally - we were all just in love with him and what he was doing as a family at that point, you know. He took me out to buy a guitar, and was very respectful of my seriousness about it, even though I was a kid.
"So I got my first guitar and couldn't put it down after that. I was a very emotional kid, so from the very beginning I started writing songs. Then I took classical guitar lessons at age 11 for two years. It informed my playing but I wasn't really meant to be a classical player, I liked writing songs."
We could be heroes
Who were your guitar heroes growing up?
"Honestly, when I was taking classical guitar I did listen to a lot of classical guitarist records. Andrés Segovia and Christopher Parkening. I listened to a lot of Earl Klugh. And then James Taylor always had good guitar parts. Jackson Browne. Joni Mitchell, who was my favourite guitarist of all time. A lot of those influences happened. Honestly, though, I didn't pursue guitarists, just music I loved."
Which artists do you listen to these days?
"I love Miranda Lambert, who has an incredible voice, Angaleena Presley, and her Pistol Annies group with Ashley Monroe and co. Angaleena is one of the great songwriters out there right now. I listen to a lot of rap that has social commentary, like Kendrick Lamarr and Chance the Rapper. I can love the beats and vibe, even of certain misogynistic rap music - I don't like the message but I'm intoxicated by the beat.
"For folk music I love the Weepies, Amos Lee, he's amazing, India Arie, she has one of the most soulful voices but also an acoustic guitar and R'n'B roots - a killer combination. Brandy Carlile, Colin Hay is a wonderful songwriter. Damien Dempsey. I listen to everything, but primarily to folk music."
Are there any guitar brands - big or small - you'd recommend people keep their eye on?
"I've tried different brands - Guilds, Gibsons - but I always come home to Martins. I've tried Collings, they make a really great guitar too."
Are there any iconic guitars you've spotted others playing that you've lusted after?
"I saw David Crosby playing a Martin D-45, that I really wanted. So I got one. It's really special, one of only 50 made, made out of koa wood. That's my primary guitar. I bought that years ago as an investment - all Martins are an investment.
"My other main guitar is a Martin J-40, a little more muscular. Amy and I both bought those at the same time, when we got signed, back in the day. Amy has played an old, smaller body Martin, a 000. I don't have one, but I can play hers. She has some old ones, the kind you can imagine a hobo sitting on a train playing, like Woodie Guthrie.
"It invokes that time to me. I come across those and lust after them in the moment. But they have such specific sounds, I don't really have a justifi cation to invest in those specifically. You come across them, you love them, you borrow them - that's it."
If you were in a fire which of your guitars would you rush to save?
"It would be my D-45. It's very special to me. It doesn't work for every song, because it's koa and doesn't have the deep resonance of the older rosewood guitars. But it's been dropped, and it's been fixed, and at one point someone carved their initials on it in an airport, which was horrible. It's my little roadwarrior guitar. It was a big prize for me to get and I still treasure it."
What's the reception been like so far for the Four Voices tour? What songs have the crowds gone wild for?
"The reception has been remarkable. They like the favourites. You have some Indigo Girls fans, some Mary Chapin Carpenter fans and of course some Joan Baez fans. When Joan plays Diamonds And Rust everyone loses their minds. As with the Mary Chapin favourites. She played This Shirt and I just cried. Tears came down. The response has been really good for the old favourites. And then when we played Closer To Fine everyone sang along."
The ins and outs of concert-going, especially for women, has been a discussion point this week (at the time of the interview the Manchester terror attack was in the news). Was it on your minds for the bigger shows you just played?
"For my solo record there's lots of content about violence and extremism and there's a world of disconnect between people who do that and the lives of people who are enjoying music."
What's next for you?
"There's my solo album, then our new symphony record comes out in 2018. I really want to come over to the UK for my solo record. I have every intention of going to the UK more often than we do as a band. Just keeping on keeping on. We love the festivals over there."
Emily Salier's new solo record, Murmuration Nation is out now.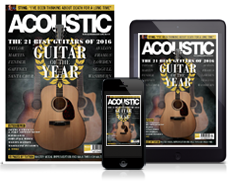 We're the UK's only print publication devoted to acoustic guitar.
Subscribe for star interviews, essential gear reviews and killer tuition!