Round table: Whitesnake and Black Star Riders on the ultimate rock guitar and what makes a great solo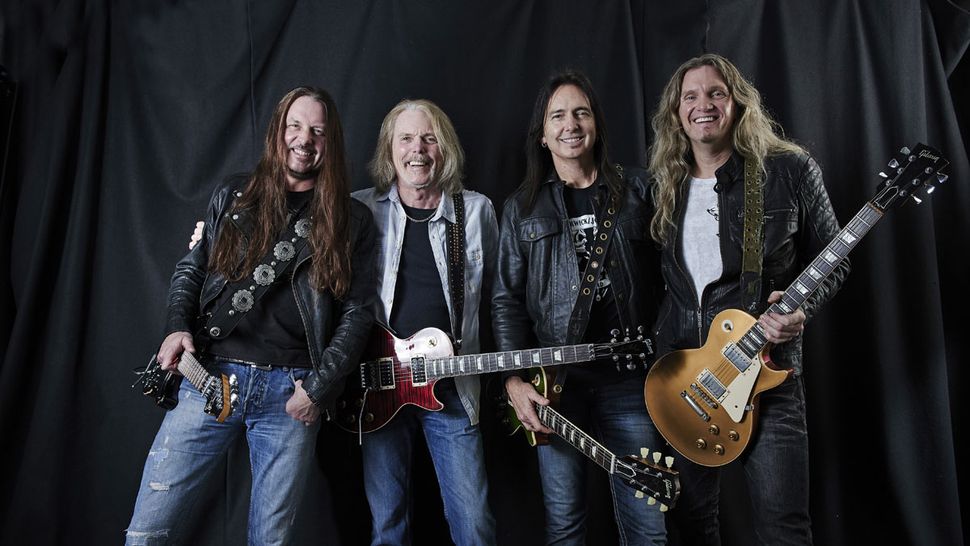 Introduction
We collar Scott Gorham and Damon Johnson of Black Star Riders, plus Reb Beach and Joel Hoekstra of Whitesnake, to discuss such weighty matters as how much to drink before taking the stage, the essence of a great solo, the sacrilege of a Floyd-equipped Les Paul and the demise of the stack…
You wait all afternoon for one multi-platinum hard-rock guitarist to arrive - then four show up at once. Given the muddle of a typical backstage itinerary, our plan to assemble the six-string contingent of Whitesnake and Black Star Riders for a rock 'n' roll summit at Cardiff's Motorpoint Arena always seemed like a pipe dream. Now, as the four men swagger into the room, we have to work hard to silence our inner hyperventilating fanboy.
This is more guitar heroes than a brain can compute, more hair than one venue can handle. There's Damon Johnson: the ice-cool gunslinger who served in Brother Cane and Alice Cooper before taking the Riders gig. There's Reb Beach: the affable virtuoso whose blurry fingers have torn it up in Dokken, Winger and Whitesnake.
Don't forget his wingman Joel Hoekstra (even if he largely spends the interview noodling distractedly on an unplugged Les Paul). And budge up for Scott Gorham: the ex-Thin Lizzy legend and conference silverback, who sparks an e-cigarette and commands the conversation every time he chimes in with his dry war-stories.
So, from the state of rock guitar to the demise of the mighty stack amp, Guitarist is ready to lob in a fistful of conversational hand grenades to be batted around by our four veterans. This might get loud…
Welcome, gentlemen. How's the tour?
Reb Beach: "It's great to see people rocking out there, and older people bringing their kids. I remember my first concert, and once in a while you'll see a kid out there going, 'Dad, I want to do that…'"
Scott Gorham: "Or, 'Dad, this sucks…!'"
For the benefit of someone who has never done it, how does it feel to thrash an electric guitar in a venue this big?
SG: "Hmm. How can I explain it? It's like caressing a woman. Better than sex? Well, it's two different kinds of ejaculation."
Damon Johnson: "Scott and I love the fact that Whitesnake and Leppard have this big ramp that goes out into the crowd. We don't ever get to do stages like that, so we'll give each other a wink on some harmony parts, and we both go walking out."
RB: "It's called an 'ego ramp' - but don't say that to David [Coverdale]. He'll tell you: 'It's not an ego ramp! It's a thrust!' It's very different playing a packed club, where the people are right up against you, and an auditorium, where you only see the first few rows. In one, you feel like a major rock star and in the other, you feel like you're really in tune with an audience."
Don't Miss
Def Leppard talk wild tours, guitar playing style and coping with Hysteria
Thin Lizzy's Scott Gorham: my top 5 tips for guitarists
Scott Gorham talks touring with Black Star Riders
Comparing notes
Your collective experience is staggering. What's the essence of good rock guitar for each of you?
RB: "It's soul, for me."
SG: "It's about feel. In fact, Reb and I were talking about this the other day. The kind of players that I really don't like are the scale monsters. Where you never hear a bent string, so it doesn't sound like this guy is feeling anything. For me, you gotta be bending strings and making the instrument sing for you."
DJ: "The other thing I would add - the thing that unifies these three bands - is great songs. As much as we all grew up loving our favourite players, it was their songs that got stuck in our heads. I have so many friends at home in the South that are amazing technical players. They surpass anything that I can do. But they can't write a song."
RB: "I've been waiting years for some young band with a guitar hero at the forefront, and it just hasn't happened. Because they go to Berklee and study to be amazing guitar players - but they can't write a song. That's a whole different ability. That's why there's no [new] Van Halen."
If you had to explain to a complete beginner how to play a memorable rock guitar solo in a few sentences, what would you advise?
DJ: "Well, I'd tell them to learn Highway To Hell first. Not just the solo, but the progression as well. And that's all they need, forever. You can build a lot of houses on that one song, right there."
RB: "This is a little embarrassing. But I learnt how to solo from one record. It was Molly Hatchet…"
DJ: "First record or second record?"
RB: "First record."
DJ: "Yes! What a great guitar record."
RB: "I learned every song. I didn't how to solo, I just knew the pentatonic scale. That's how I learned to play guitar. It was easy guitar, too. They weren't, like, Paul Gilbert or anything. It was just basic pentatonic soloing. And also, it taught me the difference between the major pentatonic and the blues pentatonic. A lot of people, they'd play in the wrong scales. They'd play in that 'happy' scale when they shouldn't, or they'd play in the minor scale when they shouldn't. So it was great for that, too."
DJ: "You'd back the needle up and figure out the chords."
Talking teachers
Do you think it's easier to get good at the guitar these days?
RB: "Yeah. We didn't have the internet, but now you can have some amazing slow-down program."
DJ: "There's no excuse these days. If somebody's interested in learning to play, there's so much information that we didn't have, man. I don't know about you guys, but I grew up in a really small town, and it was ultra-limited in everything. But thank God, man, there was this guy who lived up the street who was about four years older.
"I'd be delivering newspapers and I'd hear his band trying to work out Stairway To Heaven. He was so cool. He showed me how to get around. I don't know what I would have done without that."
Joel Hoekstra: "My first teacher only taught me songs and he wouldn't write anything down at all. So if you didn't go straight home from the lesson and practise immediately, you were gonna forget it and you'd wasted the money. That really jump-started me."
DJ: "It probably developed your ear, too."
JH: "Definitely. My parents are classical musicians and that helped a lot, too. Like, they had me playing cello when I was three and piano when I was seven. I mean, I hated it at that age, honestly - I just wanted to play baseball - but it developed my sense of pitch and rhythm, and obviously learning how to read music a bit. So when my friend showed me a powerchord, I could figure out a million songs immediately because I already had pitch and time."
SG: "You're really lucky. I had no music going through our house at all when I was growing up. My old man was a World War II veteran, really right-wing guy, a construction guy. There was no music in the house. So I had to really want it badly, almost behind the scenes. Because my old man hated the idea of me being a musician. Just fucking hated it.
"It was like, 'I'll give you this as a nice little hobby, you're gonna get on that fucking construction vehicle and dig that fucking ditch.' I don't think so! See, you guys already had the scales. It was almost in your DNA. I had to sit there and pick the thing out."
The ego has landed
Do you think the stereotype of the egomaniac rock lead guitarist is unfair?
RB: "I think that's more singers than guitar players [laughter]."
DJ: "I think, for us, whatever we can do to perpetuate the myth is kinda cool. Y'know, like, I always imagined that Gene Simmons really lived in a castle and had girls tied up in chains."
RB: "I thought Ace Frehley was actually from space…!"
Who's the best rock guitarist you've ever seen in the flesh?
RB: "Guthrie Govan."
SG: "Jimi Hendrix."
RB: "Okay - he wins!"
SG: "I met him, too. I was 15 years old, and we snuck in the back way into the Earl Warren Showgrounds. It was all these darkened hallways, and this one light coming out of this doorway. And as I walked by, there was Jimi Hendrix, sitting there, just kinda dry-humping his guitar. I froze, right? One of my buddies had a camera and he walked straight in and said, 'Hey Jimi, mind if I take a picture?' 'Yeah, sure, cool, man.'
"The whole time, I was thinking how he could have had our arses kicked out of there, but he was really cool with all of us and shook all our hands: 'Hey man, have a good time.' He was amazing that night. He was second on the bill - and just crushed Moby Grape. Three-quarters of the audience just got up and left."
RB: "It's weird when you meet a fan who's, like, shaking. It's like, 'Why are you shaking from meeting me? God, if you only knew…'"
SG: "Well, I was shaking meeting Hendrix back there - but he kinda calmed me down."
RB: "It's like that old joke about what people think backstage is like, with all these chicks taking their bras off and everybody getting hammered. When really backstage is just four guys texting on a couch."
DJ: "I'm sure all four of us were doing that before we walked into the room!"
Over the limit
What would we have seen if we'd stuck our heads into the Thin Lizzy dressing room?
SG: "Well, we didn't have texts back then. So it was tits and confetti, lines of smack everywhere. I don't know what's happened to the music business…!"
How much can you guys drink before your playing starts to go downhill?
RB: "I know exactly… It's the fifth beer. Coors Light."
DJ: "Mine's two. Our singer Ricky [Warwick], being an Irishman, is like a professional drinker. You're just born and bred to drink. We always have a toast before the gig. I can have a shot. If I have two, it can get a little squirly."
SG: "Well, I learned the hard way, from playing at a university, way back in the 70s. They made the mistake of giving us two crates of sparkling wine each, three hours before the show. We hammered that stuff back.
"When we finally got on stage, I remember Brian [Downey] counted the song in, I hit one chord, back-pedalled, went straight into the drum set. The drums went flying. So that was bad enough, right? But we rebuilt the drums again. Five minutes later, I did the exact same fucking thing."
DJ: "Oh man, what you wouldn't do for YouTube back then."
RB: "Oh man, we'd all be busted!"
With PA technology so advanced now, do you think the king-sized rock 'n' roll amp stack is on its way out?
DJ: "I hope not. But it may be."
RB: "I wish it wasn't. Personally, when I go to a concert, I want to see a wall of amps, 'cos I'm getting pumped up to see Ritchie Blackmore or someone."
SG: "It's visual, right? You want to see the hardware up there."
Tone and technique
What's the secret to a great lead tone?
RB: "It's all in the fingers."
DJ: "Scott sounds like Scott on anything he plays. I've been listening to Reb for over two decades, and you sound like Reb Beach, regardless of what rig I've seen you with. So I think we would all say it's in the hands."
RB: "And keeping it simple helps. Putting 50 gizmos between your guitar and amps doesn't help. It doesn't do you any favours."
SG: "But we all used to do that. The refrigerator full of shit, right?"
RB: "You'd buy it for $10,000, then you'd sell it for $500."
SG: "You'd walk up and say, 'How do you turn this fucking thing on…?'"
Which songs in your catalogue are most demanding to play live?
SG: "Well, shit, they wouldn't be there if it was like that, would they?"
RB: "I don't think our music has anything too technical. Maybe in Winger…"
SG: "It's not like Joe Satriani or Steve Vai."
DJ: "But, to me, sometimes the harmony guitar is more of a challenge than just blowing a solo. Because one guy can be one note out, and suddenly it's a train-wreck. Those are the moments I find I'm paying the most attention."
JH: "Being on a stage in front of a lot of people, you tend to start rushing, so you gotta make sure you're not ahead of the beat with your rhythm playing. For me, the simplest things are just as hard as what people perceive as being the hardest."
SG: "You gotta pay attention all the time. You can't just walk up there and think it's automatically gonna happen."
RB: "For me, it's the improv. I never know what I'm gonna do. Like, I know what I'm gonna start and end with, but then I just mess around in the middle. That's how I do solos. Some nights it's crap, and some nights it's pretty cool. You just never know."
DJ: "Those are my favourite moments of watching Whitesnake. You can tell that you guys have got a minute to kinda feel something and blow a little bit."
Up in arms
Do you think the Les Paul, Strat, Tele or SG is the quintessential rock guitar?
SG: "I'll say the Les Paul, because that's the guitar I always aspired to own. I think the majority of kids out there will do the same.
"Now, I think when you get to be a bit more experienced, like these gentlemen, you tend to experiment a little more, and you know more about what you want out of a guitar. I think it takes a while of playing guitar to figure out exactly what's gonna fit you."
RB: "I just want to clarify that you just referred to us as 'experienced'. I don't belong in the same room as you, man…!"
DJ: "Well, I know Scott played a Strat for a while back in the 90s, and I think all of us were elated to see him back with a Les Paul in his hand."
RB: "I bought the Thin Lizzy poster because of him: this guy with long, straight hair and a Les Paul. I just wanted him on my wall. So I bought a Les Paul for my first guitar, and I loved it. But then I heard Brad Gillis, and I had to go out and get a guitar with a whammy bar. If you put a Strat on one side and a Les Paul on the other - now that sounds really good."
Scott, some people think it's sacrilege to play a Les Paul with a Floyd Rose: what would you say to that?
SG: "Well, they make them like that. It's called the Axcess - here we go with the endorsement. It's sacrilege to put a Floyd Rose on, say, a '59 Les Paul. You just do not fucking do that. But there's a lot of guys who play Les Pauls that miss that tool, so they figured out a way to get it on."
Tough gigs
What's the toughest crowd you've ever played for?
SG: "When they first opened up East Germany, we played to a couple of thousand people. But they'd been under wraps for so long that when you got done with the song they just sat there, like, 'Well, what the fuck are we supposed to do now? Jump up and down and applaud?' They didn't want a release. It was song after song. We were like, 'Fuck, man'. And then finally, at the end - 'This is our last song' - there it was."
DJ: "Growing up in the South, there were places that if you showed up and played Sabbath and Cream, you'd start getting looks. The crowds were tougher back then. Especially as you're these skinny rock guys and you've got long hair, and God for forbid you brought your girlfriend with you."
SG: "And their women are looking at you…"
DJ: "… and they're wanting to hear Hank Williams when we're literally playing Crazy Train and Van Halen's You Really Got Me."
It's encouraging that rock bands can sell out stadiums in the age of manufactured pop, isn't it?
RB: "In Manchester, Madonna actually played the same venue before us, and they had to install another toilet for her."
SG: "And she didn't sell as many tickets. You'll see tonight, everybody is gonna go apeshit-crazy. So the enthusiasm is absolutely still there. The problem right now, especially in Europe, is the domination of pop in radio. It's giving us guys a really hard time. Whereas in the 70s, 80s, 90s, we dominated the airwaves, now it's flipped over and we can't get a look in. So we're gonna have to find a way to change all that."
DJ: "There's all this talk about 'rock is dead'. That's such a crock of shit. Like Reb was saying, I think that's the greatest thing for all of us: you see these younger faces out there, and they have that same look I did when I saw Thin Lizzy when I was 15."
RB: "I think songs like Pour Some Sugar On Me, Jailbreak and Here I Go Again will always be around. Teenagers will always love those songs."
Whitesnake and Thin Lizzy play Ramblin' Man Fair at Mote Park, Maidstone on 23 July. For tickets and info, head over to Ramblin' Man Fair.
Don't Miss
Def Leppard talk wild tours, guitar playing style and coping with Hysteria
Thin Lizzy's Scott Gorham: my top 5 tips for guitarists
Scott Gorham talks touring with Black Star Riders