Weezer drummer Pat Wilson on the band's past, present and future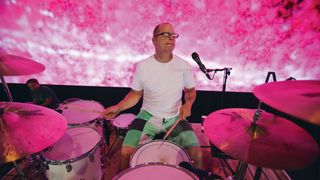 Early days
Pat Wilson has powered geek rock heroes Weezer for the best part of 25 years.
In doing so he has enjoyed and endured the peaks and troughs of the band's career, and there have been plenty of those.
Read more: Zebra Drums Free Floating drum kit
Wilson and co were catapulted to megastardom off the back of their classic debut, the Blue album, thanks in no small part to the infectious hooks of, and Happy Days-inspired video for, Buddy Holly.
The achingly simple yet supremely effective drum fill intro of Undone (The Sweater Song) also proved that Wilson had an ear for a cool drum lick. But when follow-up record Pinkerton received a critical bashing (from the same critics who today laud the album as an all-time classic) Weezer withdrew from the spotlight.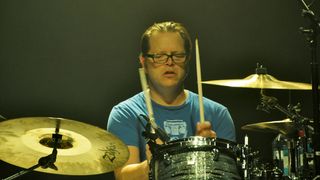 Highs and lows
Presumably the pressure was ramped up when it came time to record the follow-up, Pinkerton?
"Honestly, for better or worse, I don't ever feel that kind of executive pressure to deliver a product. I'm far more concerned with worrying about if the music is any good or not. Maybe that's because I'm so excited about making an album or maybe it's being selfish or whatever. I know that Rivers takes all of that stuff a lot more seriously than I do."
Again, you managed to get some nice drum moments onto that record
"That's a very cool record and has a cool drum feel. A lot of people mention that album and say that they love the drum sound and that they love that everything sounds like it's about to explode. When I hear that record now I'll go, 'Wow, it sounds like we were on cocaine or something!' It's cool, that record is a really unique point in the band's history. In terms of songs, I love Tired Of Sex from that record, that is such a fun song to play."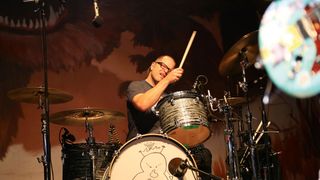 Lust for Ludwig
You've had a long history with using Ludwig kits, why is that?
"Just about every kit that I've ever had has been a Ludwig! The first drum kit I ever got was a Ludwig Psychedelic Red from the early '70s. Thinking about it now that kit was extremely rare, it wasn't the kind of Psychedelic Red that you usually see. I've been trying to find another vintage one but I've never seen another one for sale. I guess ever since then I've used Ludwig, Ludwig's are cool and they have their own sound.
'I was using a Ludwig kit on [the White] album. I worked on the drums with our producer Jake Sinclair. He had this killer Black Beauty snare and we used that on the whole record except for one song that we tracked at Jake's house. I couldn't have been happier about the whole thing. We got such a fantastic sound, it's definitely my favourite drum sound that I've ever got out of all of our records from down the years."
You also dabbled with Vistalites in the mid '90s and early '00s
"Yeah, I had a set of Vistalites as well. I had a blue set but I wound up selling them purely because I guess I just didn't want to play Vistalites anymore, but I did play those for a few years. Right now I play a Ludwig Keystone kit and they just sound fantastic."
You seem a fan of a natural, organic kit sound
"In general I like to hear the drum parts that people are playing. I like old school bands like Led Zeppelin, Pink Floyd, Van Halen and all of that kind of thing. I think, for me, the more you start deviating away from what the person has actually played, the less interested I become. That's when it starts becoming somebody' else's idea of what you did rather than keeping it pure."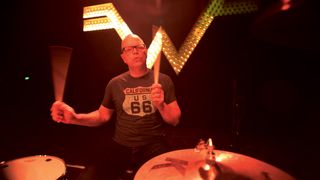 "A lot of bands, including us, can overthink what it is that were doing."
You've also experimented with electronics, particularly around the Red album. Was that a different time for you as someone that is such a fan of organic acoustic kit sounds?
"Well, yeah, that was another weird period. We had been a band for some long and I think Rivers wanted to take it in more of a mainstream direction. For me, as the guy that wants to make stuff that I like, instead of what I think other people like, my whole philosophy is that if I like it other people must like it too. That was a different way for us to go about making records. I won't lie, I wish we had made three more albums like the White album instead of those records. I think that's what we're going to keep on doing from now on. We have lots of energy and there's a lot of excitement about making more records so that's what we're going to do. I think it comes down to that it's always good to try and push in new directions, but it's also good to recognise what it is that is your strength. I think, on balance. The White album is using most of the strengths that Weezer has as a band. On other records maybe there was a lot more experimentation in the approach. On this record all of the cylinders are firing."