Jack Bevan talks Foals, mega tours and why he's still a student of drums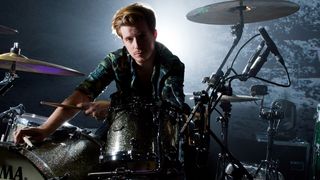 Jack Bevan on the rise and rise of Foals
Jack and Foals' frontman Yannis Philippakis first met in their hometown of Oxford, and bonded over a love of leftfield, complex music – a collaboration that saw them form first math-rock outfit The Edmund Fitzgerald, and then Foals.
Foals' debut album Antidotes hit in 2008, and spawned such dance-rock bangers as Balloons and Cassius. Follow up Total Life Forever (2010) saw the band evolve, turning their epic sound up to 12 with This Orient and Spanish Sahara, creating complex yet huge anthems in the process.
Third album Holy Fire (2013) was a deeply grooving yet rockier affair and included the brilliant Inhaler, which boasts one of our favourite ever lead-ins. The band were quick off the mark with follow up What Went Down in 2015, with the monster title track and sublime Mountain At My Gates.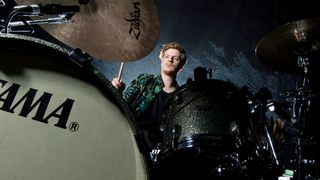 Early days
What was the first rock beat you learned?
"You know I think it's probably just the classic 4/4 rock beat, the very first thing, and then immediately afterwards the punk beat [mimics Green Day type beat], but I think when I first started my main drive was, rather than having a sort of natural groove or swing or funk to it, I just wanted to be able to play as fast as possible. I remember just practising fills around the toms, just over and over again, really, really fast because I was in a punk band at that time and that was kind of the goal – to just be really fast."
What was it that got you interested in the more complex music that you made, first with The Edmund Fitzgerald and then Foals?
"I really wanted to try something just a bit more challenging. I posted an ad on a website called oxfordbands.com, and Yannis [Philippakis, Foals vocals/guitar] responded to it and posted me a cassette of stuff he was into, and there was a lot of overlap. We were both listening to Don Caballero, and stuff like Boards of Canada, I think we had this kind of musical connection in that we both liked this kind of leftfield, more technical music and we just rehearsed a lot.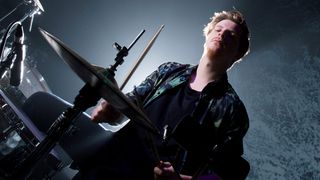 Going live
This kind of math-rock approach lent itself well to the kind of dance-rock stuff you were doing early on in Foals, didn't it?

"When Foals started after the Edmund Fitzgerald broke up I did feel like I was relearning the drums a little bit because we went from pure technicality being the most important thing to wanting to create this excitement, and we just wanted to be the party band and that's how it started. I think we'd got a bit bored of gigs where it was guys who were older than us stroking their beards and it wasn't as fun and sexy and exciting as making party music.
"And that's what we did, we booked shows, and they weren't even shows, they were house parties... and because of that I never had much space and that limited the drumming that I was able to do because I'd have a kick, snare, hats and maybe a cymbal, and there'd be people all the way around me so that was kind of limiting. And I found that exciting because in the past I'd be doing stuff all over the toms and it'd be very intricate... just playing four-to-the-floor, with just a couple of pieces, was very liberating.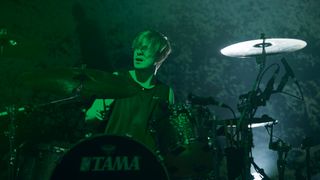 Always learning
You have quite a few big drumming moments in Foals, tracks like Inhaler spring to mind, do the rest of the band encourage you to go for it on the drums?
"I guess it depends from song to song and also I think as a band, because of the knowledge that once we make a record we're going to be touring it for two years, we have these elements inside us that we want to get out on every record. So there's the rock side of the band, and the pop side and the more delicate song-based side of the band. And definitely in the rock side that's where it's encouraged a lot because in rock songs, having big fills and that kind of thing just adds to it all.
"So there's that element, but then in the pop element, the more song-led tracks that are written on a Rhodes piano with voice, my job is more to try and drive the song but without drawing attention to anything other than what's going on with the lyrics and the keyboards. So it varies from song to song. But also from producer to producer – some producers prefer to simplify stuff and some producers like to accentuate that.
"There's a lot of times in the past – and a lot of the times I agree – a producer's like, 'Can we simplify this?' or, 'This is where we should put a big fill,' or whatever. I think one of the coolest things that ever came out of pure spontaneity in the studio was when we were recording Holy Fire. Flood and Moulder, the two guys we were working with... well the first thing they did, which was amazing, was they said, 'Okay, for the first four weeks we're just going to work through the songs,' so we have Alan Moulder in the mixing room and Flood standing with us. Every time we finished a song, Flood would have these incredible, really focussed comments and criticisms and compliments or whatever, and he picked up on absolutely everything, and then we'd play it again.