Billy Corgan is selling a load of his old guitar gear and you could buy it
Smashing Pumpkins tonehound Billy Corgan is set to put a load of his gear up for sale on Reverb, and my oh my, is there some exciting stuff in there.
Highlights include his #2 Strat, as used on Siamese Dream, plus preamps and amps from the early '90s, prototype signature models, and a load of gear from Zeitgeist, solo and Zwan to boot.
Before you ask, Billy isn't flogging any of his Big Muffs - or any pedals whatsoever for that matter - but there's an almighty assortment of guitars, acoustics and basses, and even a pre-Jimmy Chamberlain drum machine.
Head on through the gallery for a closer look at MR's curated highlights, and visit Reverb right now for a chance to purchase one of over 150 listings.
Corgan's #2 Stratocaster
A modified, star–covered 1988 Fender AVRI Strat that recorded most of Siamese Dream and Mellon Collie, including Today, the solo of Cherub Rock, and many more.
Marshall JMP-1 preamps
A pair of Marshall JMP-1s that were the main preamps for Mellon Collie album and the tour.
Alesis HR-16 drum machines
Two Alesis drum machines, one used for the loops on 1979 and another that was used to record many early Pumpkins' demos before Jimmy Chamberlin joined the band.
1990s Les Paul Special
The modified 1990s Les Paul Special used to record much of the Machina album and played regularly on that tour, and the two backup LP Specials from the tours.
ADA MP-1 preamps
The rackmount ADA MP-1 preamps used to record Gish.
1969 Gibson EB–3 Bass
A 1969 Gibson EB–3 Bass in Walnut dubbed the Mountain Bass used as a "secret weapon" on everything from Mellon Collie to Machina.
2006 Fender Stratocaster
2006 Fender Stratocaster from the Zeitgeist era.
2006 Trussart Rustomatic
2006 Trussart Rustomatic used as the main guitar on Zeitgeist.
50th Anniversary Jaguar
50th Anniversary Jaguar used on the Oceania tour.
1970s Orange OR-120
1970s Orange OR-120 used as a lead sound on the Siamese Dream tours.
Taylor DN8
Taylor DN8 used in the studio for Zeitgeist and as Billy's main touring acoustic.
Fernandes Jaguar copy
Fernandes Jaguar copy with Sustainiac pickup, used as the main guitar on the Adore tour.
1958 Fender Stratocaster
1958 Fender Stratocaster 3-Tone Sunburst.
1966 Fender Coronado II Bass
1966 Fender Coronado II Bass used on Untitled from the Pumpkin's Greatest Hits album.
Zwan Stratocaster
Stratocaster used with Zwan and heard on Mary Star Of The Sea.
Reverend Slingshot
Reverend Slingshot used in TheFutureEmbrace era.
Fender Signature prototype
Fender Signature prototype with baked maple neck.
Gibson Lonnie Mack Flying V
Gibson Lonnie Mack Flying V used as a touring backup for Zwan.
Ovation Elite 1758 12-String
Ovation Elite 1758 12-String used on the Siamese Dream track Mayonnaise.
Rickenbacker 360
Rickenbacker 360 purchased from Courtney Love.
Diezel VH4
Diezel VH4 used on Zeitgeist tour.
Bogner Uberschall
Bogner Uberschall used as the primary recording amp on Zeitgeist.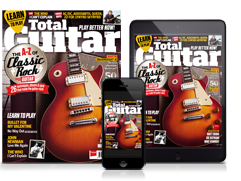 Stay up to date with the latest gear and tuition.
Subscribe and save today!