Image-Line FL Studio 21: What is it?
Image-Line's FL Studio DAW had a naming upgrade with the last version, 20, which might have confused some users. v20 was actually v13, but changed to 20 to celebrate the DAW's 20th birthday back in 2018.
Five years on and the latest version 21 should therefore be called FL Studio 25? But, whatever, the main headline is that the DAW remains a free update, no matter what version you bought into (yes, even for those lucky v1 risk takers back in 1998 when it was called FruityLoops v1.0!). v21 has significant updates to workflow, plus some lovely extra plugins, but let's have an overview first.
The original FruityLoops was all about loop creation and then putting together songs from those, and that more modular way of composing has stayed with the software. FL Studio has always placed the main compositional features within their own environments – mixing, arranging, and looping, for example – meaning the overall feel can be more disjointed. Still, the core looping side is excellent, intuitive, and inspiring – maintaining the 'instant creation' ethos that stems from those early days.
Version 21 has several workflow additions that actually help bring the overall composition targets together; they make it perhaps a little more traditional in terms of DAW structure, but still retain the excellent and unique feel that the many (many) FL fans love.
Some of the additions we discuss are for different versions which we'll specify, but do check our Comparing FL Studio Editions section below for what else you get with each of the four different editions.
Comparing FL Studio editions
Like most DAWs, there are different levels that you can buy into when it comes to FL Studio. The headlines are that the cheapest Fruity edition delivers a lot of instruments and effects – some 84 of the total of 111 – but has no audio recording. It's a significant omission but, at just £85, it's a decently-priced intro.
The Producer version (£164) adds this audio recording, a couple of editors and seven plugins. We can see why it's said to be the 'most popular' version, as it delivers a great balance of everything for the cash.
The Signature edition adds a video player, extra Newtone audio editor and eight plugins for a not insignificant £255.
Finally, top of the pile is the All Plugins edition which has all 111 plugins. You're paying a lot extra for these – over £150 – but they're some of the best titles, including the Drumaxx, Toxic Biohazard and Morphine instruments and marvellous LuxeVERB reverb. We'd probably still opt for Producer option though.
Image-Line FL Studio 21: Performance and verdict
The first big upgrade is an improved browser that lets you preview samples better. It comes with an improved search, allowing you to tag favourites, so overall you can search more quickly, audition more easily and even buy extra third party samples and presets in a more straightforward way. This might not sound major but some DAWs still take you out of their environment to try out new sounds, so this feels that bit simpler workflow-wise.
Also consider...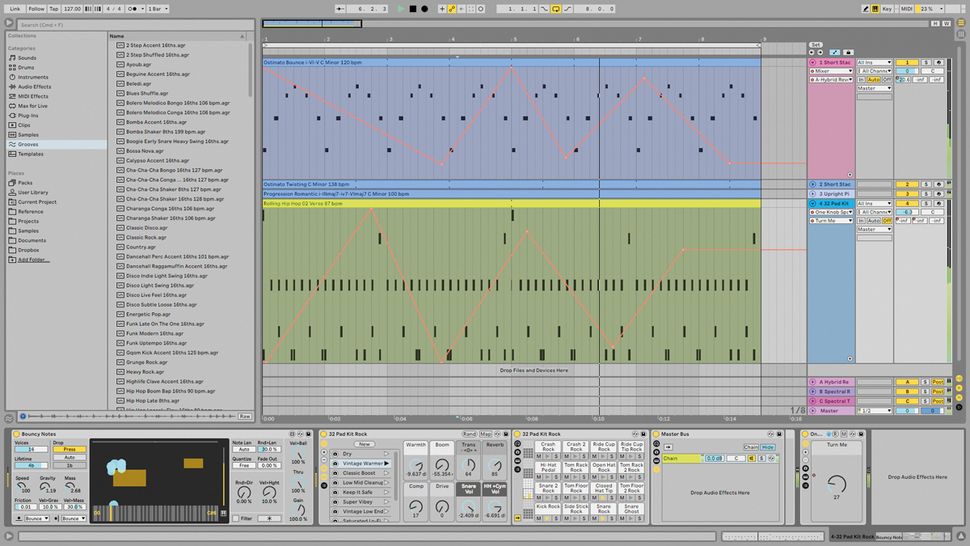 • Ableton Live 11
A solid update to another DAW that has been with us for a surprising length of time. Similar loop ethos.
• Reason Studios Reason 12
The DAW and plugin still acts like a rack but has an easy and fast workflow like FL Studio.
The ability to crossfade and blend individual audio files is another addition that works better in practice than it sounds, largely down to how easy Image-Line has made the processes. You can very quickly add fades and volume changes on individual clips, again not requiring you to jump into another window as with some DAWs.
New plugins include Multiband Delay (in Producer Edition upwards) that splits delays across bandwidth with ease. LuxeVERB is a beautiful reverb with a visualiser to help add envelopes to your reverb for a variety of effects ('80s snare for example).
It's only with the All Plugins edition but it will make you consider the upgrade. Vintage Phaser (Signature upwards) is modelled on a 1970s guitar pedal, so delivers everything from disco wah to synth Jarre. And VFX Sequencer is a great plugin to get your filtered arpeggiations going. Other existing plugins have also had some significant facelifts.

Ever fruitful
While the plugin enhancements are great, they are not included in every version so it feels a little over the top to base all of our concluding thoughts on them. And, really, a lot of v21 is about the workflow improvements.
You even get big options to adjust the screen colour and project hue which could aid your workflow more (although the white version is not really for us). And on that score, it's a fine update: slicker, more refined and easier to use.
FL Studio remains one of the most widely used DAWs for very good reason and with its free upgrades, it's a DAW switch you could make for life.
MusicRadar verdict: FL Studio 21 is a slick update to one of our most established DAWs and with that lifetime of free updates, it should be a new platform for you to consider.
Image-Line FL Studio 21: The web says
"Image Line's veteran DAW looks and feels more modern than ever as it celebrates its 25th birthday with a new look."
MusicTech
Image-Line FL Studio 21: Hands-on demos
FL STUDIO by Image-Line Software
Skills Factory
Image-Line FL Studio 21: Specifications
macOS 10.13.6 (High Sierra) or later. 4GB free disk space. 4GB of RAM. Intel Apple Silicon CPUs.
Windows 8.1, 10, 11 or later. 4GB free disk space. 4GB of RAM. Intel and AMD CPUs. ARM not supported.
CONTACT: Image-Line