Ableton Push 3: What is it?
Ever since version 1 arrived in 2013, Ableton has been calling its Push hardware an 'instrument'. In the past this has always felt rather hyperbolic – Push 1 and 2 were both great in their own way, but beyond Ableton's own marketing department nobody seriously considered either to be anything other than a MIDI interface for Live. The latest version, however, might actually warrant that categorisation.
This third generation – known simply as Push, as Ableton is ditching the numbered naming – boasts numerous design tweaks and new features, but two aspects stand out.
The first is an overhauled pad grid, which adds multidimensional polyphonic expression to the controller (aka MPE) for a considerably more versatile and expressive playing experience.
Pricing
Push controller: $999 | £879 | €949
Push standalone: $1999 | £1699 | €1899
Upgrade kit (available in late 2023): $1049 | €999
The second is the fact that Push is now available in both controller and standalone configurations, with the latter featuring a CPU that can run Live within the Push hardware, entirely independent of a computer.
We'll return to these aspects, but let's get the smaller stuff out of the way first. Design-wise, the hardware isn't a huge departure from that of Push 2. The unit is roughly the same size, if unsurprisingly heavier, and the overall look and layout is familiar.
The most significant changes to the hardware can be found on the rear edge, where a substantially increased array of ins and outs take advantage of the newly added audio interface capabilities [see Plug and Play].
Control-wise, the most noticeable addition is a sizeable jog wheel to the top right of the interface, which doubles up as a directional switch. This speeds up the process of browsing, triggering and moving between devices, and can be used in conjunction with the directional buttons below it.
Broadly speaking, the Push workflow has changed little from that of version 2, which is a good thing; existing users should settle right in, even though some controls have moved slightly and others have been renamed or replaced.
Quick specs
Standalone:
Intel 11th Gen Core i3-1115G4
8 GB RAM
256 GB SSD
Lithium iron phosphate battery – 2-2.5 hours of playtime


As before, the central grid can be used to trigger clips, step sequence and play instruments using a variety of scale modes, while the buttons and touch-sensitive rotaries that surround the screen let users add, edit and perform with Live's devices and – in controller mode – third party plugins.
The most significant workflow change is that Push can now trigger clips and scenes using the screen and navigational controls as well as with the pad grid. This means that Push can be far more flexible when it comes to both playing an instrument and triggering clips simultaneously, meaning you don't need to sacrifice those new expressive pads when using Push for a performance or jam.
Version 3 also enhances the MIDI editing capabilities when using the hardware, with a new Clip Edit mode that displays notes on the screen in more detail, and allows more precise adjustments using the jog wheel.
Ableton Push 3: Performance and verdict
As a controller, those pads are Push's headline feature, and they deliver on their promise of expressivity. The 'multidimensional' nature means several additional levels of sensitivity next to Push 2, all of which are registered on a per-note basis.
Along with note-on and velocity, the pads grid responds to polyphonic aftertouch as well as movement across the X and Y axis of each individual pad.
Ableton recently revamped many of Live's devices to respond to MPE, so there is a lot of stock presets ready to make use of these expressions.
In most instrument cases, X-axis movement controls pitch bend for each note, while Y adjusts mod wheel-like parameters such as filter cutoff or noise level.
None of this is exactly unique to Push. MPE has been widely popularised in recent years by gear like Roli's Seaboard range, and we've seen similar pad-style implementation on instruments such as Polyend Medusa and Roger Linn's Linnstrument.
If anything, Ableton is playing catch-up on the MPE front. That said, Push makes MPE control incredibly easy and accessible, and the functionality works brilliantly with Push's already intuitive system of scales. It effectively turns Push into an expressive playing surface with no wrong answers, meaning even the most musically illiterate producer can create expressive musical passages without hitting too many bum notes (our 6-year-old son is enthralled by it).
If that makes Push sound a little toy-like, fear not; there are plenty of customisation options allowing users to adjust the responsive behaviour of the pads as well as route MPE messages to different parameters. For those willing to invest the time to get to know it, you really can play Push like a genuine instrument.
Possibly more interesting than the synth presets are the MPE-ready drum possibilities, which could use the extra directions of expression to be both more realistic – in the cases of acoustic kits – and creative, using the X and Y axis to change things like pitch, filtering and effects.
Again, since Push has access to Live's full feature set, users can create and customise their own MPE-format kits and use expressions as they see fit.
Going solo
Undoubtedly the biggest talking point for this new Push, however, is its standalone mode. Push now comes in two configurations: a controller version, which includes the interface and full range of ins and outs but requires connection to a computer with Live installed to operate, and a standalone version, which adds an onboard CPU and battery, so it can run Live within the hardware without needing either a computer or power source.
In this mode, Push runs Live on a custom Linux OS. The unit, as shipped, uses an Intel i3 processor with 8GB RAM and a 256GB hard drive. Interestingly, Ableton has made Push upgradable, meaning that these specs could potentially be changed in the future by replacing various elements – which should future-proof Push in the long term.
Ableton is also releasing official upgrade kits later in 2023, which will allow users to convert a tethered controller version of Push into a standalone one.
Battery life is around two hours. Not much to write home about, but enough for some fun on-the-go creativity. The real bonus is for live performance, as it means Push won't cut out if your power lead is accidentally disconnected mid-set.
Also consider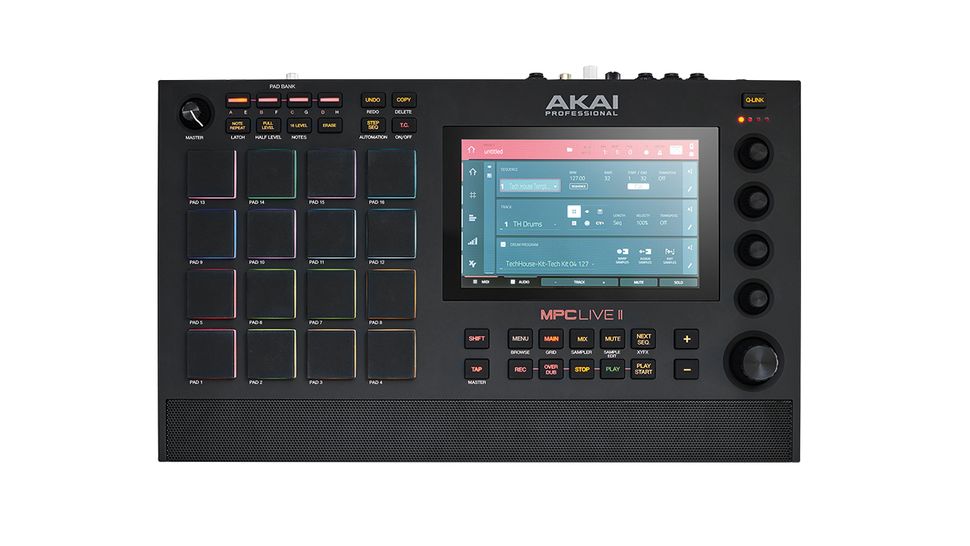 Akai MPC Live II
The MPC Live offers a similarly unshackled experience at a much lower price. Push's Live-based workflow is slicker and tighter though.
Native Instruments Maschine+
The standalone version of Maschine comes equipped with NI's slick beatmaking software as well as several classic – if a little dated – synths including Massive and Monark
Used standalone, Push really does offer the full Ableton Live experience away from a computer. Every native device – including all instruments, audio and MIDI effects – can be used within Push, the only restriction being that there's no capability to use third-party plugins. You can add Max for Live devices too, although compatibility varies depending on whether they have been formatted with Push in mind.
The vast majority of Live's features and tools are available too, including audio recording, sampling, warping, editing and audio-to-MIDI. Effectively, if you can do it with the Push controller, it can be done standalone too.
The one significant area of Live that can't be accessed in this mode is the timeline-based Arrangement view. Some might see this as an omission, but I'd argue that by keeping the focus on the clip/scene-based Session view, Ableton manages to keep Push's workflow from getting too convoluted.
Ableton puts no hard limits on how many tracks can be added in standalone mode. We managed to run around 40 instances of Wavetable before maxing out the CPU, and in a separate set, we ran a similar number of Drift devices.
We managed to add 35 tracks of audio loops, each with a Hybrid Reverb. It should be said, however, that Push became sluggish to use well before hitting that limit. For comparison, those track counts are a little over half of what we can run using our M1 MacBook Pro. [watch the stress test in full, below, in the 'Hands-on demos' section]
The real bonus lies in what Ableton calls 'continuity', which is how easy it is to transfer projects between standalone and desktop.
Push comes with Wi-Fi, which is used to authorise the standalone version and allows users to download Packs from their Ableton account. When connected to the same network as a computer, Push will appear in Live's browser on desktop, allowing users to seamlessly transfer Sets, samples and presets bi-directionally.
Obviously, the lack of third-party plugins on the hardware causes some compatibility issues, but by freezing any tracks using these devices and using 'Collect all and save', Push will import any frozen tracks as audio clips.
There's one area where this seamless transfer breaks down, which is with Drum Racks and sample-based presets.
If you create a user preset using your own samples, Live doesn't bundle these with the preset, so transferring it to Push will leave you with a Simpler or Rack full of missing samples to reassign.
There are workarounds, but a 'collect and save' option for user presets would be useful. Also, weirdly, as of now, Push's browser doesn't work as smoothly for audio loops as it does for Devices, and unless you set up a system of Favourites, you'll be searching through a long, unfiltered list even if your audio is arranged into named folders. We've put both of these issues to Ableton, and are told both are in the process of being addressed.
Plug and play
Both variations of Push come equipped with a fresh array of I/O to make use of the new interface.
There are two pre-amp equipped jack inputs, two main outputs, and two more assignable monitor/headphone outs.
In a nice touch though, Push also includes ADAT in and out ports, allowing expansion up-to 10 ins and 12 outs (meaning you could theoretically track a small band session with Push standalone).
There are MIDI in and out ports, although both are mini-jack ports and – in line with a disappointing trend among manufacturers – adapters aren't included.
There are two USB ports, one USB-C for tethered use and an additional USB for connecting a MIDI controller.
Finally, the pedal inputs from Push 2 remain here, but they also double up as stereo CV outputs, allowing Push to output up to four CV signals with the use of a stereo splitter.
When push comes to shove
A slight gripe is that Ableton is only bundling Live Intro with both configurations. Live Intro limits users to a maximum of 16 audio, 16 MIDI and two Return tracks. While this is plenty to be getting on with, it does feel a bit cheap to impose these kinds of artificial restrictions when someone has shelled out nearly £2k for a unit.
Also worth noting is that the non-processor version of Push is significantly more expensive than Push 2.
Given the enhanced pads and inclusion of an interface, that doesn't seem unreasonable, but it does leave a gap in the market. After all, it's safe to assume current Push 2 owners already own an interface and might begrudge paying for another. Perhaps Ableton is opening the door to a 'Push Mini' down the line?
All this aside, this new Push is a bit of a revelation. It's undoubtedly the slickest, most refined 'DAW-in-a-box' on the market, and whether used standalone or not, the expressive pads make the 'instrument' claims feel like more than just marketing speak.
Is it worth spending the extra for the standalone configuration? That depends on each producer's workflow. Right now we'd suggest live performers will get the most out of it.
Even in controller mode, Push is excellent, and it's perfectly possible to simply put the tethered laptop to one side and have the same experience for a much cheaper cost.
The forthcoming upgrade kits are a smart move on Ableton's part though, meaning that users hooked on the design have an easy upgrade route.
MusicRadar verdict: Push finally lives up to Ableton's vision of controller-as-instrument, and standalone mode is a great new way to use Live.
Ableton Push 3: Hands-on demos
MusicRadar
Ableton
Andri Søren
Ableton Push 3: Specifications
Intel 11th Gen Core i3-1115G4
8 GB RAM
256 GB SSD
Lithium iron phosphate battery – 2-2.5 hours of playtime
64 expressive pads
MPE-enabled
Live Intro included
I/O: 2x input jacks, 2x main output jacks, headphones out, ADAT in and out (up to 10-in/10-out), USB-C, USB, MIDI in and out (via adapter), 2x pedal/CV ports
Pricing: controller: $999 | £879 | €949 standalone: $1999 | £1699 | €1899 upgrade kit (available in late 2023): $1049 | €999
Dimensions: W 380mm / 14.96in D 318mm / 12.52in H 44.5mm / 1.75in
Weight: standalone 3.95 kg / 8.7lbs, controller 3.1kg / 6.8lbs
CONTACT: Ableton