Zakk Wylde: these are the 10 guitarists that blew my mind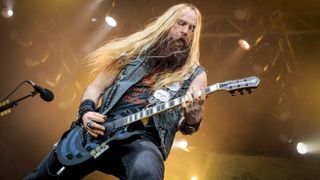 "I'm having some Odinforce Blend coffee right now, getting ready to fondle my man-root and then go have my anal bleaching before the big rock show tonight."
Clearly it's business as usual for Zakk Wylde. MusicRadar greets the Black Label Society/Ozzy Osbourne guitarist and provides the right credentials to ensure we are indeed who we say we are.
"How could I forget you?" comes the reply. "You're my steroid dealer. I learned that from both Ozzy and Jimmy Page, you're the guy to go to. I've never looked back since."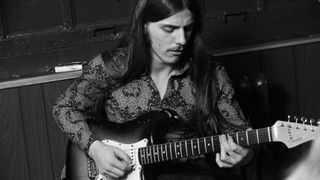 1. Frank Marino
"Hearing the Mahogany Rush live record and then his solo stuff like The Power Of Rock And Roll and that Juggernaut record, I realised everything is there with his playing.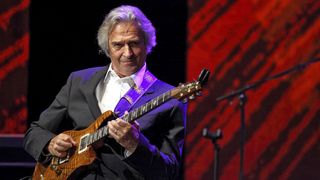 2. John McLaughlin
"Talking about the pentatonic scale, Frank and John were two guys my guitar teacher Leroy [Wright] turned me onto. Before them, everything was kinda black and white - those two players turned it into colour using more possibilities and combinations delivered with mind-blowing technique.
"Everyone assumes pentatonic scales are simple and just caveman stuff… and it is a basic scale, which I think is what makes it great.
"All of those great rock riffs you love, they were all pentatonic. If someone said I had to write a record with just those notes, without any chromatics or flat fives, I'd be like, 'Sure, let's go for it.' It's a basic formula. I could build pretty much anything on it."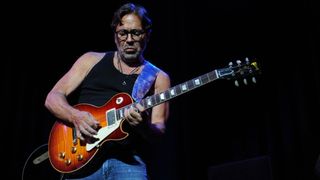 3. Al Di Meola
"With Al, it was more diatonic than pentatonic, with a lot of strong muting and clever phrasing. And I enjoyed his music - that's what everyone forgets when they only talk about the solos - Al's an amazing writer as well. So I like listening to the whole records rather than focusing on the leads…
"He had such a great tone through a rhythmic sense; it was like he was a drummer at the same time. Those rhythmic counts are a big part of his style.
"Every single one of these guys we've talked about so far - regardless of who might play fastest or whatever - the minute you hear them, you automatically know who it is. And Al has definitely always had his own sound."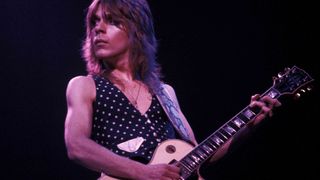 4. Randy Rhoads
"Randy was incredibly huge on me. When Ozzy first went solo, I'd just started playing guitar. We figured anyone playing for Ozzy must be cool, and Randy made it feel so magical at the time. He was so inspiring and fresh, the whole nine yards. Listening to those two records transports me right back to being 15 years old.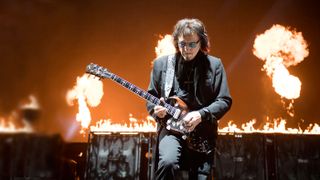 5. Tony Iommi
"Listen to any Black Label Society album, it's got a Sabbathy sound - so naturally Tony is one of the main bases of our soup!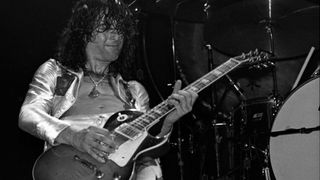 6. Jimmy Page
"Every side of Jimmy Page has been massive for me, from his writing and production to the playing. Count all the memorable solos and riffs he's been responsible for, it's quite incredible. Listen to the phrasing on Since I've Been Loving You - the album version is amazing but the live recording from How The West Was Won is just unbelievable.
"On that, the solos from No Quarter, The Song Remains The Same or Stairway To Heaven are really special, where he's just improv-ing. He also did Bron-Yr-Aur and all that acoustic stuff - so, seriously, when you look at the amount he brought to Zeppelin, it was all slammin'. He'd use everything from heavy blues and folk to the Indian-type sounds of Kashmir…
"He's just such an impressive mix of everything and it worked. His vision was a big part of that guitar playing; he could see things to create, and that's another reason why he's been a massive influence on me."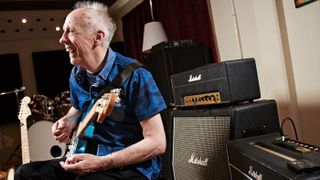 7. Robin Trower
"Robin Trower has to be in this list, for sure. Like Frank Marino, he's another guitarist hugely inspired by Hendrix but he always did it in his own version, with his own take on it.
"Once again, it comes down to the songs - I love the guy's voice and writing style. And he's still doing it; the last two records he put out were phenomenal… I never get tired of hearing him play.
"Even talking about your favourite guitar players never gets old! I have all these guys literally up on my walls in The Black Vatican [home studio] - just like my bedroom when I was 15 years old. The only difference is now the pictures are in frames rather than just taped to the wall."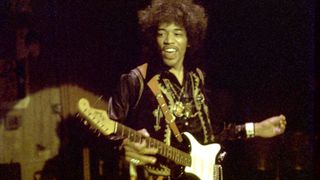 8. Jimi Hendrix
"As far as his live solos, listen to the version of Machine Gun at the Fillmore East with the Band Of Gypsys… that's beyond mind-blowing. I've always loved the sound of those voicings… on our new album there's a track called The Day That Heaven Had Gone Away which was really inspired by those chords.
"Like him, I barre a chord and use hammer-ons and pull-offs to make it more interesting than your normal barre chord. That's a huge influence on me; listen to Wind Cries Mary or Little Wing - the way he'd voice chords was always its own thing.
"So whenever you hear someone else doing it, you always think, 'Ah, that's Hendrixy!' Once again, his lasting legacy is more than just the screaming solos; it's the great songs he wrote, plus his voice. It came down to what he wrote - that's why we're still sat here talking about him…"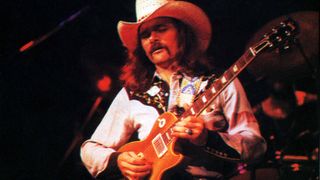 9. Dickey Betts
"There's one solo on our new record, it's on the song The Only Words, and it has this whole Dickey Betts universe of guitar playing about it. Like some of the other guys in this list, he was very musical with pentatonics.
"To be honest, I'd say all that classic Allman Brothers stuff like Ramblin' Man or Melissa carries his signature trademark - he just has this certain sound like no-one else."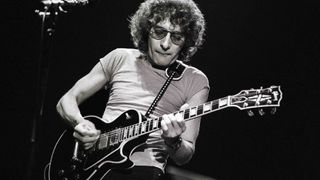 10. Albert Lee
"This list could go on and on and on - we haven't even got to Yngwie Malmsteen, Allan Holdsworth or Uli Jon Roth. But as my final choice, I'd have to go with Albert Lee. He's one of the greatest country guitarists of all time… from England, haha!
"All that fingerpicking I learned from studying his videos. He was always so musical despite it being an endless stream of ideas, yet it's easy to hear how clean all those banjo rolls were.
"All that chicken pickin' is a whole other world of guitar playing, and the difference is like land and ocean - this whole new realm of ideas!"