Under the microscope: Gary Moore's Fiesta Red Fender Stratocaster
Introduction
For thousands of guitarists in the early '60s, a Fiesta Red Fender Stratocaster symbolised a thrilling new era of music.
Don't Miss
14 of Gary Moore's finest guitars, amps and effects - in pictures
Hank Marvin was the first iconic exponent of the red Strat, coaxing clean tones as lush as a manicured lawn from his famous Fender, but a hard-charging generation of players that followed found the Strat could scream as well as sigh - and the late, great Gary Moore was one of the finest among them.
His '61 Fiesta Red Strat is synonymous with his blistering blues-rock style, yet it almost went to prog god Greg Lake - while the origin of its distinctive milky-red finish, which is not a factory Fiesta Red, still holds mysteries.
As Fender releases an exacting Custom Shop replica of Gary's famous guitar to mark the fifth anniversary of his death, we join his tech, Graham Lilley, to hear tales of Moore's favourite solidbody and compare the revered original with the replica...
'Where's the Red Strat?'
When we reported on the auction of the late, great Gary Moore's guitar collection, one comment that came back from readers was: 'Nice, but where's the Red Strat?'
Like Clapton's lost 'Beano' 'Burst or Larry Carlton's '68 ES-335, some instruments are indelibly associated with a player. Even though Gary Moore used a very wide variety of guitars during the fiery course of his career, it is to the Fiesta Red '61 Stratocaster that many of his fans return, again and again, as both an icon of his artistry on the instrument and a tonal touchstone.
So when we learned that Fender Custom Shop Master Builder John Cruz had finally been given the green light to build an exacting replica of Gary's Red Strat - also known as the Pink Strat, for reasons that shall become clear - we couldn't turn down the opportunity to investigate further.
At the event (made possible thanks to the office of Gary's former tech Graham Lilley, who is now custodian of Moore's extensive collection of gear), we were privileged to be able to examine the well-worn original and place it side by side with John Cruz's lovingly crafted replica for close comparison. Plug it in and crank up the volume? No problem, says Graham. If there was ever a feature likely to keep us staying happily in the office After Hours, this is it...
A story begins
But before we arrived at that bit, we sat down with Graham to hear the story of how Gary came to own the guitar in the first place, and what role it eventually played in his sonic arsenal.
Graham begins by explaining that it very nearly didn't reach Gary's hands at all, as it was reportedly earmarked for sale to prog legend Greg Lake of Emerson, Lake & Palmer.
"I wasn't there myself, but it was during the recording of the Greg Lake album in '81," Graham explains. "As usual with these things, there are variations on the story. I always understood that a chap turned up at the rehearsals, or to the studio, with a couple of guitars. Gary was there and he was sold one first. It was an ES-5, which Gary either bought straight off or bought from Greg, when Greg didn't want it.
"Gary also tried the Strat and even just acoustically was like, 'Oh my God, it's incredible. I haven't even plugged it in.' But the deal was that it was there just for Greg to have a look at. But Gary was like, 'Just listen to that.' He knew that if it was that resonant acoustically, when you plug it in it is just going to be louder isn't it?
"So Greg turns up, has a look at it. Gary said he had his fingers crossed thinking, 'Please don't buy it. Please don't buy it.' After a bit of deliberation Greg passed on it, because it was maybe just a little bit too beaten up for his tastes. Obviously not as beaten up as it is now - but it wasn't totally pristine even then. So Gary was like: 'Right, that's mine.' That was it: the deal was done."
Down the corridors
"Gary had it from then on," Graham continues. "He did most of Corridors Of Power with it and he was playing it a lot live, around that time.
"Then it was on pretty much most of the next album - Victims Of The Future - and sporadically from then on. Then it went missing on its way to America. Whether it disappeared in this country, or strayed when it arrived in America, no-one is sure. But somehow it resurfaced somewhere in Texas.
"At any rate, it was found and sent back. But by then, Gary had bought two '62 Fender reissues off-the-peg - a white one and a sunburst one. We've still got one of those, which is now [refinished in] pale blue.
"I'm not sure if that was the sunburst one or if that was the white one, because there were two and they both changed colours. One did become very flamingo pink at one point. We won't talk about that one - it was too pink! It was Barbie pink, beyond Barbie. That's long gone as well.
"But the red '61 Strat was part of his armoury pretty much ever since really - but most notably, when he played a cover of Red House for Fender's 50th anniversary of the Strat gig. I think that goes down in history as one of the greatest performances of that song ever. I just remember looking round at people's faces after he did the first solo. It was just like, 'What happened? Did the Queen walk in?'"
Upgrades
Close scrutiny of Gary's famous Strat reveals that it is not in anything like original condition, and Graham says it was likely to have been a hard-working professional instrument even before Gary bought it, with all the maintenance and upgrades that usually entails.
"It was refretted quite early on. Just jogging back slightly, the supposed history of the guitar was that it came from the sideman in Tommy Steele's band, although I cannot find out anything about him. And obviously, it had been resprayed and refinished at some point.
"What was it originally? John Cruz of Fender's Custom Shop wasn't certain, but he said with the kind of yellow primer base that's visible in places it could have been Sunburst originally. To confuse matters further, the top coat of 'Fiesta' red paint is lighter than another coat of red finish that's visible underneath."
Here we stray back into the long-running debate about the so-called 'Selmer' refinishes, which were purportedly applied to Strats of various factory finishes imported in Britain in the early 60s, then resprayed in an ersatz 'Fiesta Red' because so many players of the era wanted to imitate Hank Marvin.
Seeing red
At this point Guitar Techniques editor Neville Marten, who jammed with Gary many times, chimes in with his recollections of working at Fender's UK guitar repair workshop in the early 80s, when many such instruments passed through his hands.
"Everyone who worked in guitar repair in that era knows there were Strats that can only be described as pink and not red. Loads of them were later refinished white because of Hendrix eventually replacing Hank as the guitarist people wanted to be like.
"But what you found if you went to refinish them again is you couldn't get that pink paint off because it was like rock. It was the colour of Lifebuoy Soap as well. That was how we all described it."
While it's impossible to say if Gary's '61 Strat is one such guitar, as Graham points out you can clearly see that a thin, milky-red finish has been sprayed onto a darker coat of red paint underneath.
A British respray to 'faux Fiesta' spec over an original Dakota Red? Perhaps, but there is no way to be sure. Similarly, the neck and middle pickups are also non-original. Graham explains that, like many hardware changes made on the road, the pickup alterations were wholly pragmatic.
Breakage
"They just needed redoing. Obviously, when parts broke they had to be swapped out. For example, we were doing the A Different Beat album in 1998 and the neck pickup went, so I posted it up to Seymour Duncan.
"He rewound it and sent it back, popped it in and was like, 'Great. Let's go.' Then the middle pickup went in the middle of the Monsters Of Rock tour in 2003 at Wembley.
"I had an old Duncan Antiquity pickup that was sat in a box and just threw that in. But then he didn't use [the Strat] for a while. Well, he used it a bit on the Power Of The Blues album in 2004. Then it was on bits on the last three albums, Old New Ballads Blues, Close As You Get and Bad For You Baby. But the Tele was probably used more on a lot of those things.
"All the same, I eventually got Tim Mills at Bare Knuckle pickups to rewind the original broken middle pickup, which is still in the case, and not in the guitar, at present. Another thing I did, when it proved necessary, was take the rear-most tone pot, which obviously didn't get used that much, and moved that up to replace the volume when that went. I then filled the gap it left with a newer, replacement tone pot. That way you still had that sort of vintage feel because an original part had just been moved up a place."
Chunky monkey
The neck, too - which has a slender, shallow C-profile that graduates smoothly and organically into the diminutive headstock with no apparent step or volute to the flat rear surface of the headstock - saw some pragmatic updates made to it, including refretting with chunky wire to suit Gary's needs.
"It was the biggest wire that Dunlop did at the time, the 6100. Which might upset a few purists, but it works, you know? The intonation would be pretty good on it, because the frets were such a solid lump, you know? So they certainly worked. When it came to the acoustic resonance off the top of [each note]… you would just get even more. But Gary was pretty on the money. He hit the notes he meant to hit - and they stayed hit. It was the right note at the right time, generally."
As the images attest, Gary's '61 Strat bears the battlescars of his high-intensity performances. How much of the heavy wear visible on the Red Strat was put there by Gary in the course of his career, we ask?
"Quite a bit. I was going back through old photographs. It is very noticeable," Graham adds.
Legacy of loud
The recorded voice of the Red Strat is well known to Gary's fans, but it was used with a very wide variety of amplification, as Moore was a restless experimenter with tone, as Graham Lilley explains.
"He used it with a variety of amps. It was his 1959 100-watt Super Lead Marshalls to begin with, four-input jobs. And also 50-watt Marshall 1987s in various shapes and sizes - big boxes, small boxes - in various vintages. But then he used all sorts of stuff. Like on the Scars album he was going through Marshalls and Fender Tonemasters on a couple of occasions.
"The Strat also got used on Still Got The Blues on Too Tired, a track he did with Albert Collins and it's the slide on Moving On, even though for live we used a different guitar - a bog-standard Squier Strat - but it's on the video, and that would be through the Soldano SLO100 with the EV 412s, so there's another colouration to it.
"But there was also those little Plexi combos he got off Denis Cornell. We were using a couple of those things, little 2x12 Vibroverb '62 reissues got used. There was also a 'blackface' 1963 Fender Twin on parts of the King Of The Blues track on the Still Got The Blues CD. There was a Prosonic that got tried for a couple of things. Mostly studio, not live because obviously those small combos wouldn't quite cut it.
"Then there was an anniversary Marshall - not the Silver Jubilee, but a thing they did later, which was celebrating Jim Marshall's 85th birthday, the 1923C. It was a great-sounding combo - the sound was a variation of the DSL50, but it was slightly different. They were quite good. And then live was another thing: when we did the After The War tour in '89 we had 400 watts of Marshalls literally all the way upon stage!"
Unleash The Hulk
Neville Marten additionally observes that "all that goes to show he would use wildly different guitars, from Strats to Teles to Les Pauls to 335s, Grestches even…
"And he'd be playing them into all those different amps of different powers based on 6V6s, EL34s, 6L6s… yet he could make it all sound good because of what was coming out of the muscles in his fingers and his brain." "And his heart," Graham Lilley interjects.
"Yes, and his heart," Neville continues adding that, for Gary, picking up a guitar had a transformational effect. "If he was sitting in a room and talking just like we are around this table, and you stuck a guitar in his hand it would be like flicking a switch.
"You could say he turned from David Banner into the Incredible Hulk as soon as you put a guitar in his hand… he suddenly became this hugely powerful ox-like presence that was undefeatable - and he was. Nobody would take Gary on in guitar in any contest. Not that he was thinking that way."
"The guitar was almost like his armour," Graham Lilley concurs. "In some ways he was very shy and a little awkward. People say, 'Really?' when I tell them that, but yes, he was very shy. He put that Strat on and it was a buffer between him and the rest of the world, and he could just express himself through that."
Customs barrier
Gary's '61 Strat has a special place in the hearts of many of his fans, for obvious reasons, but in and of itself, it's a guitar that resonates with many British players particularly, given that a Fiesta Red Strat (refinished or otherwise) of this vintage encapsulates the boyhood aspirations of so many Hank-inspired players.
So it seems an obvious subject for a Fender Custom Shop replica - nonetheless, the project was to have a lengthy gestation period, as Graham Lilley explains.
"I'd been having a conversation with John Cruz from Fender's Custom Shop for a good while - 20 or more years. Probably longer now, actually, because Gary has been gone six years come February. So it was prior to that. We sort of kept in touch and discussed it and John, being a huge fan of Gary's, had always wanted to do something, whether it was a special order someone was asking for or something, he wanted to do this model one day.
"I think, initially, he couldn't get it past head office, because Gary wasn't quite a household name in America. Among guitar players, obviously... For us, it is a different case. But the average man on the street might only remember him from Top Of The Pops standing next to Phil [Lynott]. So for a while, there was a wait to get the Custom Shop management on side, to make it attractive as a worthwhile project.
"Obviously, in certain quarters of the globe it would have been snapped up very readily - here, or in Japan or Germany especially. But John and I kept in touch and sent ideas back and forth via fax. This goes back a long way - to transatlantic phone calls and so on. It'd be like, 'What do you need? I have got this vinyl or this picture of it, if it helps?' And so on. So we just had this ongoing conversation.
"Eventually, John said, 'I think we can move forward on it. Let me see if I can get the green light.' Then he said, 'Yes, I am going to come over. Let's have a look at it and see what we can do. We will spend a day taking it apart, measuring it, taking photos, getting the colour right.' So we did that last May."
Master Stroke
At this point, the story shifts back in time and West in location to Fender's Custom Shop headquarters in Corona, California, which we visited back in July. While we were there, we chatted with veteran Master Builder John Cruz who actually had the prototype of the replica Gary Moore Stratocaster featured in this article sitting on his workbench at that time.
Tellingly, the tricky-to-nail milky-red finish was set to undergo a further revision before production, after careful A/B analysis of minute paint-chips from the original guitar revealed a slight darkening would be necessary to provide an exact match.
As John is one of the Custom Shop's most experienced builders and a huge Gary Moore fan, we asked how much of a labour of love the project had been - and what efforts he'd made to evoke both the spirit and the detail of the original in his Master Built replica instrument.
"We went out to London to take a look at the guitar and Graham Lilley brought the guitar in and I sat down with him. I was particularly nervous about it, just seeing it for the first time since I saw him last. I got to see it; I got all shaky, man, it's like, 'Jesus, there it is' and it was really wonderful to have the opportunity to examine it up close, and take it all apart. I got pictures and video and everything.
"For example, it has a lot of really weird neck-wear that I've never seen on any guitar before - it has these black things on it and I'm not actually exactly sure what that was, but I replicated it, right down to the grain of the wood and density and everything.
"I do kind of wish they would have let me have the guitar to work on it here, though. Like, I had Rory Gallagher's guitar here for four months. So I got to make the prototype one-to-one with the guitar and it was identical. But, all the same, the Gary Moore Strat is pretty much spot on."
Replica
Although the pickups on the replica have a different stagger to those on the original, they are carefully voiced to match the sound of the original, says John.
"The pickups on Gary's guitar were on the low side, output-wise, as Strats go and a couple of pickups have been rewound. So are we going to go to that extent? Probably not. So I had a set custom-wound here, matching those readings that I got and they're basically my pickups. They're things that I use already.
"They're similarly low-output pickups - which I swear by now. I used to be one of those guys who was like, 'The higher the [DC resistance] readings the better. More output. But now I've kind of turned around - the lower output pickups, that's the real deal. It's clean. It sounds great. You put an overdrive on it, it's just going to explode and come alive."
While such guitars are produced in prohibitively small numbers and at a price that excludes most players, all 50 of the run of Gary Moore Strats have already been sold - testament to John's obsessive attention to the craft of replication, which he says is his natural calling as a guitar maker.
"I never got to see the original SRV Number One. It was a project that was supposed to go to [Senior Master Builder] John English, but he was too busy at the time to do it and that's when [former Custom Shop head] Mike Eldred came to me. He said, 'What do you think about doing this?' and he showed me the pictures and I'm like, 'Give me that' and I grabbed the body and the neck, and I ran through paint and I made a prototype and then we showed it to Jimmie Vaughan and he signed off on it. So I knew that was going to be my niche - doing one-to-one replicas - and so that's how it's been ever since."
Back to life
A couple of years ago, we interviewed Scott Gorham of Thin Lizzy - a band to which Gary Moore also famously belonged at various points throughout the 1970s - and were struck by Gorham's motivation for reforming the band after Lynott's death.
Scott told us that he'd been introduced as the guitarist from Thin Lizzy to a 20-something man at a gig and the man had simply blankly asked, 'Who?', having never heard of the band or any of their songs. It was a salutary lesson in how quickly well-deserved fame can fade from memory and generational relevance.
In that regard, replicas such as the fine John Cruz Gary Moore Strat arguably have a purpose beyond the immediate circle of well-heeled, hardcore fans that are, for all intents and purposes, the guitar's sole market. They are a talking point and a touchstone that will hopefully spur some onlookers to explore Moore's superb back catalogue for the first time, if they hadn't been aware of his playing before. Amen to that.
Indeed, it's tempting to wonder how many guitarists, decades on, discover the work of masterly players such as Tal Farlow or Howard Roberts for the first time, after seeing their signature guitars on the walls of vintage guitar stores and wondering what they did to deserve the honour?
Don't Miss
14 of Gary Moore's finest guitars, amps and effects - in pictures
There is perhaps a more tangible benefit for all players in such loving recreations of famous guitars, however, in so much as an intensely close study of specific instruments raises the guitar-builder's store of knowledge of the best vintage instruments - and you can be sure players such as Gary Moore had an eye and ear for the good ones when they were buying.
We'd love to see, for example, the gorgeous slender neck profile of Gary's Strat transferred to other more affordable Fender Strats - a profile that will have been carefully recorded by Cruz during the guitar's creation. We also take from the guitar further hints of a cottage respray industry in the UK in the early 60s, making Gary's Strat an intriguing piece of cultural archaeology, too.
In the main, though, it's as a testament to a great player and his music that we enjoy this guitar most. May his memory live long.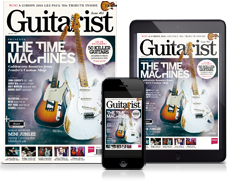 The magazine for serious players
Subscribe and save today!