Under the microscope: 3 mythical PRS Dragons
Introduction
When we caught wind that a trio of Dragons had been spotted on British soil, we set off to examine these rare PRS beasts whose intricate designs are a spectacle of artistry.
When a collection of high-end PRS guitars appeared on display at Sound Affects Music in Ormskirk, UK - including a Dragon II, a Dragon 2002 and a Dragon 20th Anniversary - we were keen to lay eyes on them, as these historic guitars rarely appear in daylight, let alone in the same place.
These mesmerising guitars are, of course, the fare of collectors and are as unlikely to be seen being played on stage as the mythical creatures after which they are named. Indeed, the prices of the guitars here are enough to cause any would-be St George to turn and run.
Double-bubble
The doubleneck has the heftiest price tag at £28,999 with the Dragon II clocking in at roughly half the price (£15,999) and the 2002 single-cut £1k less at a wallet-bruising £14,999.
Not for the faint of heart, needless to say, but what sort of price is too much for such exquisite representations of the luthier's art?
The 'Dragon I' was unleashed onto the guitar world in 1992 in a small run of 50, featuring a masterfully detailed 201-piece abalone inlay design, Brazilian rosewood fretboard and bespoke Dragon Treble and Bass humbuckers, wound in-house at PRS.
Setting the precedent for a lineage of legend, PRS has subsequently created a further seven Dragon guitars, each with its own intricate, unique design: the Dragon II (1993) resplendent with Paul Reed Smith's signature in golden inlay; the aureate Dragon III (1994); the Dragon 2000 (2000) - the first of the Dragons to receive body inlays; the single-cut Dragon 2002 (2002); the doubleneck Dragon 20th Anniversary (2005); the Dragon 25th Anniversary (2010) - the zenith of fretboard inlay artwork; and the Dragon 30th Anniversary (2015) - the most recent Dragon on the scene, featuring a "pre-factory" carved top and neck.
Rare creatures
As instruments, the Dragons are highly sought after rarities, with a spec to match.
Each of the guitars here feature Brazilian rosewood fingerboards - the 2002 boasting a Brazilian mahogany neck as well - plus top grade maple caps astride mahogany bodies, bespoke pickups and all the finery you would expect to form the landscapes upon which these dragons roam.
They've even found their way into museums: visitors to both the Smithsonian's National Museum Of American History in Washington, DC and the Musical Instruments Museum in Phoenix, Arizona (currently on display as part of the 'Dragons And Vines' exhibition until September 2017) have marvelled at these examples of home-grown craft.
Here be dragons
Since their legacy began some 25 years ago, PRS Dragons have become a modern-day classic where guitar building meets fine art.
As a teenager with a penchant for Dungeons & Dragons-style fantasy, PRS Guitars founder Paul Reed Smith dreamed about guitars.
In fact, the vision of a guitar with a dragon neck inlay first came to him, literally, in a dream and he was later spellbound with the possibility of making his dream a reality. Michael Byle, long-serving PRS Private Stock luthier and now general manager at Pearl Works (inlay artisans of PRS Dragons and based nearby in Maryland, USA), recalls:
"I remember Paul telling me a long time ago, 'When I first started building guitars, I just really wanted a guitar that had a dragon on the fretboard.' Every guitar builder has it - they want to see their perfect guitar."
Paul made the "First Dragon", the template for all future models, in 1979. However, due to the technical limitations of building such an elaborate design for the mass market at the time, it wasn't until many years later that he was able to share his vision with the world.
Pearl fisher's
Paul Reed Smith's ambitious designs for the original factory run of Dragon guitars really came into being when he met fellow Marylander and Pearl Works founder Larry Sifel (1948-2006) via Dick Boak of Martin.
The surge in popularity for acoustic guitars in the 90s led Dick Boak to Larry with a large-scale request for classic Martin inlays, something that would only have been possible using the CNC technology that Pearl Works had already embraced. And it was this leap in laser-sharp cutting techniques that really opened up the possibilities for Paul. Michael explains:
"The CNC technology was the breakthrough. Larry first spoke to Dick Boak at Martin, who then spoke to Paul Reed Smith. He said, 'Man, you need to talk to this dude, because not only is he in your backyard, but he could really revolutionise what you guys are doing.'"
Making the monster
Larry was a highly skilled craftsman and luthier, who made flat-top acoustic guitars and banjos, as well as some earlier, less conservative objets d'art.
"Paul had shown Larry a rough sketch of what he wanted the Dragon I to look like," Michael continues, "and Larry went from there - Larry was artistically gifted. Larry's dad was a machinist and Larry did a lot of woodworking and started building some guitars and doing guitar repairs and then he started doing inlays.
"Originally, when he was doing woodwork, he was making marijuana stash boxes with inlays. He would go around to the festivals, concerts and art fairs selling the stash boxes that he was inlaying and doing scrimshaw engraving work with on the pearl.
"He was building some instruments and then his dad, being a machinist, said, 'There's an easier way to do all of this - instead of risking your hands all the time, we could get you a CNC machine, then you could automate it.'"
Mystic artistry
Paul designed the Dragon I (perhaps taking a measure of inspiration from his impressive dragon figurine collection!) in conjunction with Larry, although it was an artist by the name of David Hazel who helped draw and design the Dragon II.
The Dragon II guitar pictured is number 30 in the limited run of 100. A further complex set of inlays in addition to the 201 pieces of abalone found on the Dragon I have gone into the neck - a process that requires the utmost care in precision.
Guitars such as the Dragon 20th Anniversary - with an incredible 863 pieces of stone, metal, wood and shell (including such curiosities as Sparkle, Green Ripple and Green Heart Abalone, Brown Lip shell, Mastodon Ivory, Red & Orange Spiny Oyster and Mother-Of-Pearl) - really pushed both man and machine (and mollusc!) to their limits.
Grinderman
Michael explains: "There are solid blanks where you cut a big piece of shell out and that gets either milled or sanded - sometimes we used a wetstone grinder, depending on who's doing it, to get it flat and parallel.
"If it's the laminated abalone (Abalam), that always comes in 9.5 by 5.5-inch sheets in thicknesses of 30, 40 or 60 thousandths of an inch.
"We use CAD programs to program whatever we want to cut out… What we'll do, say with a fingerboard and prior to sanding, is we cut the shell out so that it's just sitting ever so slightly above the surface, so that if you were to drag your fingernail across it would just barely catch the edge. There's an art to how deep it should be."
Airbrushed imagery
Jeff Easley, the oil painter and cover artist of Dungeons & Dragons fame, designed the artwork for the single-cut Dragon 2002 and the doubleneck 2005 20th Anniversary (numbers 95 of 100 and 14 of 75 pictured respectively).
The inlays, particularly on the Dragon 2002, were further embellished and given extra dimension with airbrushing by an artist called Paul Boyd.
According to Michael Byle, "it wasn't until [Paul] did that airbrushing that it really kind of made those guitars what they were. I mean, they were awesome in their own right, but that airbrushing really gave it some realism and depth. Paul is really, really good - he's an amazing painter… That one had a Brazilian rosewood neck with the snout just on the fingerboard - that was kind of a challenge!"
Paul's boutique
Staying true to the ethos of hand-built, boutique craftsmanship, much of the work on the Dragon 2002 and Dragon 20th Anniversary guitars was carried out off-site in Larry's home workshop:
"When we did the single-cut Dragon [2002] and then the doubleneck Dragon [20th Anniversary], I would laminate all the bodies together and then do the back-cuts at PRS," says Michael.
"But the tops of those guitars were actually carved on Larry's machinery down at his shop, so that if there were any problems Larry could immediately fix them by hand… Each of the people here at Pearl Works at the time all had a hand in it because there were so many parts to be cut and so many parts that needed to be glued up. We kind of worked it like an assembly line. Everyone had their own job. I would say that everyone had a hand in it."
With Larry Sifel and Pearl Works, it seems that Paul Reed Smith had truly met his allies in terms of pushing the envelope of design and taking guitar craftsmanship to another level, blending revolutionary ideas with exotic materials, hands-on expertise and high-tech machinery. They were the dream team that brought the Dragon to life.
Thanks to Michael Byle at Pearl Works, Maryland (USA) and Tim Lobley at Sound Affects Music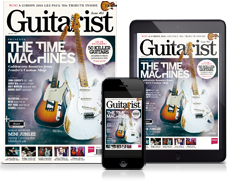 The magazine for serious players
Subscribe and save today!