GEAR EXPO 2023: 2023 has already been a great year for effect plugins, with all manner of releases challenging the very definitions of both mix and creative processing. And we have the best of them, right here.
Plugin effects are becoming more powerful by the day, with previous standard filters, EQs, delays and compressors becoming way more creative as processing power on host computers increases and allows the software to unleash its full potential.
Here, we've rounded up what we think are the most revolutionary creative effects of the year so far, so you know what to get busy with over the coming months. We've included both those that we have either just reviewed and some of the latest effect releases.
So let's get into the future effects that you will be using for everything from sound design to creative vocal compression.
Soundevice Digital Pluralis
Pluralis could well be one of those 'why didn't they do that before?' plugins. It takes a reasonably common process or two – in this case MS processing and other ways of splitting your signal – but uses them with delays. We've seen it with compressors and EQs, but rarely, if ever, with delays.
It works like this: Pluralis has two regular delay engines with standard controls (Time, Feedback, Colour and so on) which you can use as 'standard' delays should you wish. However, it also features four modes with which you can split your audio into two parts, so that each of the delay engines can then act on them. The modes are Mid/Side, Left/Right, Quiet/Loud and Low/Hi.
Mid/Side splits your source audio into its middle and side components for processing with the two engines. Left/Right, you guessed it, splits audio left and right for individual processing, and Quiet/Loud splits your audio into quiet and loud parts for each delay engine to act upon. Finally Low/Hi does the split by frequency so the two delays can act on both LF and HF bands.
Pluralis sounds fairly straightforward, so you wonder if there's a good reason why this hasn't been done before - as in, maybe it sounds rubbish. However, from what we've heard the very opposite is true, so we're looking forward to getting our hands on the plugin for an imminent review.
Pluralis is €79 (special intro price of just €19 until May 31), and available now from Soundevice Digital/United Plugins.
Soundtoys SuperPlate
Announced at the NAMM show in April, Soundtoys SuperPlate includes five iconic reverbs plus a lot of added extras. You get emulations of an EMT 140, EMT 240, Audicon, EcoPlate III, and Stocktronics RX4000, plus extra analogue saturation by way of models of EMT V54 and 162 preamps.
It was largely developed because Soundtoys owns some of these legendary reverbs and simply "wanted to bring the distinctive sound of our collection into the world of modern audio".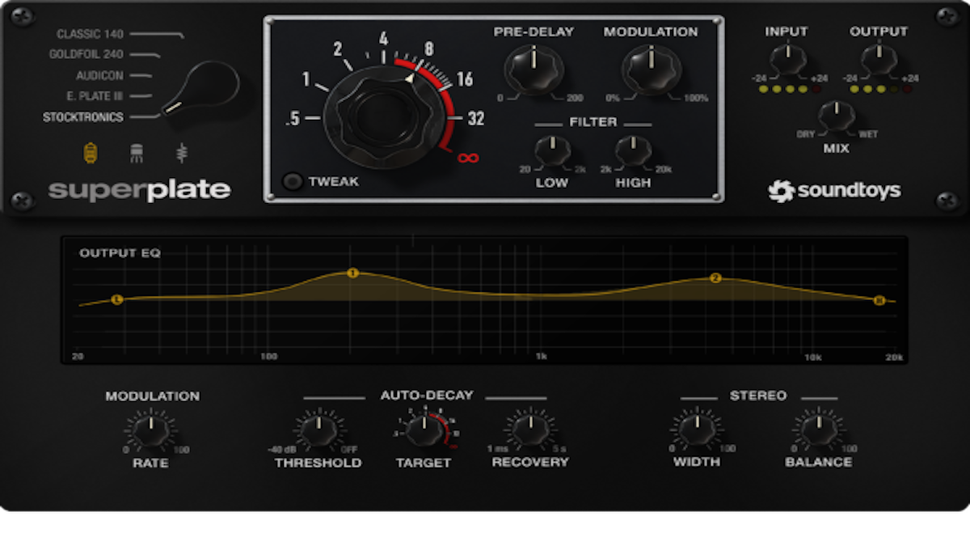 SuperPlate does include some modern features like built-in modulation and an EQ, plus extra reverb parameters such as infinite decay time, pre-delay and decay ducking. And thanks to these 21st century features, Soundtoys says that SuperPlate is a much more viable and versatile plugin than it otherwise would have been.
SuperPlate will be sold individually for $149 or as part of the Soundtoys 5.4 bundle ($499) which now includes 22 effects. It's also an optional extra for Soundtoys Effect Rack owners, who get it for just $59.
There's more information at the Soundtoys website.
Audio Damage Replicant 3
Audio Damage's Replicant originally appeared way back in 2007 and has become famous for being a one-stop shop for stuttered, IDM-esque glitchiness. It's taken a while for it to reach its third iteration, but with a slick new GUI and a ton of new features, Replicant can now do a lot more than 'just' glitch.
Replicant's interface has been vastly improved, and everything's laid out in an orderly fashion, making it relatively easy to use. The plugin enables you to loop, slice, reverse and rearrange audio in real time. Alongside the original STUTTER slice effect, it's been outfitted with DELAY, REDUKT (bitcrusher) and RINGMOD (ring modulator) effects.
Watch a sound demo from YouTuber '2 small figures in a landscape' below.
The plugin's Replicator sequencer is now geared up for more complex rhythmical effects. There's also a new envelope feature that allows for cross-fading audio slices, an onboard filter, controls for pitch and panning, and several dials for parameter randomisation that can create unpredictable, probability-based patterns.
The new version of Replicant works well with MIDI, too, and is also available as an iOS app, meaning touchscreen-based performances are only a download away.
Replicant 3 is available in AU, VST3, AAX and CLAP formats for $69, but is only $20 for owners of the previous versions. Find out more at the Audio Damage website.
The iOS app will only cost you $2.99 and is available from the App Store.
AudioThing Mantis
Plugin companies are digging deep into history to find things to emulate and AudioThing might well have struck gold with Mantis. It's a software recreation of a Carlsbro Mantis, a rare BBD delay/echo unit from the '70s - no, we hadn't heard of it either, but it does sound cool.
You get an echo section with four taps and four swell selectors, and a rotafaze section mimics the wow/flutter of a tape echo or turns the device into a chorus/delay.
Mantis has two modes: vintage or modern. The hardware version had a fixed based delay time, but in vintage mode here it can be set between 0.512ms and 51.2ms. The modern mode, meanwhile, has a base delay time of one second, syncable to host tempo.
The frequency response in BBD circuits changes depending on the speed of the base delay, being brighter at faster rates and darker at slower ones. Having these different settings enables you to experience this.
Mantis is available now for PC and Mac in VST/AU/AAX/CLAP formats for $59 and on iOS devices for $12.99 from the Apple store. Find out more and download a demo version on the AudioThing website.
Antares Auto-Tune Vocal Compressor
You know about Auto-Tune? You know about compression? If it's a 'yes' to these, it's fair to say you have already guessed what Auto-Tune Vocal Compressor is about.
However, this latest Antares releases is also billed as "the world's first dual-stage vocal compressor plugin with machine learning," so promises to analyse your track and suggest "optimum" settings that you can use.
Vocal Compressor features two compressors, each of which has four popular compression styles (FET, Opto A, Opto B and Modern). Once the software has suggested settings for these you can then go in and tweak them to taste.
There are artist presets included with Auto-Tune Vocal Compressor, and these cover a range of vocal styles and genres. There's also a Warm feature to apply tube saturation and harmonics to vocals across one or both compressors.
Auto-Tune Vocal Compressor (PC/Mac, VST/AU/AAX) is available at no extra cost for subscribers to Auto-Tune Unlimited, which is $25 a month or $175 a year. You can also buy a perpetual licence for $179 - this includes one free year of Auto-Tune Unlimited. A free 14-day trial to Auto-Tune Unlimited is available to everyone, regardless of previous trials or subscriptions.
Find out more at the Antares website.
Polyverse Supermodal
Polyverse Supermodal is a filter plugin on steroids. It is capable of going way beyond the remit of a traditional filter, and allows you to achieve creative effects and extraordinary sound design.
You get a 'straight' filter that can be switched between low-pass, high-pass and band-pass, but the Modal filter to its right is where the real fun is. Here you can switch between modelled filters. Each of these has complex algorithms essentially comprising of hundreds of different filters that, according to Polyverse, "produce resonating modes in an acoustic model". You can, therefore, use them to model an array of filter types based on real physical objects (piano, bell), vocal formants or complex noise.
There are 27 filter types here, and while they all take you well beyond what an ordinary filter does, it's their combination with the modulation section in Supermodal that impresses us the most.
The mix of filter algorithms and modulation options is a perfect and easily manipulatable marriage, and takes Supermodal to another level that few others have reached. It really is a case of playing a couple of notes or beats through this beast, and creating entire tracks from them.
Supermodal costs $99 and you can get more information from the Polyverse website here.
PSPaudioware PSP 285
This 'Plugins of 2023' feature started with a very modern delay plugin, Pluralis, and finishes with what you might call a vintage one.
PSP Audioware's PSP 285 is based on the company's much-loved PSP 84 and PSP 85 processors, and is a creative delay playground with a semi-modular architecture. It enables you to explore the countless possibilities offered when you combine variable sample rate delay lines, and can produce everything from simple slapbacks and echoes to complex rhythmic wildness.
You can enjoy up to 10 seconds of delay time per channel (pre and main), and there's also a modulation section with tempo-synced LFO and envelope follower. A dedicated filter section (17 types are on offer) and close to 400 presets are also supplied.
PSP 285 runs on PC and Mac in VST/AU/AAX formats and is available now for $149. Find out more and download a 30-day demo on the PSP Audioware website.
---
Looking for more great new gear? Get all our roundup, news, features, tutorials, tips and more at our Gear Expo hub page.