It may be hard to believe, but Thomann's Harley Benton has been around for a whopping 25 years! To mark the occasion and celebrate the 25th anniversary in style, Thomann is currently offering 25% off 25 products for 25 days. So now might be the best time to grab that electric guitar, bass, or effects pedal you've been longing for.
Now, the eagle-eyed among you may have noticed we covered a very similar sale a few weeks back. Well, as this sales event was so popular, Thomann has decided to relaunch it, this time with a new range of popular guitars, pedals, basses and amps.
The sale has only been running for a few days and the stock levels are getting low on select models already, so don't wait around too long if you see something that catches your eye. You have until October 14 to get in on the action.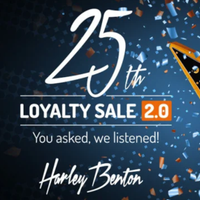 Harley Benton Loyalty Sale: 25% off at Thomann
For the next 25 days, you can score an impressive 25% off a wide range of Harley Benton guitars, effects pedals and basses. There really is something for everyone here, from hard-rocking electrics to blues-ready semi-hollows and thunderous basses. The sale ends on October 14, so don't hang about.
Not sure who Harley Benton is? Well, let us give you the low down. Harley Benton is Thomann's own brand, and they manufacture a large number of low-cost alternatives to larger companies such as Fender, Gibson, Ibanez and PRS. The Harley Benton banner encompasses everything from electric guitars to effects pedals, amplifiers, bass guitars, acoustics and even accessories - so no matter what you are after, chances are Thomann makes their own version of it!
A few of our highlights include the stunning Harley Benton DC-60 Junior HPM, which features a single P-90 pickup, WSC wrap-around bridge, Wilkinson vintage style machine heads and comfortable Meranti neck. At £103, this is a steal for anyone looking for a hard-rocking no-nonsense guitar.
The MR-Modern unashamedly wears its influence on its sleeve, paying homage to the fabulously cool Mosrite guitars that punk fans adore - and right now you can score 25% off, bringing the price down to only £187.
Of course, it isn't just electric guitars on offer; you have a choice of basses and acoustics, too. The Harley Benton TB-70 SBK is down to a wallet-friendly £129, while the solid-topped Harley Benton CLG-14SM is only £109!
There are lots more on offer, so we implore you to take a look through all the sale items for yourself.