Wolfgang Flür talks Kraftwerk, his youth and debut album
Wolfgang Flür
After Wolfgang Flür left Kraftwerk in 1987, he decided that he'd had enough of music.
"As a student, I had trained in furniture design and that's what I went back to," explains Flür. "But when music has taken hold of your life, it's not very easy to just walk away and end that relationship… that love affair. Ha ha! I hoped that, one day, I'd make music again!"
The ex-drummer and the man who helped construct Kraftwerk's first electronic drum kit actually stepped back into the studio in the early-90s. In the ensuing 20-plus years he's collaborated with the likes of Mouse On Mars, Nitzer Ebb, Meat Beat Manifesto's Jack Dangers and Japanese electro-funsters, Pizzicato Five, and released the controversial autobiography, I Was A Robot, about his time with Messrs Hütter, Schneider and Bartos.
These days, the amiable 68-year-old spends a lot of his time playing live shows – a sort of DJ-set-meets-photo-exhibition-meets-experimental-movie-night – and putting together occasional tracks with his long-time collaborator, Stefan Lindlahr.
Many of the tracks sat gathering dust in Flür's office for years, but he's finally got round to releasing his debut solo album, Eloquence – The Complete Works.
"Obviously, people always ask me about Kraftwerk," he admits, "but, with my own music, I am not trying to copy what I did in the past. These songs are just simple stories about life… all I want to do it write a good pop tune."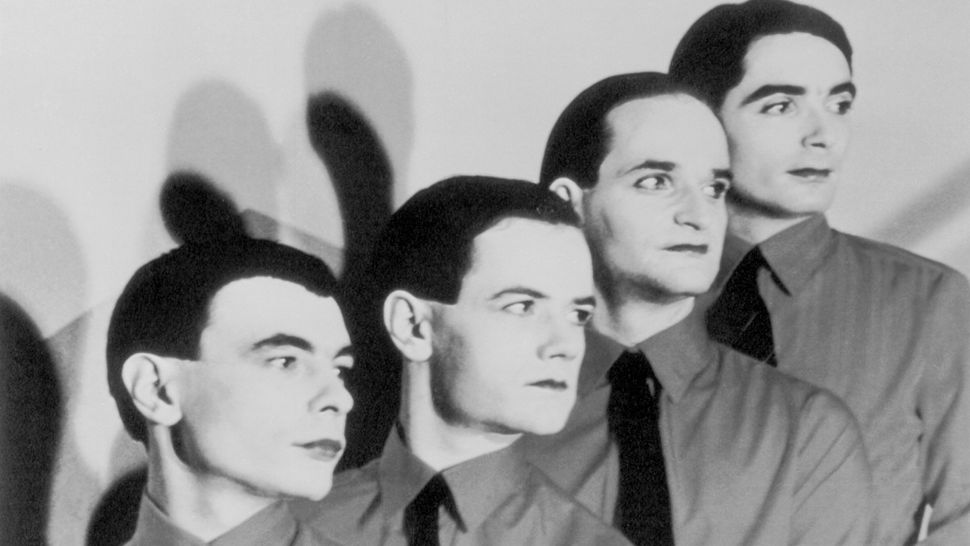 The early days
You left Kraftwerk almost 30 years ago, but people still want to talk about them. Does that bother you?
"Not at all! I am very proud of the music we made. But sometimes, I have to laugh when I read some of the things you journalists write about Kraftwerk. You make it so big and so important. In my opinion, this subject has been lifted up too high; let us remember it is only music and we were just four guys having some fun in the studio."
Have you always been interested in electronic music?
"It would be nice for the story if this was true, but, unfortunately, it is not. As a child, my mother played me a lot of classical music… the great Russian composers. The music always sounded so sad and I liked that. I used to play the mouth organ and make up my own sad melodies. For children, I think sadness and happiness are very close together; the sadness made me happy.
"As a teenager, I discovered a drum kit and that was my next passion. I realised that it was fun to make a loud noise. I eventually formed a band with Michael Rother, who of course went on to form Neu!."
Kraftwerk electronic percussion
There was a lot of innovative and influential music coming out of Germany in the 60s and 70s. Kraftwerk, Tangerine Dream, Neu!, Can, Faust, Amon Düül, Conny Plank's work in the studio…
"After the war, it was very important for the youth of Germany to make a break with the past. Musically, all that you could hear in Germany was schlager [cheesy pop music] and we used to hate it. We wanted to experiment, and we wanted to create something new.
"Technology represented the future for us, so we became very interested in turntables, radios and guitars. I remember seeing people 'scratching' with turntables many years before hip hop. When the synth came along, it was like… 'Wow! This is what we've been waiting for'. Unfortunately, they were very expensive in Germany; about the same price as a brand new car.
"I think the first synth I ever touched was the Minimoog that belonged to Ralf and Florian. I was invited to the original Kling Klang studio because they wanted me to play drums for a performance on a TV show. They had this very childish, broken drum kit and I said, 'This will not work with the music you are making. We need artificial drums to go with the synthesiser'.
"Not long after that, I found an old Farfisa rhythm machine, the Rhythm Unit 10. As well as the inbuilt rhythms like rumba and waltz, there were some switches on the side and I could listen to the sounds individually… boom-tshh-boom-tshh. The bass, snare, cymbal and bongos. When this was put through a big amplifier with some effects, it sounded so exciting.
"Florian and me worked out how we could make a device with brass sticks and metal plates that would allow us to connect the circuit and play these sounds like a real drum kit. We soldered some cables and I spent a week building a wooden case for this new machine.
"When we played the TV performance, the camera was taking a lot of notice of my drum machine because it looked so strange. Florian was playing the flute, which was nothing new, and the synthesisers looked like home organs, but my box with all the cables looked so futuristic.
"There was a click in our heads and we knew we had found the perfect sound for us. A week later… we made Autobahn."
Recording set-up
What was the recording process like on those early Kraftwerk albums?
"Because I was the drummer, I was maybe the smallest part of the process. Ralf and Karl would spend the most time in the studio… Karl had his own little set-up at home and would come in with detailed, pre-prepared songs. Then, they would spend a long time discussing the melodies. And we would spend even longer making it sound like we wanted it to sound.
"Compared to how people work in the studio today with programmes like Logic and Ableton, it was a very time consuming process; even at the time I left in 1987, there was still no computer or midi in the Kraftwerk studio. Can you believe that? But it was also a very, very enjoyable experience and, in some ways, I miss that way of working. The music was not always perfect, but it was full of drama."
And what's your recording set-up today?
"I just have a laptop with Pro Tools and GarageBand. The way I make music is with my voice… I sing the melodies into my computer. Since 2000, I have been working with an engineer called Stefan Lindlahr at his studio in Neunkirchen.
"For us, the songwriting process is very human. I go to Stefan with my ideas and I tell him a story. 'There is this guy who goes to the North Pole to see the Northern Lights. He is a scientist and he goes into the wilderness, looking for the Lights, but he gets lost'. Then, I play him my ideas and I show him the words, and we work on the sounds… sounds that will tell my story.
"That is why I called the album Eloquence, because I wanted the songs to be eloquent, like a good storyteller."
Presenting music
People probably expect that any ex-member of Kraftwerk will have a studio full of old analogue keyboards, DIY oscillators and vintage knick-knacks…
"That is not me. I am happy to admit that I have never been a keyboard player and I have never been a programmer. Stefan's studio has got all those old machines, but it's also a very modern studio, which is great for someone like me who is not the greatest technician.
"I love modern recording technology, because it allows me to make my music and it also allows me to play my live shows… I have two MacBook Air computers on stage, one to control the music and other to control the visuals.
"I have been called a DJ, but I would never call myself that name because I am not good enough to be a DJ. What I do is present music and I hope that people like it."
Eloquence - The Complete Works
Kraftwerk are on tour this year; have you seen any of the concerts? Do you speak to your old band mates?
"I speak to Karl all the time. Being in a band like Kraftwerk has given us a special relationship and I'm pretty sure we'll be friends for a long time. Ralf and Florian were upset by my autobiography, but I hope that is all forgotten now; the lawyers talked to each other and seemed to sort everything out.
"I can't remember the last time I spoke to them. I did see Florian a few years ago; I was standing on the pavement, waiting to cross the road and he drove past me quite slowly. We looked at each other… he gave me a little smile and waved.
"I was actually asked to review one of the Kraftwerk concerts on the Museum Tour in 2013 and, for me, the performance was a bit boring. There were four guys up there and… nothing happened. If you ask me about the show, yes, that was brilliant; all those 3D projections. But it felt like I was at the cinema and these guys turned up to play some music on their laptops.
"If you look at any of the early footage of our live shows, we used to be a lot more active. My God, we even used to dance! Ha ha! Maybe our knees would have trouble with those dance moves today."
Wolfgang Flür's album, Eloquence – The Complete Works (Deluxe CD/Double Clear Vinyl LP), is out now on Cherry Red Records. For more information check out Wolfgang's official site.