In pictures: Lifelike in his Paris studio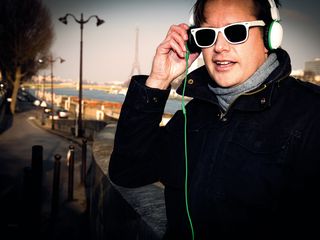 Intro
Its electronic music history, from early F Comm artists to Daft Punk's Montmartre beginnings and global takeover, through to more recent Ed Banger outgoings, means we always feel at home in Paris. Today though - late January and well below freezing - there's a frosty silence in the air as we make our way across town to the home studio of Laurent Ash, aka Lifelike.
Despite the quantity of acclaimed artists living on the banks of the Seine the scene is still relatively close-knit. Lifelike benefited from this camaraderie when he first moved to the city in the late '90s, originally releasing his early tracks on Jérémie Mondon's 20000st.
But it was his introduction to and collaboration with Kris Menace on the modern club classic Discopolis that made him a household name. First released on Alan Braxe's acclaimed Vulture label, the track was later licensed to Defected, hammered by Pete Tong and became the 2005 Ibiza anthem, selling 20,000 vinyl copies in the first three months alone.
Amidst a tsunami of remixes for the likes of Chromeo, La Roux, Sia, Groove Armada, Moby and A-Trak, Lifelike has developed into a consistent and dependable dancefloor deacon, producing retro-tinged bassline-driven tracks from his hardware-led studio in the shadows of the Eiffel Tower.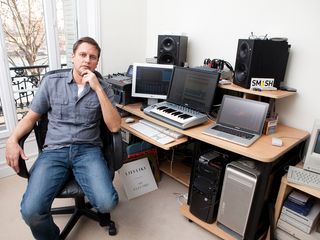 Lifelike studio
"I started by playing piano. I learned it when I was 12, but only because my mother made me - I hated it. I learned to sample on an old Amiga computer. I was sampling in other people's records and basically doing remixes, though I didn't know it was called that at the time.
"On the piano you had to play chords and there was a lot of discipline, but on the computer, you could take an entire piece of music and chop it up. You didn't have to know or learn music, and I loved that. I didn't intend to do music though."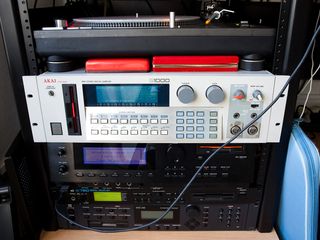 Samplers
"I love those samplers. I don't use them all to be honest, but I still use the S-760 because I hate bouncing in the computer. I use it as an analogue-to-digital converter because I think it sounds amazing. I put everything onto a Flash card and then load it into Cubase to edit things."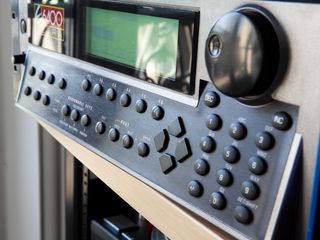 E-MU E6400 sampler
"This was my second sampler - my first one was a Casio FZ-1. It sounds a bit dark, but the bottom-end sounds very fat. It's very easy to program and sample on. It cost me all my savings back in the day to buy this monster!
"But it was the sound of most of my records and remixes, including the post-Discopolis stuff, together with an Alpha-Juno 2 keyboard and a TR-909. That was my setup for more than eight years."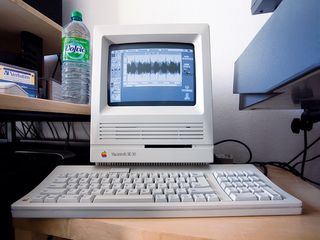 Mac SE/30 and Alchemy 3.0
"This is the only computer able to communicate with my favourite old sampler Emax 1. The old Mac is running Alchemy from Passport Software that allows me to edit the sample faster. It also normalises the sample, one thing that the Emax can't do.
"I do still use the Emax for a lot of my productions - the sound is properly amazing. Sonically it's a pure copy of the SP-1200 E-MU but it can sample up to 42kHz and has SSM analogue filters!"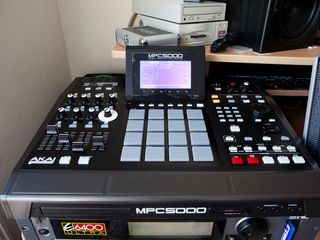 Akai MPC5000
"This piece of gear is amazing. The sample edition is a bit different from other samplers I've been working with, but once you get into it, you can almost do it all. I sequence on it and I sample on it - it's the best tool you can have for making dance music."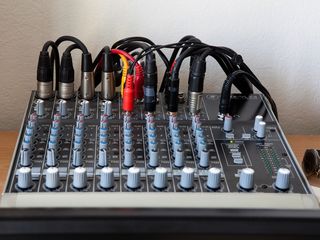 Mackie 1202VLZ-3 mixer
"This replaced my old MS1202. The sound is fatter - I still mix my music on this. I prefer to work on it than in the software mixer in a DAW. It's faster and no software can get this special sound. It's the typical Daft Punk French sound - I can't make any of my records without this little mixer."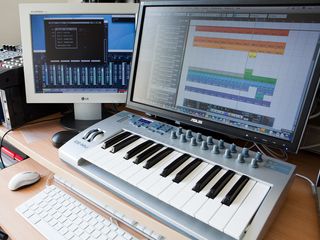 Steinberg Cubase 5
"It's my main sequencer, but I do synchronise it with Ableton Live. I really like the sound of Cubase; I think it's the only sequencer that doesn't sound digital. When I hear mixes today from other famous artists, the sound is huge and clean, but it has no personality.
"For me, being a musician in electronic music is also about having your own sound. Logic, in my opinion, isn't able to deliver a proper 'personal' sound. The digital mixer doesn't behave the way a real mixer would behave, so it makes things very difficult when you want to get a glued mixdown that doesn't sound like cheesy commercial dance."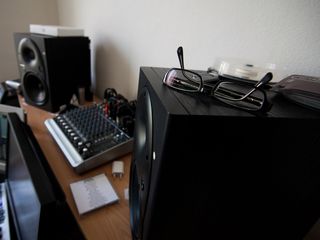 Mackie HR624
"They sound a little too bassy - you need to know them well because they can be tricky - but they never lie to your ears. If something sounds bad, you will hear it very well, and if it sounds great on these speakers it will sound great everywhere."