Robert Trujillo on his bass journey with Metallica: "I've always felt challenged"
Introduction
On the day Metallica unleash their long-awaited 10th album, bassist Robert Trujillo tells us about his journey into one of the biggest bands of all time.
Robert Trujillo is sitting by the window in his penthouse suite of Kensington's Royal Garden Hotel, savouring an unrestricted view overlooking Hyde Park.
Sipping green tea next to a carefully-pruned white orchid, watching the winter chill creep above the trees in the form of grey mist, he couldn't be further away from the sweaty, denim and leather world of the San Francisco Bay Area that spawned the band which he joined in 2003.
Trujillo is in town with his bandmates for the launch of Metallica's long-awaited 10th full-length album, Hardwired… To Self-Destruct, where 600 lucky fans will see them bring fire and thunder to the House Of Vans in the tunnels below Waterloo Station later tonight. But for now, everything is an ocean of calm.
"It's such a great view, man," he grins, extending a hand to greet us. "I've been to this hotel so many times on and off over the years, I think even with Suicidal Tendencies back in the day. I've never been in this part of the hotel, though - it's a seriously nice room. Better check out the price of this thing!"
Welcome to the world of Metallica. They've come an incredibly long way since drummer Lars Ulrich placed an advert in a local Los Angeles newspaper, "looking for other metal musicians to jam with Tygers of Pan Tang, Diamond Head and Iron Maiden" - redefining the laws of heavy music and writing one of the bestselling albums of all time at their apex.
Trujillo's story is one that began not long before the arrival of that self-titled 1991 album - in the very same city, in fact - when he joined skate-thrash mob Suicidal Tendencies near the end of the 80s.
"My whole journey with Suicidal Tendencies was a lot of fun, and very experimental," nods Trujillo, with a mischievous grin.
"There were no rules, which is always nice: we didn't really know exactly what we were getting into. I just wanted to experiment with the bass and my main influence from Jaco Pastorius inspired me to write music in a certain way.
"If you listen to the You Can't Bring Me Down intro, I'm actually playing a fretless. There's this melodic phrase there that, even in its simplicity, has his presence in there. And the song I Wasn't Meant To Feel This/Asleep At The Wheel has a fretless solo - another piece inspired by my biggest influence."
Infectious Grooves
Where Suicidal Tendencies blurred the lines between thrash metal and skate punk, its offshoot, Infectious Grooves, allowed Trujillo to tap into even more of the funk fusion which he'd been practising in his bedroom.
"Listen to Infectious Grooves where you have a song like Violent And Funky," he notes, "which has a very repetitive line, yet still somehow influenced by Jaco. That was actually played on a six-string bass. I wasn't necessarily learning his songs note for note specifically back then, although I've tried that more in recent times. When I was younger, I was trying to create from attitude more than anything else."
In 1996 came an even bigger break - and quite possibly the ultimate dream for anyone who grew up listening to Black Sabbath. Joining Ozzy Osbourne's band was a privilege that Trujillo still holds close to his heart. While Suicidal Tendencies certainly brought him success, it was this move that enabled him to perform at the top level. This later proved to be invaluable.
"Now that was a very different experience," admits Trujillo, almost still in disbelief some two decades on. "I learned from Ozzy. I was always a huge Black Sabbath fan and suddenly there I was, playing those songs with him, trying to get that Geezer Butler feel - another one of my favourite players. There is some of that influence on Hardwired…, which is something I hadn't really explored in Metallica before.
"Playing with Ozzy was a dream come true. I started laughing when we ran through Iron Man and Sweet Leaf for the first time in Las Vegas. That's actually when I first went into my samurai crab walk. I wanted to see if he'd do it too, and he did! He had those crazy eyes..."
Planning ahead
Along with Pastorius and Butler, Trujillo also cites New York session master Anthony Jackson as one of his biggest heroes: "He's a pick player, but I've applied some of what he does to my own work, like on Metallica's The Day That Never Comes."
All of these influences and experiences brought Trujillo to the moment famously documented on Metallica's Some Kind Of Monster film, where he auditioned for the band, annihilated the competition and was given a cool million-dollar advance as a "welcome to the family".
Outside of becoming a father, it was probably the biggest moment of his life.
"One thing about being in Metallica is I've always felt challenged," he observes. "Coming into the band, there was a tempo thing going on - they tended to speed up live. I had to readjust just my technique and go to a three-finger or four-finger approach.
"It's a lot easier now than it used to be: when I first joined Metallica, I was kinda struggling! I had to learn over 20 years of catalogue, plus the 12 songs from [then-new album] St. Anger, which had never really been performed as a unit."
"Then there was that magnitude of press and everything else that goes with being in Metallica. I was juggling all of it, while relocating from Southern California to San Francisco. There was just a lot going on, it all happened immediately. I wasn't necessarily ready for it, but at the time I wasn't married and didn't have kids, so I was able to make the transition with the help of a lot of homework.
"I realised that I needed to stay ahead of these guys, so I would learn songs like The Frayed Ends Of Sanity or Orion or The Call Of Ktulu, trying to jump ahead of the game, maybe even years ahead of them wanting to play it. Luckily I was ready!"
Woodshedding
It says a lot about Trujillo's discipline as a player that, instead of squandering his advance on a blur of decadence, as - let's face it - many of us would be tempted to do, he chose to lock himself in a room, armed to the teeth with nothing but Metallica tablature books. He was the new guy, and in his eyes, he had everything to prove.
"Everyone else had the music figured out because they wrote or recorded it, but the new guy needs to do his homework," he reasons.
"And it was kinda fun! Sometimes I'd bust out the tablature books and really investigate. Any time a band has an archive, it's almost guaranteed that at some point they're going to play an obscure song. The fans are going to call for it, so once I was caught up, it felt a lot easier for me to adapt to Metallica."
How did Trujillo's previously funk-laden bass style adapt, we ask?
"In this band, the bass is more like hitting the heavy punchbag," he explains. "I like to keep it heavy, and even when I was doing all the slap stuff with Suicidal or Infectious, that's when the low B string became a really strong presence for me.
"I'd go for a more tribal effect with my slap. I was trying to get away from the higher pops of the D string, I wanted to go low and deep. I was thinking about the jungle and stuff - just punching that string to get a rhythm."
Metallica begin 2017 in a very healthy place. Fans and critics alike have cheered Hardwired… as one of the band's finest moments since that classic album run through the 80s and early 90s. From the balls-to-the-wall crunch of Hardwired to the symphonic majesty of Moth Into Flame and the epic finale that is Spit Out The Bone, it's an album that seems to fuse all the best elements of Metallica into one.
Blind faith
After the lukewarm reception of its predecessors Death Magnetic and St. Anger, not to mention the relative failures of the band's self-financed Through The Never movie and Orion festival - or, indeed, Lulu, the 2012 collaboration with Lou Reed which, by their own admission, confused more fans than it pleased - it feels like the metal masters are back where they belong.
"The main thing about this album was having Greg Fidelman, our producer, on board," Trujillo points out. "He had free rein: it wasn't like he was just an engineer - he could do whatever he wanted to the mix.
"It's great how he was able to balance everything to where you have that beautiful, traditional rhythm guitar sound, and the drums are still there, but guess what, so is the bass! It's very present on this album sonically, which is cool. He's a connoisseur of vintage gear, with old 70s Ampegs lying around."
The pair spent countless hours in the studio together, blind-testing different gear to make sure the melodic heart of each song hit hard and heavy. Furthermore, they did the same for each individual section of a song, taking six basses and using only their ears to decide which sounded best for the task. Trujillo was especially pleased to learn that a new addition to his arsenal proved to be unbeatable in filling the low end this time round.
"There were no rules, there'd be four of my basses, and two of his: anything from a P-Bass to ESP, Tobias and beyond. There was no favouritism, because it's taken time to nurture the right bass for this band, but I'm happy to say my newer Warwick signature five-string won out in the blindfold tests. And I've been playing less of my five-strings in the last few years!
"At least for this type of music, the Warwicks have stepped it up recently. I immediately called [Warwick owner] Hans-Peter Wilfer to say, 'Hey man, guess what? The Warwick is the dominant instrument on this record!'
"He was very happy about that, because on the last album, I didn't use a single Warwick: I used my old Fernandes basses that were made by the original Tobias luthiers who left the company when it got bought out by Gibson.
"Those basses were really well-made, but after a year, the guys all went their own way. But this Warwick had a stronger presence to my ears. The guitar just sings, especially for Metallica. It's not like my necks are huge or anything, like the Foderas, which have a wider fretboard with more area to cover. I keep my necks pretty tight, even for five-string, and have them modelled after the P-Bass."
Live to learn
Of his bandmates, Trujillo says he has never felt more in tune with them. "I think you can only get to know musicians with time," he says. "It's interesting because James was originally a drummer, and his rhythmic feel is very special.
"Lars tends to play to him, so my job is to find the balance between those two. I think me and Lars have really improved as a rhythm section since 2003. On this album, we went for simplicity: finding less busy patterns to work with the more intricate riffs which have up-tempo double-picking from James.
"The very last song, Spit Out The Bone, was actually one of the first tracks we worked on. We came back to it a year later and decided to retrack the bass to an art of simplicity. It was our last day in the studio, with 90 minutes before I had to catch a flight. After rehearsal, Lars came out with his robe on, and was in shock like, 'What the fuck? Are you kidding me?'
"He was kinda half-blown away and half-smiling, so he might have been pissed off, haha! But Greg said, 'Leave us alone, we're just trying a few things!' And in 20 minutes, we had recut most of the song, purely because of our shared desire and motivation."
Ask Trujillo for the secret behind his bass mastery and he'll tell you he's only the sum of his parts - and that what's helped him most is keeping those parts varied. To the 52-year-old musician, whose first memories are of his dad playing flamenco, funk, rock, metal and jazz, these are all just different words for the same thing: music.
"What I've learned," concludes Trujillo, "is that the great players I looked up to were all well-rounded. You should never limit yourself to one style of music. Broaden your horizons and listen to everything you can.
"My friends in Sepultura or Gojira listen to all sorts. It was Jeff Hanneman of Slayer who turned me onto Public Enemy and NWA, and just look at the riffs he was writing. Raining Blood is the funkiest metal song ever, and the heaviest, too! I've always felt Hetfield is the funkiest rhythm guitarist that I know - he can groove, there's an incredible pocket with him. So variety is good. It doesn't mean you always have to play a funky bassline or whatever: it just helps to pull from other styles."
Looking around the room and out into a mesmerising view of the sun setting over Westminster's royal park - just a few hours ahead of witnessing Metallica play what feels like one of the tightest sets of their career - it's hard not to believe him…
Hardwired... To Self-Destruct is out now. Robert Trujillo's Jaco Pastorius biopic Jaco is also available on Blu-ray and DVD.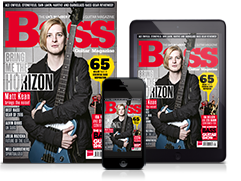 We're the UK's only print publication devoted to bass guitar.
Subscribe for star interviews, essential gear reviews and killer tuition!