Robbie Robertson on The Last Waltz, gear secrets and that bronze Fender Strat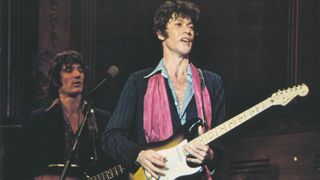 Introduction
Robbie Robertson has had quite the life in music. From backing Bob Dylan at the epochal moment when he 'went electric', to carving out woody, jagged guitar lines in The Band, his playing is part of the fabric of American rock.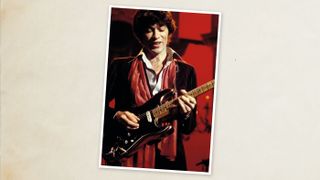 Bronze award
Let's start with the bronze Strat - where did you first come by it?
"I got the guitar from Norm's Rare Guitars in Los Angeles. Norman Harris always had spectacular guitars. This was one that he brought me. It was originally red, which was kind of unusual, because the guitar is from 1954. The serial number is 0234.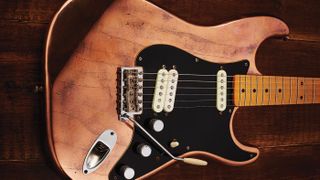 A new tone
At what stage did it acquire its unique bronze finish?
"Well, in 1976 we decided to do this Last Waltz concert, because it was a culmination of something. It was the end of some era; it was the end of a relationship with the road that I had had since I was 16 years old. I was just trying to think of what to do in celebration of this.
"I didn't know whether it would be a bad idea, but I decided to have the Stratocaster bronzed. It was a bit tricky, you know, finding somebody to do that. One of the road manager guys said, 'There is a place where they bronze baby shoes' - it was some kind of a tradition that people would take their baby shoes and dip them in this thing and bronze them.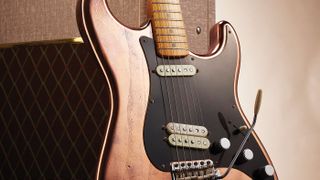 Sunburst sunset
In the film, you brought out a modded sunburst Strat when you were trading solos with Eric Clapton on Further On Up The Road. That also looked interesting…
"Yes, it was one of those [two-tone] sunbursts with no red in it, which I always preferred. It was just brown and yellow. It inspired a guitar, this Robbie signature that Fender has made, which is called a Moonburst, because it has a different look and a different tone to it. It is more nocturnal.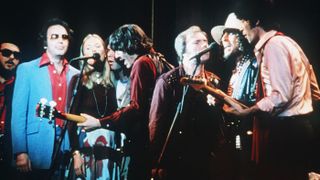 Holly grail
You get a lovely sort of drive sound or a crunch sound through most of the gig. Is that just off driving the amp naturally with the volume? Or did you have any pedals in the signal chain?
"Well, when I was very young, 12, 13 years old, I met Buddy Holly. And I asked him how he got that sound: he played a Stratocaster into a Fender amp. And he told me, he said, 'I have got this Fender Twin amp. I blew one of the speakers and it sounded better so I didn't fix it. That is how I get this sound.'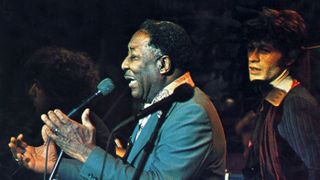 Soundtrack to a revolution
What moments stand out in your mind most from the gig?
"I certainly got a thrill with Van Morrison. He raised the bar and we played that song, Caravan, with all our heart. I can't remember much of it that wasn't a thrill, actually. Playing Such A Night with Dr John was just a big grin. Muddy Waters was another one of the highlights.
"Of course, with Eric Clapton, who to this day is still a dear old friend, you know what I mean? I don't know if there was any downside. Joni was as cool as can be, and Neil Young, oh my God, doing that song Helpless, what a moment that was. He did it so well.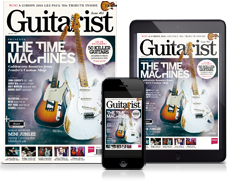 The magazine for serious players
Subscribe and save today!