Introduction
Since the release of the band's debut, Animus, last year, the UK's death-metal hopes have been pinned firmly to the impossibly heavy lapel of Venom Prison.
Throughout, guitarists Ash Gray and Ben Thomas unleash taught palm-muted blasts of aggression that stagger between blast beats and punishing grooves, while vocalist Larissa Stupar spits lyrics targeting rape culture and societal ills.
The band's work so far has been seriously accomplished, and Ash and Ben offer a tonal focus to match.
Here, the pair let us in on their prized gear and uncompromising approach to their rigs. Read on for the VP guide to heavy…
Venom Prison play Download Festival on Friday 9 June.
LTD Dave Mustaine Signature DV8-R
Ash: "It's equipped with Seymour Duncan pickups (JB in the bridge, Jazz in the neck) and Sperzel locking tuners.
"I was lucky to find this guitar, as they're discontinued now - my friend had it lying around his place and it wasn't being used. It has everything I want in a guitar: fast fretboard, killer sustain and great tone."
Jackson DK2HT Pro Series Dinky Hardtail
Ash: "This one's equipped with direct-mount Seymour Duncan JB & 59 Zebra pickups and Jackson die-cast locking tuners.
"It's super-light and sounds great - the five-way pickup switching blade is a nice touch for using in the studio; switching the zebra pickup from inside coil to outside neck coil can be very useful for finding that particular sound. Downside is that I wish this guitar had a Floyd Rose tremolo… "
Charvel San Dimas
Ben: "This is my main guitar at the moment. It's a Charvel San Dimas. I'm not sure what year it is, but it's a modern take on their '80s models.
"It has a very bright sound with the combo of the maple fretboard and Seymour Duncan pickups. Leads cut through with this, and the Strat neck profile makes it very easy to play fast parts. I'm also not a fan of jumbo frets, so this guitar suits me very well with its medium frets. It has a whammy but I had it blocked off as it wasn't keeping its tuning very well."
Gibson Les Paul Studio
Ben: "My Les Paul Studio is what I go to when I want some lower end and natural warmth.
"I've had this guitar over 10 years, so it's taken a beating in previous bands - the headstock's been glued back on, tuning pegs replaced, knobs replaced and it still sounds great."
Blackstar HT Metal 100
Ash: "I'm going to quote myself here, as it's the perfect way of describing this amplifier…
"'This beautifully crafted machine powers the low end, tightness and clarity I have been searching for. The HT-Metal was the missing piece to my tone.'
"Having an amplifier that is reliable on the road is so important and this head just keeps on powering through each set."
Ben: "I was blown away by this amp's power when I first played through it. It feels very responsive to our style of playing and gives more than enough gain.
"I really like the ISF feature and appreciate being able to blend that British stack sound with a more modern American-style amp."
Blackstar HT Metal 412
Ash: "This cabinet really complements the amplifier; the speakers throw out that rumble and power the amplifier needs and deals with it so well."
Ben: "This cabinet is made for metal. It has really clear low-end without sounding like a bass amp, and holds the mids nicely. These sounded huge when we took them out on our last tour."
Ash's pedalboard
Maxon OD808
"I swear by this pedal, including the TS9 - it tightens up your whole tone and adds this little extra edge."
BBE Sonic Stomp
"I remember watching a studio diary with Erik Rutan (Hate Eternal, Morbid Angel), where he was explaining the combination behind the Maxon OD808 and the BBE Sonic together - the only way of describing this is it brings everything to life and complements your overall tone. So if you've found your tone, adding this in front will add that extra you didn't know existed."
DigiTech JamMan Solo XT Stereo Looper
"On this pedal I load all the samples that are being used in our live set, and can fire the samples off which a simple stomp. In the future I am thinking of upgrading to the standard JamMan Stereo for ease of switching samples."
TC Electronic Flashback
"This delay pedal has multiple delay settings, which can be good for experimenting with; I have a TonePrint set up, which is used in Abysmal Agony towards the end of the song. The delay is set after my tuner, so in between songs if there isn't a sample I can maintain constant noise, as I hate that awkward silence when tuning."
Electro-Harmonix Nano Clone
"This chorus isn't even mine! I have a friend lending it to me while I find a replacement, as I'm pretty picky when it comes to choosing a pedal - I'm always swapping pedals out for something else. I have my eye on an MXR Analogue Chorus at the moment. However, I need to use this for the intro to Womb Forced Animus with the picking section."
Boss RV-5
"I was searching for this pedal for quite a while, as you can only buy the RV-6 in shops now, but it didn't have that shine the RV-5 gives me. Luckily, I managed to score it on a trading site. Anything that's clean or needs ambience in the set, this pedal goes straight on. Settings are normally on modulated, but there is plenty more to experiment with."
Boss NS-2
"I can't really say much other than if you're playing heavy music that you don't want howling feedback on (although sometimes you do), then just buy a noise gate. When I have the chance I wouldn't mind testing out the TC Sentry or ISP Decimator."
TC Electronic PolyTune 2 Noir
"The only reason I have this small fancy tuner is because the last one I owned I had for years and was starting to age badly so I replaced it with this smaller pedal to save room on the board."
Voodoo Lab Pedal Power 2 Plus
"I have this attached under the board on brackets to tuck away and save space. Having a good power supply for your pedals makes the world of difference. The isolated ground connections keeps all the horrible power noises from coming through and provides a clean power signal to your pedals."
Ben's pedalboard
MXR Dyna Comp
"It's like having triggers for your guitar. With the right settings, palm-muted chords and picking patterns sound very consistent with this on. I leave it on all the time."
Ernie Ball Volume Pedal Junior
"I play some ambient swells in some of our older songs. This gets used to fade the signal into a long delay and deep reverb for a nice atmospheric layer. I don't use the bypass output to run the tuner as I've read it can sap your signal."
Boss TU-3
"I've had this thing for years - never owned another tuning pedal. Does what it says on the box."
Walrus Audio Julia Chorus
"My favourite chorus pedal I've owned. I use this to colour some of the more open string sections of our songs. I also use it on cleans. Really versatile pedal and handles overdrive very well, too."
TC Electronic Helix Phaser
"I use this pedal mainly on my solos and on the ending of Womb Forced Animus. I'm thinking of switching it out for a Red Witch Moon Phaser as the TC sounds a little bit too processed. I prefer the older-sounding phaser pedals."
Boss NS-2
"Everybody who has ever played heavy music has or needs one of these. It cuts out the feedback when you need it to. I'll only turn it off for solos. I've thought about switching it for an ISP Decimator, but never had the chance to compare them."
Ibanez TS9
"I use this in the classical metal sense in that it is used to add more gain to an already driven signal from your amp. There are so many Tube Screamers out there now, it really is just down to personal preference. I have used Maxons and SL Drives before, but have always gone back to the Ibanez TS9."
Boss DD-3
"This pedal was a gift from an old friend and bandmate. I use it predominantly on solos and to extend tremolo-picking single notes for atmospheric sections. The end of Womb Forced Animus has these tremolo-picked bends that are really complemented by a strong delay. I'm thinking about switching this out for a delay with tap tempo - I'm keen to try out Blackstar's HT Delay."
TC Electronic T2 Reverb
"This pedal has loads of sounds, and in my opinion competes very well with the Strymons and more boutique ambient reverb pedals on the market. I made my own TonePrint for this. It's used mainly on the black metal-style sections of songs and on cleans. It was also used on the clean outro parts of Corrode The Black Sun."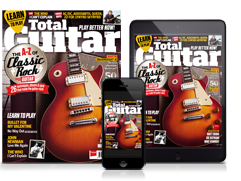 Stay up to date with the latest gear and tuition.
Subscribe and save today!