Introduction
With Manson, Orange, Faith, Heistercamp, Rotosound and Tate, Mikey Demus is flying the flag for British brands. But he's also mixing old-school analogue with digital, too…
Don't Miss
Skindred's Mikey Demus: these are the 10 guitarists who blew my mind
Some bands have a live reputation based on a timeless test: can they get a crowd moving within seconds? Skindred have always set the standard for other heavy bands when it comes to onstage energy and they're still mixing a molotov cocktail of metal, reggae, alt rock and punk.
Twenty years into their career the band continue to explore their sound with new album Big Tings. It's also an eventful time for Mikey Demus's rig with a new Manson signature model and Kempers on the menu for starters…
Manson Mikey Demus Signature MD-1
"This is what Manson calls their MA shape and I'm playing it in drop C. Manson obviously put a lot of tech into their guitars for some people but I wasn't really interested in that, I wanted to do something that was quite traditional.
"Take the '72 Keith Richards Tele and you do the Manson thing with it. Big scratchplate, humbucker in the neck, Telecaster bridge pickup, four-way control and Les Paul-style switch position. So like a Tele Custom. The only 'tech' I have on there is locking tuners. I use a push / pull control in the studio for some different options if I want it to be a bit more Tele-fied. I don't use it live.
"The in-house pickup guy at Manson is Simon Thorn, under the name Psychopaf. These are all his pickups. In these C tuning guitars you've got a Tele-style bridge pickup and a British Rail Iced T - basically a Telecaster-style dual coil, higher output. Still sounds quite single-coil-y but it's hum-cancelling. It's got loads of girth. The Benchmark in the neck I'll flick to for songs where there's more frantic strumming as it calms that down. There's also a few other bits where it just sounds better on the neck - like in Rat Race I do all the clean parts on the neck, and the verses of Warning.
"I took 23 guitars into the studio because you never know what two or three you'll end up using the most. But the one I did use was this number one signature model. It turned up just before and that with the parallel switch on, it was the sound."
Manson MA Custom Build
"This is the first one Manson made for me and the other one I play in drop C tuning. It's a swamp ash body with a metal finish and stained flame maple neck. I wanted it to look like a piece of brushed aluminium like the Electric Guitar Company guitars. Tim Stark is the head luthier at Manson and he found a way to etch it so it looks like it looks brushed but it's a piece of wood!
"It's a UK build from start to finish. The only thing that's different is a man-made bridge that comes from the US. It's solid brass and nickel plated. For my signature models it's just too expensive to put on it so they're fitting Gotoh bridges as it's easy to get in both left and right-handed configurations. The knobs are aluminium and there's an F1 company who make this stuff for Manson, all the carbon and aluminium stuff. They're very tactile and I'm constantly changing settings live.
"Mainly with the neck pickup, because I never had amps with loads of controls on growing up. I had the same one-channel Marshall JCM900 head from when I was 18 to about five years ago. I'd do everything with the volume control. I like having something preset where you have a neck volume setting. Actually, I still do that onstage now."
Devil & Sons 'Volume'
"This is the one that lights up on the body. I'm using that for one song [Sound The Siren] and it's the artwork from that record. It's kind of Tele-ish. It's a fun one.
"[Builder Daniel Wallis] approached me and asked me what I wanted it to look like. He makes some mental stuff! Some of them don't even look like guitars, they look like movie props. This one has a Seymour Duncan Little 59 in the bridge and a Pearly Gates in the neck."
Manson MA-25 Black Holo Sparkle
"They just sent me this. It's one of their complete production models, I think it's the anniversary version of the MA.
"That's got the Benchmark in the bridge and a P-45 single-coil in the neck. They have also put locking Sperzels on it for me so it can handle the drop A# tuning a bit better."
Faith Eclipse Mercury Scoop
"I just use it on one song at the moment.
"We're doing an acoustic version of Saying It Now, which was a song that was on our last record and then we did it acoustically for the new record too because it goes down really well. It's a tiny little thing but it really kicks it out."
Fidelity Guitars JB
"I met [guitar builder Matt Oram] last year and I'd been jonesing after one of these for absolutely ages. He said, 'Why don't you borrow it, take it out and see what you think.'
"It's great, it's got a Mojotron humbucker in the bridge and a Gold Foil in the neck. It also has a four-way switch and he explained that but, to be honest, I forgot! I think it puts the pickups in series and parallel."
Kemper Profiler
"I don't think any guitarist sets out to do things digitally and I was old-school with a tube amp with pedals, but just for the effects side of things and having everything this is great.
"So all the effects are being done in the Kemper. I started using them just before this tour. I was using [Fractal] Axe-Fx before and they both sound great but this was just so much easier to program. I programmed the entire set on this thing in less than an hour with all the effects changes, then you can back it up on a USB stick.
"We did a load of stuff on the record that made sense to keep in here rather than having pedals, because in my experience having loads of pedals out is just having more stuff that can go wrong.
"The Kempers send some stereo effects to front of house. So you get the main rhythm guitar from the cab, straight to front of house. Then you've got a bunch of effects that go to the cab, a load that go straight to front of house with some weird sounds we captured in the studio that didn't even have an amp in the equation. Plus, some reverbs and delays that are in time with the songs.
"Our front-of-house guy, John, is a bit of a master so it's a bit complicated. He's got about four channels of guitar and then acoustic over the top. So you get main rhythm and then left and right effects. You can do all that with the Kemper, splitting it in a million diff erent ways.
"I prefer the Tom Morello approach of trying not to have too many effects. I use five principal effects and try to push them to see what they can do. Generally, it's a wah, Whammy and a few delays and EQs. We've got a main rhythm sound, which is all Rockerverb and then we've got an amp in a box sound, which is a Marshall MS-2 cranked up to oblivion and clipped. If you do that every now and again, when the big amp kicks in, it's really effective."
Orange Rockerverb
"I had the MKIIs for a long time and swapped them out at the beginning of the year. They sent a couple out and they're great. I'd never tried a high gain Orange before the Rockerverb.
"My perception of them was from the 90s, that they were mid gain and an indie kind of thing, because those are the kind of players they had, like Noel Gallagher. I plugged into a Rockerverb and it was exactly what the doctor ordered because you've got the right amount of fizz and dirt without it being too saturated. Big bottom end so you can do that kind of riffing thing but we haven't really got anything metally onstage. Not really.
"This will do all that but the gain's at about 2 o'clock. A lot of [my sound] is with the pickup as well. These have a lot of preamp gain on tap but you turn it up to about 10 and it's completely bonkers. We were running them in stereo but I had some phasing issues so just one at the moment."
Samsystems Integral Close Mic
"I'm using the Orange PPC 412s with Vintage 30s so completely stock. I'm using this SamSystems Integral close mic'ing. It's a dynamic mic with a housing that lives over the speaker. After fitting it the mic is in the same position every time. It's the same as the Kemper, you move to that stuff for consistency because you want it to sound the same every night."
Pedals
Tate FX Buffer
"The Tate Buffer is on both the hardwired cables, because we're using 15 metre XLR cables for the big stages. You have to take all that long length cable stuff into account."
Fishman Spectrum Aura
"We use the acoustic imaging [a simulated sound of a mic'd acoustic] and blend it so it's mostly guitar with a little of the image on top at about 11 o' clock with the control, just to get the sound of a nice mic on it."
Tate FX Brexit Means Brexit Overdrive
"This isn't in the live rig but was the pedal on the album in front of all the amps. It's like a modded Rat, so it's quite spicy. I was mainly using it as a boost with gain at about nine o'clock and everything else turned right up. Normally, when you put an overdrive or a boost pedal in front of an amp it will do something to it and it will give something extra. That's what this was. I went through 14 or 15 overdrive pedals on the day and this was the one."
Skindred's latest album Big Tings is out now on Napalm Records.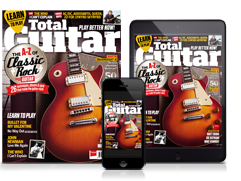 Stay up to date with the latest gear and tuition.
Subscribe and save today!