Introduction
Opeth guitarists Mikael Åkerfeldt and Fredrik Åkesson walk us through the various weapons in their sonic arsenal…
Don't Miss
Alone, Mikael Åkerfeldt and Fredrik Åkesson are easily two of the best guitarists around today. But together, they stand as a force most spectacular indeed: Mikael, as the prolific songwriter and creative visionary behind Opeth's 28 breathtaking years, and Fredrik continually raising the bar - in taste as much as technique - through his lead work in the band he joined a decade ago.
You could even go as far as saying when it comes to gunslingers, there simply isn't another band on the face of this planet with such boundless and consummate musicianship at their beck and call. We join the pair on the Sorceress World Tour to find out the tonal secrets behind that lysergic vortex of heavy jazz-rock…
Opeth play Download Festival on Sunday 11 June.
PRS P24
Mikael Åkerfeldt: "These are my main live guitars, one of the white models is in standard and the other is in open tuning for Ghost Of Perdition. The red one sounds a little different for some reason, I use it on Demon Of The Fall for some dropped D.
"The piezo is louder on that one and it goes through batteries quicker… but I love it! It's my newest P24 and I think it sounds a bit more fat than the white ones, which I got because they look good against black clothes! I spent a long time looking for a guitar with the right piezo system so that we could get the acoustic vibe going.
"Before that, it had always been an ugly clean with a Small Stone to make it sound more glittery, though nowadays it pretty much sounds like a real acoustic. Honestly, the P24 has become my ultimate guitar."
PRS McCarty II
Mikael: "This is the Sorceress guitar, because it's in dropped A tuning - where the two lowest strings are tuned an octave apart.
"The tone control works more like a sweep filter, so I've dialled in more of an earthier sound to create something that's a bit stonery. As the song is tuned down low, I thought it would be better to use a fixed bridge.
"I kept the same 0.010 to 0.046 string gauge because I wanted it go 'Boiinng' whenever you hit the string too hard, almost out of pitch! I tend not to go for the heavier gauges."
Fractal AXE-FX II XL
Mikael: "I actually only use this for timed echoes and wah, as I prefer having my pedals out on stage with me, and right now I'm using a Marshall Satch JVM for my amp sounds.
"I like the flaws of having a real amp, things differ just a little bit from day to day, and yet it's still sturdy and works… most of the time! For the song Death Whispered A Lullaby, there's a guitar solo that's just noise, so I have the Fractal set on a Tom Morello Whammy kinda thing.
"Other than that, I don't really use it that much - not that I have anything against it. Meshuggah have 10 of them in their airport trollies [laughs]!"
Mikael's pedalboard
Electro-Harmonix Small Stone Nano
Mikael: "The Small Stone is my favourite phaser, I use it a lot on my clean sounds. I originally bought one of the Russian ones in military green and it looked like a landmine!
"I got that for My Arms, Your Hearse [1998] - which was a long time ago, and I've used it all over the place ever since. The footswitch fell off so I had to buy this new one."
MXR Carbon Copy
"The Carbon Copy I'll kick in whenever I feel, usually for leads or solos. I might change it soon because I got a new delay from Dunlop that I forgot back home. The only reason being the Carbon Copy might be a little too mild for my needs, almost a bit subdued. I want more juice! Nothing too digital, but something just a bit clearer."
EarthQuaker Grand Orbiter
"I got this in Akron, Ohio, and it's actually made by a company based there called EarthQuaker Devices. It's a phaser, but with a shitload of sounds within it. At the moment, I only use it for isolated chords to get this underwater effect that makes you sick to your stomach!"
Strymon BlueSky
"I love the Strymon reverb, I have it set on spring and it's pretty much on all the time. You could say I am very generous when it comes to reverb! I want lots, unlike Fredrik, who wants more of the dry tone so every note pops out. I'm the opposite - I want the notes to disappear into the reverb. I absolutely love this one. It was very expensive… for a pedal!"
PRS McCarty 594
Fredrik Åkesson: "It's the newest PRS model with a different kind of neck shape. The upper side, where your thumb sits, is a bit thicker than the bottom… it's easier to go anywhere you like, but still really ballsy.
"They changed the scale length and I find it intonates better, plus bends are easier when it's a bit longer. It has the new 58/15 pickups PRS has made, which, despite not being hugely high-output are really warm sounding, and you can also split the coils.
"The wiring is more like a Les Paul; you can roll off both knobs at the same time. As this one doesn't have the piezo system, I use it on Sorceress in drop A."
PRS P245
Fredrik: "This is the original short-scale Singlecut with the PRS metal pickups. It's great for palm-muted riffing because of that tight low-end and still sounds pretty snappy.
"I love how it looks… so much that I have three guitars in this finish! I only use it for Deliverance, but it's also become my back-up, too."
PRS P22
Fredrik: "This P22 was actually my first piezo guitar and I've done a lot of shows with it.
"I put a classic Seymour Duncan JB pickup in there and I've been using it for alternate tunings on Ghost Of Perdition, The Grand Conjuration and Demon Of The Fall. We don't want to bring out too many guitars… some people take something like 40 guitars on the road with them… it's pointless!"
PRS P24
Fredrik: "This is probably the guitar I'm using the most right now. I need to keep track of where the selector is otherwise it could be total silence when I go into a riff… I've been there! [laughs]
"I use the whammy bar on solos like The Wilde Flowers. You can go pretty mad on it without going out. The bridge doesn't suck any tone, either. Plus, you have to remember guys like Eddie Van Halen and George Lynch sounded great with a Floyd.
"I seem to be using the whammy bar more and more, before it was more Les Pauls and squeals. I love the sound of scooping into your notes - Jeff Beck is the god of that!"
Marshall JVM410HJS Joe Satriani
Fredrik: "I've using these since they first came out, and now Mikael is using them, too. I liked the original JVM, but this Satriani works even better for us.
"You can roll the volume down on your guitar a lot, plus it has MIDI and a noise gate. The second channel has that classic twin-channel JCM800 crunch sound, while the two OD channels are almost identical.
"I appreciate that, because it doesn't change the characteristic of the amp's tone - I dial the last one in with a bit more volume and slightly more treble and gain. And bass, while we're at it!"
Fredrik's pedalboard
MXR Phase 95
Fredrik: "I just picked this up from the MXR guys in San Francisco. It's a brand new model which has the old Phase 45 as well as the 90, then you have the script mode, too.
"I'll kick it in for some leads whenever I want that flavour… and especially if I want to sound like Van Halen! [laughs]"
MXR Custom Comp
"I don't actually use this compressor much - it's mainly for the song Atonement, where I play a freaky solo at the end using a cleaner tone with loads of boost and echo, kicking in the Cry Baby rack. It creates some unusual sounds… it actually helped me to come up with the solo I play on the live version of that song."
Xotic EP Booster
"It's based on the Echoplex booster and I pretty much have it on for all solos - but nearly set to zero. It makes the notes pop out a little more and gives things an extra push over the cliff edge!"
MXR Echoplex Delay
"This pedal is really interesting. It's a new delay with a tap-out which I will start using soon, I used to use a Carbon Copy but I've switched to this now. It has a longer delay time, it's a bit clearer but still with a vintage touch - you can dial in the flutter and oldness of the tape, which I like. There's a lot it can do and it's perfect for adding into solos."
Box Of Doom ALLXS
Don't Miss
"All my cabinets are live so I can get enough feedback whenever I want, but the actual guitar tone that gets sent out to the PA comes purely from this isolation cabinet, which has a single Celestion Creamback speaker inside.
"I tried out three different speakers in the box and the Creamback was the one that sounded best out front. I'd say there's been a major diff erence in my live tone since I started using this."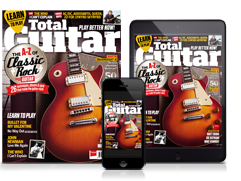 Stay up to date with the latest gear and tuition.
Subscribe and save today!