Introduction
Before his soundcheck and rig tour at Islington Assembly Hall, Marcus King is giving us his guide to the one thing every guitarist feels like they need to work on: feel. It's something that, despite his years, the 22 year-old American knows an awful lot about and the advice he prescribes is telling indeed.
"When it comes to note choices, it all comes down to the attitude of how you play them," he explains. "That's exactly what Miles Davis said: 'Twenty per cent is the note… and the other 80 per cent is the motherfucker playing it!' That's something I agree with wholeheartedly. Put your heart and soul in there through vibrato, scratches, attack, whatever you feel!
"I guess I do play fast sometimes," he adds. "But mainly I love players like Leslie West, Duane Allman and Derek Trucks - who took a lot of influence from Middle Eastern music. He studied with Ali Akbar Khan in San Francisco and learned a lot from that. The fluidity in Derek's slide playing is incredible to see and he's become a good friend of mine.
"As for my approach to chords, that comes from the whole Steely Dan/Donald Fagen thing, where you're playing the 7#9 without playing the third. You are suggesting it's a minor chord but leaving a lot of ambiguity. That really helps whoever is improvising, the soloist or singer is given a much wider range of sounds to explore… it can open doors!"
Gibson ES-345
"I originally started out on my grandfather's guitar - he had this 1962 345 that I naturally became very used to. So about three years ago I started working with Gibson.
"They asked what I needed on the road and I explained I was tired of playing clubs with it… I would always end up taking it to the bathroom with me or riding the subway, wherever I went. It became this real cumbersome thing because I had it in a huge roadcase to keep it safe. Honestly, I wanted something that had less sentimental value and less monetary value!
"And this is what they gave me - a lot of parts were based on the Rusty Anderson model, who is Paul McCartney's guitar player, like the pickups and also the aged colour that they used for the body and neck binding. Jim Lillard at Gibson in Memphis put it together for me, they did it in a flame-top just as a stylistic thing. Now we are working on my signature - actually, when I get home from this tour I will have the prototype to check out, before bringing that out on the road.
"The pickups are fantastic - very similar to the PAF clones, but a little bit different… they have this sharper attack. I still keep my grandfather's guitar at home, very safe. That guitar had a Maestro tailpiece on it, which is really interesting - you won't find any other 345s with that kind of tail.
"It's the one from those really early SGs, like what Sister Rosetta Tharpe played. It had a tremolo system you pulled in with your pinky instead of whammying down and this custom-made plaque. It was fixed onto the guitar incorrectly actually! That's what made this guitar really different and my signature will be identical, coming out next year."
1965 Fender Telecaster
"I actually picked up this 1965 original maple-cap on this tour. I use it on 8am and Where I'm Headed, which were recording using an Esquire.
"I also use this on Homesick for that nice clean bell-like tone… it's a gorgeous guitar! I was in Frankfurt, Germany, and found this shop called GuitarPoint. They were really nice folks and very understanding of my financial situation, which is not great because I'm a touring musician. The owner there, Detlef Alder, was really sweet and we worked out a way of me getting it.
"This guitar really spoke to me, it's the kind of Tele I've had my eye on since I was a kid, that blonde Tele from the mid-60s. It really tells a story, which is my favourite kind of guitar. I've played showroom pieces like a 1958 335 that's never been touched and they never have that much of a story to tell. I want to feel the mojo of whoever played this guitar before me. There are some '59 bursts that I've played, which don't have that mojo behind them, while other [famous '58s and '59s] like Hank The Plank or Spot really do."
Fender Super Reverb
"I like my guitar tone to cut through while staying warm - it's all about the middle ground.
"A Super Reverb has always been the truest indication of what a guitar sounds like, it gives very pure amplification of the instrument. There's a bit more compression on it compared to a Twin, which allows the guitar to open up and speak.
"I picked this up on this run too, in Paris where we had our first gig of the tour. There was a Twin waiting for me there and I kinda felt like it couldn't do anything for me, it's not an ideal amp. They work great for low volume situations, like if I'm playing an archtop like I do in my boogaloo jazz-type side projects. But we were in this beautiful theatre and I had this Twin that I really didn't want to use. I called the nearest music store and I asked them if they had any vintage Supers - luckily, I managed to move things around enough to get the amp for the tour!"
Orange Rockerverb 50 MKII
"I run both in stereo, with the Orange on the left and Fender on the right as you see it onstage. I love Orange amps, as does my bass player, but I use them over here primarily - back home in the States I use a boutique company called Homestead to get the dry signal. That's the whole idea, dry and wet.
"The Super has the reverb and the other amp doesn't. That makes for a good tone - it's something I learned from [North Carolina guitar legend] Jimmy Herring. The Orange has the lower end and the Fender has the highs, it's a fantastic blend of sounds.
"Orange amps break up rather quickly and really contour well with the Fender cleans. Generally, I prefer the 6L6 tubes you get in Supers, so Homestead make me a 100-watt head with 6L6s that's a bit like a Fender crossed with a Marshall, which is great!"
Plexiglass
"I use the Plexiglass shield in front of the amp, which is better for stage noise, but it also allows me to change the tone a lot more from the stage. I can push it in a bit more to sharpen the sound if I feel it needs it.
"I change how I dial in my tone for each venue, it depends on the room - usually the Super has higher treble and midrange with less bass dialled in and reverb on about four. Intensity and speed are always on zero because I don't use the tremolo. And I still don't understand the hieroglyphics on those Orange amps, man! I keep the gain around 11 o'clock and crank the volume for some Nashville dirt."
Pedalboard
Jim Dunlop GCB95 Original Cry Baby
"I like things you can find in a pinch, so the original Cry Baby works great. I loved how Johnny Winter used it. Also there's Frank Zappa, who is like the forefather of the wah-wah. And obviously Jimi Hendrix and Clapton, too… you can't beat those guys.
"The beautiful thing about these pedals is how you can use them to intensify moments. I might use it in a more funky way or more as an envelope fi lter way for that [Grateful Dead] Jerry Garcia tone."
Ernie Ball Volume Pedal
"I don't really use a volume pedal for anything other than a channel muter. It's either all the way on or all the way off. Occasionally, I might use it for what it was intended, which is to have the full gain of the guitar but slightly backed off. To be honest, while I do have this volume pedal out in front of me, I mainly use my volume knob… that's the best way to clean up the tone."
Fender Mirror Image Delay
"I rang my friend who works at Fender in Nashville just to stop by and see the showroom. They had all these pedals there, they'd only just been designed so they weren't available yet, and he ended up giving me one of each. In the studio, I was using the Fulltone Tape Echo for more warbly and slapback sounds. This pedal felt really close to what I was looking for.
"I don't use it that often, but I didn't want to carry around the Tape Echo just yet… maybe it's something I'll move to. The delay is in the loop for both amps. You can hear it on most of the Tele stuff like Homesick and Where I'm Headed."
Ibanez Tube Screamer
"I keep my Tube Screamer on pretty much throughout the whole of my set and use it more like a master volume or an attenuator, so I keep that low and crank the Super as much as I can. It will add just a little kick too, of course! And when I switch to the Telecaster I usually turn the Tube Screamer off .
"Stevie Ray Vaughan was a big hero of mine growing up, but weirdly enough I got into these pedals before I knew how big a part they played in his sound."
Analog Man Beano Boost
"This was actually a gift to me from my buddy [Black Keys singer/guitarist] Dan Auerbach. I use it very sparingly because it really does its job and gates the hell out of everything. It's kinda like my self-destruct button, when I want shit to really go off the wall and start controlling feedback, though I'll usually use it on Welcome Around Here."
Fulltone Custom Shop Mini Dejavibe
"I honestly don't know what it is about this pedal… I have just always really liked the sound of it. I always said to myself that I'd never have a proper pedalboard, but I was heading out on tour with Chris Robinson in our band, As The Crow Flies [playing Black Crowes songs], which needed a few different sounds and was why I built it.
"I had something like this in mind for The Black Crowes' song Halfway To Everywhere - that needed a really good-vibe sound. So I got this one and ended up using it on my next record. Actually, I think I might kick it in at sporadic moments throughout the set."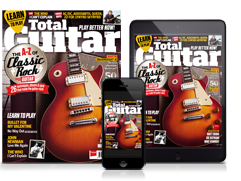 Stay up to date with the latest gear and tuition.
Subscribe and save today!