Rig tour: Black Rebel Motorcycle Club
Introduction
Black Rebel Motorcycle Club have long defied convention. They blur the lines between indie garage and stoner fuzz, swap sides/rigs mid-set, plug hollow bodies into bass amps and use live loops.
It could all go horribly wrong. And yet it never does and the San Franciscan trio stockpile an orchestral wash of riffs drenched in wetness, split through a variety of amps. Welcoming us on stage at Brixton Academy are founders Peter Hayes and Robert Levon Been, the mad scientists behind their whirlpool of noise.
Gibson ES-335
Peter Hayes: "This guitar is the most personal one to us, it's a 60s Gibson in cherry red that we started off writing all our songs on.
"It was Rob's dad's guitar and it's got a really nice neck. I'm not sure how long he had it, but it was used in his band, The Call.
"It's in C tuning for Red Eyes And Tears, Six Barrel Shotgun, American X and a few others. I would say it's a scary guitar to be taking out because if something happens to it... I have the original pickups at home, something went out so they're in a box waiting to get repaired. Right now it has the same Rio Grande pickups that are fitted in all my guitars."
Gibson J-45 acoustic
Peter: "This is a 1945 reissue, which they made two versions of so I called up Gibson when they came out - one was more affordable with a thinner neck and body and the other was more of a baseball bat neck.
"The guys said they'd get one over to me and I was like, 'Really?!' because I wasn't talking about the cheaper one. Months went by and I didn't want to bug them, I just figured it was going to happen. And sure as shit, they surprised the fuck out of me and came up with one to keep! I used it in regular tuning for Fault Line, Some Kinda Ghost, Ain't No Easy and Devil's Waitin'."
V16 Delta King
Peter: "This was made by a friend of ours in Denver, who runs a company called V16.
"It's a tanky guitar and weighs a lot. He made us a baritone guitar as well. This one's actually a bit of a floater - at the moment I'm using it for Awake, in a C open tuning. But a lot of the time it's in regular tuning in case any of the others go down."
Gibson SG [not pictured]
"I stole this from Gibson! I think they know I took it and I probably owe them for that. I like the sound of this. I'll use it for Teenage Disease, Little Thing Gone Wild, Steal A Ride.
"I dig the sound of SGs, they've got a tough feel to them that's different to other guitars. And it's a very direct sound compared to the semi-hollow ones. I like guitars that aren't necessarily friendly to play. I'm not really into having the action real low or any of that - when guitars get too smooth and easy, they almost sound a bit weird."
Amps
Fender Bandmasters
Peter: "There's nothing classy about how I use my amps but I really don't know how people can get everything they need from just one. I like the mixture of cabinets with open-back combos with hollowbody guitars.
"The signal is split into three and comes out of four amps. The Bandmasters are amp one and two, working as left and right at the beginning I had three or four Fender Twins, but I soon discovered I preferred doing it this way. I throw in loops using the Akai Headrush for a lot of songs - chucking things in through certain amps for a chorus and playing over the top... most of the time I just let it fly!"
Quilter Labs Tone Block 200
"This is the amp simulator driving the Marshall. A lot of delay come from amps one and two and the sound guys needed more of a direct sound. So the option is always there, say if a solo gets too muddy. I do have a 60s Marshall head, but it costs a fortune to fix and it got beat up real bad on the road. I'd like to bring it out, but this started as a backup in case the head went down."
Fender Twin Reverb
"I usually use a Pro Reverb but a lot of shops don't have them for rental. This one at the back is constantly running reverbs, distortion and octavers that come through the TC Electronic stuff. It's a heavily-effected signal, I guess! There might be a high octaver on amp one, a low octaver on amp two, the Marshall cab will be dry distorted and I throw even more on this just to make it even more swimmy, ha ha! It must be a nightmare for our sound guys."
Pedalboard
Klon Centaur [in rack]
Peter: "I don't know if it lives up to the hype, but it's always on. I can understand if you had just that, a guitar and an amp, that could sound cool. I haven't done that, I don't really have the option. I have to see how it reacts to the machines. I'm not using it to its full potential. But our front of house guy was telling me it was the shit, so he went and got one for me, so I had to fuckin' use it, ha ha! Distortion isn't ever easy - especially when you've got different guitars, pedals and amps reacting with each other."
Big Joe Distortion
"This pedal, like a few others, came from the fans that come to shows and bring along the pedals that they make! This one, I throw on pretty much everything because it's a nice little booster."
DigiTech Whammy
"I use this on 666 Conducer, anything where it's just one lick. I don't do solos, but whenever there's a line on one string I'll kick this in as an octaver. It's good fun for messing around with riffs. There's a song Rob wrote using the bass version of it called Circus Bazooko and that pedal really inspired the music."
Xotic SL Overdrive
"I was looking for things that were small, with the least amount of buttons, knobs and little twisty things, which is how I ended up using this. There's another one at the back of the rack, which I use as a clear boost, this one gives me that extra little bit of distortion. It's completely random, I use whatever's in front of me whenever I remember to get around to them. There are a couple of songs with wahs written into them, but most of it is completely random and that's totally the fun part."
Jim Dunlop Cry Baby Volume Wah
"Just to kill two birds with one stone! I only use the volume function for one song - all amps are always going at the same time. This sends the signal to only amps one and two for a song called In Like The Rose."
MXR Carbon Copy
"This delay goes to amp three, which is mostly dry. I give it a bit of delay. I use a Boss DD-3 for the reverse function."
Electro-Harmonix Freeze
"This almost sounds like a sitar: it basically holds whatever notes you're playing as you kick it in and it will hold them for you - it freezes your chords. There are a couple of different ways you can use it... I just use it to hold drone notes."
Gibson ES-125
Robert Levon Been: "These are two sister archtops we picked up in Cincinnati. They've been with us since The Howl and we used them to write a lot of that album.
"They really are beautiful acoustics and they inspire a different kind of approach for songwriting. That's when I started adding in different EQ pedals so I wouldn't have to bring a guitar amp out with me... believe it or not, I actually run these through my bass amps! Because the guitars are hollow I can carve and shape them into what I need, so they don't feed back. The smart thing would be getting guitar amps and running different lines into those, but it's more fun to see how badly it all falls apart this way. I think these models were known for being a learning version of the 175."
Martin Acoustic
Robert: "I wanted something with a lot of body - I play outside on park benches a lot, so I was after something that resonated really loud. The pickup was put in for live shows.
"I'll use it for Beat The Devil's Tattoo and the acoustic breakdown of the show... it's my baby. We switch back and forth, Pete will come over here and play bass... I then take over on his side. Nearly all the time, I'm going through my bass cabinets - which I prefer. I like the idea of making acoustics work in that kind of world... it's a juggling act!"
Pedalboard
TC Electronic Sub 'N' Up
Robert: "I was using a Boss Octaver before this tour, but the Sub 'N' Up is working really well to fill out the low end for me right now. It's always growing pains, I'm trying to figure out how to use all this stuff together. Then there's this bass whammy thing... you can mix high and low octaves on the Digitech."
Vintage Effects Overdrive/Distortion
"These pedals don't even have names. They're made by this guy in the States called Vintage Effects. He does a lot of custom stuff for me - one is an overdrive and the other is a different distortion. I use one for lows and the other for highs. I've never been able to find one distortion that gives me the full range that I like. So these are just weird one-offs. The guys show up with toys in the bag and we fuck around with them!"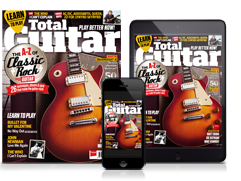 Stay up to date with the latest gear and tuition.
Subscribe and save today!