NAMM 2019: Fender adds Mustang LT25, 30-watt Bassbreaker plus new Rumble bass heads to amp line-up
Introduction
NAMM 2019: Aside from the rather more lavish '62 Princeton Chris Stapleton, Fender seems to be keeping it simple in terms of its amp range at this years NAMM, simply adding a 30-watt Bassbreaker, new beginner guitar and bass options in the Mustang LT25 and Rumble LT25 and a Rumble 800 head.
Browse the gallery for a closer look at the new additions...
Bassbreaker 30R
The new addition to the Bassbreaker line appears to be taking a seat at the head of the table in the place of the recently phased-out 45 combo.
In keeping with the ongoing trend for lower-volume amps, the EL84-powered 30R takes its cues from the smaller 15-watt Bassbreaker, adding channel switching, alongside an effects loop - all in 1x12 cab loaded with a Celestion V-Type speaker.
Mustang LT25
Designed for new guitarists and learners, the Mustang LT25 is a digital modelling amp with a pre-loaded tonal "greatest hits" package, bringing some of that acclaimed Mustang modelling tone to a basic practice amp setup.
There's a colour LCD display and scroll-wheel selector onboard and the interface has been designed to be clean and clear. No risk of newbies getting lost in endless tweakable sub-menus here, then.
Rumble LT25
Much like, the Mustang LT25, the Rumble LT25 is built with new players in mind and applies the same principles as its six-string-focussed sibling.
Namely: digital modelling, 50 preset tones from electric bass history and an intuitive interface.
Rumble 800 HD
The new Rumble head reportedly runs the gamut from vintage to contemporary bass sounds in a high-powered, highly portable package.
There's a four-band EQ, plus built-in overdrive and bright, contour and vintage switches to help sculpt a wide range of tones.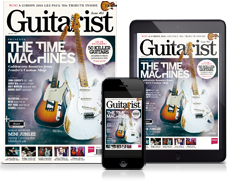 The magazine for serious players
Subscribe and save today!