NAMM 2018: D'Addario debuts DIY Pedalboard Power Kit, plus new Ned Steinberger-designed guitar accessories
NAMM 2018: D'Addario has announced a veritable smorgasbord of guitar accessories for NAMM this year.
As well as the cunning Clip-free Micro Tuner, highlights include the DIY pedalboard power supply for custom-length cables, ultra-affordable Dual-Lock Strap Lock, and Ned Steinberger-designed Cradle Capo and Universal Strap Lock.
Head on through the gallery for a closer look at each accessory, and visit D'Addario for more.
D'Addario DIY Pedalboard Power Cable Kit
PRESS RELEASE: D'Addario offers the ultimate solution for custom wiring the DC cables of your pedalboard, a new addition to our custom cable line as the DIY Pedalboard Power Cable Kit.
D'Addario cable kits are as simple as cutting the included cable to length, placing the power cable into the plug end, and securing the set screw to produce flawless custom-length power cables.
This proprietary cable has 3 times the amount of copper over standard cables for superior voltage transfer and reliability, and the plugs configure for straight or right-angle connections. The kit also includes a cable tester to easily check the cables for proper connection before installation.
Making up to 6 cables, the DIY Pedalboard Power Cable Kit (PW-PWRKIT-20) includes 12 Solderless Plugs, 20' of Power Cable, a screwdriver, a mini cable cutter, and a cable tester.
D'Addario Dual-Lock Strap Lock
PRESS RELEASE: D'Addario Accessories is excited to launch their new low-cost alternative to strap locks with the Dual-Lock Strap Lock.
Dual-Lock Strap Lock provides additional instrument protection without need of modification to your straps. The Dual-Lock clips onto your existing strap button, preventing the strap from releasing accidentally.
Additionally, the Dual-Lock can be clipped onto your instrument cable, securing your cable to your instrument to prevent the plug from being pulled unintentionally from the input jack.
D'Addario Cradle Capo
PRESS RELEASE: Although cradle-style capos are most popular among bluegrass and folk players, any musician can benefit from our new Cradle Capo.
Quick and easy to position with its stainless steel, self-centering design, this cradle-style capo centers behind the neck of your instrument automatically, assuring horizontal string-pull for perfect tuning and intonation.
Its adjustable micrometer lets you dial in the perfect pressure, allowing the freedom for quick transitions while conveniently storing behind the nut when not in use.
D'Addario Universal Strap Lock
PRESS RELEASE: D'Addario's Universal Strap Lock gives the certainty and peace of mind that your instrument and strap are firmly locked in place.
With tool-free, no-hassle installation, these strap locks make it quick and easy to connect and remove your strap, leaving you free to move about the stage with confidence.
Strap buttons are available in black, gold and nickel.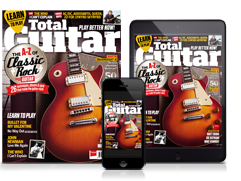 Stay up to date with the latest gear and tuition.
Subscribe and save today!