Musikmesse 2017: Mooer announces Tender Octaver Pro, Mod Factory Pro, Baby Bomb 30 and Red Truck pedals
Mooer Mooer Mooer!
MUSIKMESSE 2017: There's just no stopping Mooer; after a storming NAMM thanks to the Ocean Machine delay/reverb and 10-strong mini preamp series, the Chinese company has unveiled four new guitar effects pedals that further expand its remit.
New offerings include long-awaited Pro, dual-footswitch'd versions of the Tender Octaver and Mod Factory, plus the Baby Bomb 30 power amp to accompany the aforementioned preamps.
Also notable is the Red Truck, a multi-effects that packs versatile boost, overdrive, distortion, modulation, delay and reverb effects into one compact unit.
All four pedals are available from 30 April - head on through the gallery for the lowdown on each one, including pricing, and visit Mooer Audio for more info.
Mooer Tender Octaver Pro
PRESS RELEASE: The Tender Octaver Pro from Mooer expands on the very popular Tender Octaver polyphonic harmony pedal with an array of new and exciting features.
Tender Octaver Pro provides 2 synthesized harmony voices, one upper and one lower, with independent volume, tone and pitch for each.
The addition of a pitch control allows any harmony to be created between unity and +- 1 octave. The smooth control makes volume swells super-easy. Connecting an expression pedal will give the user real time control over the synthesized voices pitch, allowing pitch shifting and many expressive possibilities.
Harmonizer, synth bass, organ simulation, detune chorus, pitch-shifting and many more cool effects are all possible with the Tender Octaver Pro. To wrap it up Mooer have built in 4 slots for storing your presets which save every parameter of the pedal and can be easily recalled using the dedicated preset footswitch. So this pedal is aimed right at the hearts of guitarists who want an octave pedal they can use seamlessly for live performance.
Some of the key features:
Separate volume, tone and pitch controls for both sub and upper octaves
Smooth control for automatic volume swells
External connection for expression pedal to control octave pitches
Store and recall up to 4 user presets
Stereo outputs
Tender Octaver Pro will be available from official Mooer dealers and distributors worldwide at a street price of around $169 USD each.
Mooer Mod Factory Pro
PRESS RELEASE: The Mod Factory Pro from Mooer brings together two extremely high-quality, digital modulation engines and squeezes them into a very small, dual footswitch pedal crammed full of features.
With 16 different modulation effects spanning all the regular stuff like phasers, chorus and tremolo, right through to some totally freaked out ring modulators, lo-fi filters and pitch effects. The Mod Factory Pro has something for everyone.
The ability to combine both engines and adjust the internal signal routing expands these 16 effects beyond any modulation stompbox on the market in this price range. Added tap tempo functionality, Expression pedal expandability, Leslie type acceleration pedal and true stereo outputs makes Mod Factory Pro truly versatile and a great choice for professionals or beginners alike.
Some of the key features:
2 independent processing modules containing a total of 16 modulation effects
Adjustable signal chain routing
Store and recall up to 4 user presets
Tap tempo functionality
Expression pedal expandability
Leslie-style Acceleration pedal
True stereo outputs
Mod Factory Pro will be available from official Mooer dealers and distributors worldwide at a street price of around $169 USD each.
Mooer Baby Bomb 30
PRESS RELEASE: Following hot on the heels of the much sought after Micro Preamps, which caused such a stir recently, Mooer have released a new power amp in the form of a micro pedal.
Don't be fooled by its tiny size: Baby Bomb provides a true 30 watts of power to drive any guitar cabinet with an impedance of 8 ohm – 16 ohm. A perfect partner for your favourite preamp pedals.
With just 2 simple controls the Baby Bomb is easy to set up. Connect your pedalboard to the input of Baby Bomb. Connect the output to your preferred guitar speaker cabinet using a speaker cable. Set the presence switch to warm or bright and adjust the volume control.
If you push the volume control past 12 o'clock, Baby Bomb can provide a warm, true tube-like, post-stage overdrive which feels natural and pleasant to the touch. Ideal for any musician on the move who needs to pack light.
Key features:
30 watt maximum power output
Master volume control can provide smooth post stage overdrive
Warm/bright switch to adjust the power stage presence
Built-in over-current protection
Can be connected to speaker cabinets with a load of 8 ohm or 16 ohm
The Baby Bomb 30 will be available from official Mooer dealers and distributors worldwide at a street price of about $109 USD each.
Mooer Red Truck
PRESS RELEASE: The Red Truck is an all-in-one solution for the professional guitarist on the go. Following diligent research, we've brought together two of our most popular analogue drive pedals, a brand-new analogue distortion, some brand-new digital effects, an integrated loop switcher and an accurate tuner into one simple-to-use floor unit.
Great tone, ultimate flexibility, easy control and extreme portability makes Red Truck ideal for all levels of players from beginners to professionals.
A built-in serial effects loop, which lives between the drive effects and modulation, makes it easy to use with your favourite stompboxes and preamps or connect to your amplifier using the four-cable method. The Red Truck has stereo outputs and a dedicated output with speaker simulation for direct connection to your mixing board, audio interface or headphones.
No matter where in the world you are going to play and what you need to connect to, you can always carry a fully professional pedal effects rig with you with ease.
Happy Truckin'!!!
Some of the key features:
6 effects pedals built into 1 simple unit. Boost, overdrive, distortion, modulation, delay, reverb
Built-in precision guitar tuner to make sure you're always in tune
Tap tempo and independent sub-divisions to synchronize your delays and modulation effects
An integrated effects loop provides the ability to use Red Truck in many different ways
Stereo outputs and a dedicated direct output with speaker simulation for connection to a mixing desk or headphones
Includes a neat carry case for easy transportation
The Red Truck will be available from official Mooer dealers and distributors worldwide at an expected retail price of $200-$250 USD.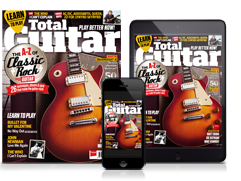 Stay up to date with the latest gear and tuition.
Subscribe and save today!