Luke Sital-Singh: "Most people's personal experience is middle-tier drama at best"
Introduction
His first album was tainted by confusion and pain, but singer-guitarist Luke Sital-Singh is making a comeback - and his new album is easily one of the best records we've heard this year. We discover how it all came about...
The curse of the second album. That's what most people say after the release of a successful debut album. But what if the first album receives a tepid reception?
In the case of Luke Sital-Singh, a 29 year old singer-songwriter originally from New Malden - the second album leaves you gasping for air with its powerfully honest lyrics, combined with gilded guitar tones and rich harmonies. Time Is A Riddle, released on 12 May with Raygun Records/ Red Essential, has the makings of an instant classic, echoing the likes of Andy Burrows and Ed Harcourt.
Sital-Singh's career to date encompasses a maelstrom of bitter-sweet success: his first few EPs gained prominence with enthusiastic responses from the likes of The Guardian's Paul Lester, who described him as 'breathing life into a tired form'. Expectations were high when his debut album The Fire Inside hit the stage mid-2014 under the guidance of a major label, but it received mixed reviews.
"My previous record was on a big label," he says. "There was lots of hype, lots of pressure, lots of voices. It felt micro-managed and we got bogged down in the A&R. Listening to it now it feels like death by papercuts - lots of little things that made it not the album I wanted to make. With all this in the back of my mind this new record was all about trying to be the antithesis of it."
Sital-Singh set out to forge a new path with Time is a Riddle. The seeds of Sital-Singh's songwriting career were sewed early in life. "My first guitar was an electric. As a teenager I played Kurt Cobain covers and listened to a lot of nu-metal. There was a sharp u-turn out of that however: I was watching a TV advert of Damian Rice's album O while standing in my sitting room and thought, 'What is… this?' I got an acoustic guitar, learned that whole album and it all started from there."
Diamond in the rough
Sital-Singh has the song-writing skills of a fledgling Ryan Adams-cum-Neil Young. This is no surprise given that, in his own words, "I want to be Neil Young."
No more can this be seen than in the song Rough Diamonds Fall from his new album. The track starts with a lonely voice and guitar, but the chorus ramps up to a fuller, Young-guitar sound, even toning in elements of Springsteen's E-Street band.
The song was recorded mostly live with the keyboards, drums and double bass. Some electric guitar and vintage Hammond Organ L122 [think Procol Harem's Whiter Shade of Pale] playing were added post-mix. It has the hallmarks of a classic rock band setup.
"There's no overdubbing of vocals, I'm just singing it," says Sital-Singh. "We did the bulk of that track in one take. I did add harmonies afterwards though."
As a way of escaping, this album was recorded in the wilds of Donegal, Ireland. "I wanted to disappear from it all - find that romantic, remote cabin." Luck was on his side, as musician-friend Tommy McLaughlin, guitarist with the band Villagers, had a studio there.
"It was perfect - in the middle of nowhere - and Tommy was up for producing the album, too. I went out there for 10 days. It was a beautiful studio with stunning views across the landscape."
It set the scene for stripping everything away, getting back to the essence of songwriting and recording.
"I wanted everything sounding pure and deep," he says. "Much of the first album was intentionally written, thinking about what we were saying, the structures - that can be an important way of writing songs but with Time Is A Riddle it worked differently.
"I'm a big Wilco fan. I was reading an interview with Jeff Tweedy where he describes his process: [get the] gobbledygook out and then pick out the words you like and take the meaning from there. You follow that train of thought rather than questioning what it means. This is the songwriting process that inspired this album: by letting things come into my mind, and not questioning it."
Selected songs
One song on the album undeniably fulfils this notion, and marked the first of a couple of experiences he'd never had before. The song Innocence, came to Sital-Singh fully-formed.
"It was really bizarre. I was watching TV, mindlessly improvising and playing about on the guitar when I locked on to this idea, started singing and the whole thing just tumbled out.
"It was written in the duration of the song - three and a half minutes. It just shows how the whole songwriting experience is a bit of a mystery. That song is probably my favourite on the record. Why can I not repeat that experience again?"
The other first for Sital-Singh closely resembles Paul McCartney's experience of writing Yesterday. "The song Rough Diamonds Fall came to me in a dream. That's never happened before. I've always been a bit wary of that sort of thing and people are usually a bit , 'Yeah, right, of course'. But that's what happened.
"I dreamed of this place. I think it was meant to be heaven but really it was a horrible place because everything was perfect, unchanging and safe. I woke up with the lyrics and melody going over and over in my head and I wrote it in one morning."
This is obviously quite a novel phenomenon, something not many musicians have experienced. When pressed for what Sital-Singh might think makes the perfect concoction for a true hit he says,
"You hear about Max Martin and his massive pop songwriting success you can see there's definitely a formula. I respect that as a job but it just doesn't work for me. I have the huge orange book, Songwriters on Songwriting, by Paul Zollo. It's the fluffiest thing - where are the answers? No-one knows really how or what makes a hit."
Another notable track on the new album is Oh My God. This song is about a hypothetical relationship breaking down, going nowhere.
"It's about having the tenacity to chase after it and never let go. I make it quite extreme. Most people's personal experience is middle-tier drama at best. I do drink in from my personal experiences but I usually embellish the negatives. Sometimes my wife listens to these songs and asks, 'Is that about me?' I say yes and no. I've usually made it sound way worse than it is - that's the drama of it."
The track was recorded separately, rather than live, with drums, bass, acoustic and electric guitars, keys and some backing vocals. A similar recording approach was taken on the song Hunger. The drums went down first, then bass, then keys and Sital-Singh on guitar-vocals.
"We didn't really want to add much more - that was an intentional thing. It's just not necessary. There's a lot of backing vocals, but that's important to me - for textures and harmonies."
Handmade
Hunger was actually co-written with Crispin Hunt from the Longpigs around the same time as Sital-Singh's first album, but it never got used.
"I was in a frustrated mood about how things were going. I felt I was fighting a lot of battles. When I listen to it now, the theme of 'fight the good fight' really comes out - that it really was worth doing - it wasn't going to be easy but would be worth it in the end."
Sital-Singh's acoustic weapon of choice is a Lowden O35, custom-made with a cedar top and walnut back and sides.
"It's my prized possession. Most of the recordings are on this. On the first record I used them and fell in love with them. It was a dream to have one, one day. Then they emailed me out of the blue offering a huge discount. I was sent pictures as it was being made and was allowed to tweak it. I wanted the high grade 35 series but without the inlays.
"It looks basic but it's not. It sounds amazing; warm with a beautiful projection. I've been to the factory and met George Lowden. It's important to me to have a personal connection - to know who's made my guitar - I'm romantic about that kind of thing."
Sital-Singh's songwriting advice is downto- earth and honest: "If you're only writing on the one instrument and struggling to find anything fresh, try another instrument. I moved from guitar to piano in this way. If you're starting out don't get frustrated too quickly. It takes time - just keep writing. When you've written your songs, perform them. It doesn't hurt to learn all the songs you like and play them too."
What's next for Sital-Singh and this album? "My phone tells me a year ago today [at the time of our interview] I was in the studio recording this album. I've not written any songs since then - I'm not a prolific writer. I just want to see what this album can do. I have a solo tour in May."
Why not with a band, we ask? "The reasons for that are economics," answers Sital-Singh, before adding: "Also, I like playing solo. Touring with a band is fun but detracts a little from the rawness and intimacy of the solo gig. The best gigs I've been to see are singer-songwriters. It's captivating. I've seen Ryan Adams many times. He's up there for two hours a time and holds an audience of thousands. That's my goal!"
Time Is A Riddle by Luke Sital Singh is out now on Raygun Records/ Red Essential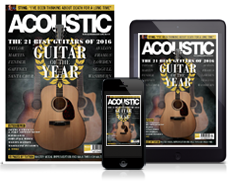 We're the UK's only print publication devoted to acoustic guitar.
Subscribe for star interviews, essential gear reviews and killer tuition!