Lucy Rose talks Something's Changing, living with fans in South America and songwriting perspective
Introduction
For her latest record Something's Changing, Lucy Rose has finally donned the troubadour cap - channelling her experiences travelling South America and meeting fans into an album that's part diary, part manifesto...
In early 2016, Lucy Rose found herself in a post-touring slump. The Midlands-born artist's second album Work It Out had been released on Columbia and had hit the Top 10 the year before, but by the following spring, she was lost, feeling disconnected from music-making, her audience and a world that seemed to be worsening by the day.
When she stumbled across the fact that the location with the most streams of her music on Spotify was Mexico City - a place she'd never visited - a plan began to form. Why not meet those people? Why not use social media to actually socialise?
Don't Miss
A call was put out to South American fans: book Lucy for a gig, put her up at your house and she would come and play your town. Not everyone thought it was a good idea…
"I knew I had fans there, but in terms of actual promoters booking me, no one believed it," says Lucy.
"So, you know when someone tells you, 'No' and it makes you want to do it a million times more? I haven't even ever said that out loud, or admitted it to myself before, but the fact that a lot of people said, 'I don't think you should do this' made me want to do it a million times more."
Acoustic acceptance
A tour of sorts was booked taking in Mexico, Ecuador, Peru, Chile, Argentina, Paraguay, Brazil and Uruguay, playing shows everywhere from fans' houses to a laundrette.
While Work It Out was heavily electronic, the DIY nature of the trip meant that Lucy had no choice but to take a Martin LX1E (AKA the Little Martin) and little else in order to play the shows.
"I was going out and just playing my acoustic guitar and playing what people wanted," recalls Lucy.
"Every night people would ask for like, Shiver and Night Bus and Gamble and all of these really acoustic songs. I feel like it was the first time that I really accepted that I am a folk-country artist and proud to be and… you know, let's get the old pedal steel on!"
That realisation, along with the endless food for thought that came from forming genuine connections with these fans-turned-friends, brought the renewed creative vitality, purpose and beautiful acoustic tones so evident on new album Something's Changing.
"I guess it gave me my perspective back," says Lucy. "It's like I had a new set of glasses that made me see everything differently and positively. Everywhere I went there was sadness and huge happiness at the same time. A lot of the songs on this album come from all the different things that I've seen, and they're touching on topics that are a little tricky, but there's also a positive feel to it."
Pastoral protest
Lead single Floral Dresses is exhibit number one, in this respect, challenging embedded societal sexism, with a pastoral ballad layered with guest harmonies from The Staves.
The chorus - 'I don't wanna wear your floral dresses/ And my lips won't be coloured/ I don't want your diamond necklace/ Your disapproval cuts through' - rejecting a mould that's often not purposefully malicious but nonetheless imposed on women the world over.
"It's present everywhere," says Lucy. "Like if I go into a venue and my husband, who's my tour manager says, 'Hey, can we have a DI box at the front, I'm going to need two vocal mics here and here', the sound engineer goes, 'No problem, fine.' If I go in and say exactly the same thing it's like, 'Oh, she's bossy!' It's not anyone's individual fault, it's just where the world is right now."
It's indicative of a broader theme throughout the album, summarised on I Can't Change It All - that while the world might seem unfathomably bleak at times, doing something as an individual can and will make a difference: whether it's getting up and leaving the house, playing the show, writing the song, putting a face to a username, challenging assumptions or simply showing your support for others.
"Travelling was really empowering," acknowledges Lucy. "Because the problems are so big, I was looking for something to do. It's like that story of all the starfish washed up on the beach and there are these two men walking down there. One of the guys picks up a starfish and throws it back in the sea. His friend goes, 'Why did you do that? What difference does it make?' And he says, 'Well, it makes a difference to that one.' That's how I felt… Something's changed, but it's really just the beginning."
Travelling light
How a mobile Martin became Lucy's companion...
While Lucy relied on a combination of a Martin DX1R and Tanglewood TW1000SR acoustics for the Something's Changing sessions, much of the material was conceived on a little Martin LX1E that she took with her to South America.
Don't Miss
"Marcus at Martin Guitars sorted me out big time," says Lucy. "We were going to do these overnight buses where they just throw guitars in the hold. I spoke to him and he said I should take one of the Little Martins, and also that he would put some slinkier strings on it because of the humidity and temperature changes.
"For instance, up in Cuzco [Peru] we were 3,400 meters above sea level for the gig. He was like, 'This thing will last and it will sound great and be easy to travel with'. It meant I wasn't stressing about having my most precious guitar with me the whole time."
Something's Changing is out now on Communion Music.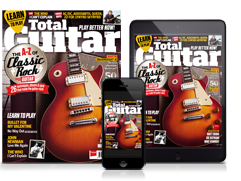 Stay up to date with the latest gear and tuition.
Subscribe and save today!