In pictures: Booka Shade's live setup revealed
New directions
Formerly employed as in-house producers, German house duo Booka Shade chased their own stardom in the early 1990s.
Members Walter Merziger and Arno Kammermeier also established the record label Get Physical, which became one of the best-selling labels on Beatport, putting out tracks by Trentemoller, Modeselektor and Junior Boys.
With over a decade of releases under their belts, 2017 sees a change of direction for Booka Shade. Following last year's instrumental album, Movements 10, the duo have traded their love of tech/electro house for a more pop-oriented sound and welcomed bass player and vocalist Craig Walker on board for the writing of their latest album, Galvany Street.
Recently, the album made its live debut at Printworks. Launched in January, the 5,000 capacity venue, which features a state-of-the-art bespoke audio-visual system, has been billed as an "experimental, multi-purpose cultural destination".
We were there to see Booka Shade open their European tour at the massive, industrialised ex-print factory, and went behind the scenes to discuss their on-stage setup.

All change
Arno Kammermeier: "After the last album, Walt and I realised that we wanted a change in the music and the way we were working.
"We were already 18 months into the album production when we realised that we were not moving forward, and by coincidence Craig Walker came along. He'd just moved from Dublin to Berlin and took a studio in the same space as us.
"We started something on one backing track that worked well, and we were fascinated by how everything came together. For him, it was also quite an interesting new way of working because there's not one single song that stayed the same throughout.
"A lot of the live production is about getting together all the sounds from all different sources. The grooves, for example, will be drum loops from the 25 years we've worked in music. We've collected so many sounds and they're a bit all over the place, but we always find something new from our libraries.
"We also do a lot of new recordings, like hi-hat overdubs and record sampling until we have a collage of drum sounds for when we go into the live situation. For this album in particular, we made sure that the production would be a lot easier to play live."

Roland A-800 Pro
Walt Merziger: "We had to get rid of all the kilograms because we fly a lot and it's becoming more difficult to get stuff into these countries.
"So I decided to go for these Roland A-800 keyboards because they're not so heavy and they're very reliable. They have exactly the keys that I need and are very nice to play.
"On the second Roland A-800, I play my Logic instruments with all the samples and sounds from my records. I have 10 or 16 tracks loaded, but I can also go through the sounds on the synths onscreen and change them using the knobs.
""In the past year, we've put all the computer stuff next to the stage with a long USB cable, because they were not reliable enough to have them on the stage and didn't look as good."
Roland V-Synth XT
WM: "The V-Synth vocoder is a luxury to have, but it's definitely the best vocoder. It's a plug-and-play vocoder and always sounds good.
"You don't have to do any compression because it's all in the machine. I did a lot of stuff with the V-Synth on the new album, so that's why it's on tour with us."
Mackie Pro FX8 v2
WM: "We chose the Mackie Pro FX8 because it's very reliable and Mackie is always a very good company.
"It's not big or heavy and very easy to handle. I have certain channels that are separate in Ableton so I can do delays and reverbs and have synths running through the tracks. I have a cut-off, can change the general level of the synthesizer, add a delay to manipulate what I want and add general noise effects.
"All of the sound goes into the mixing desk here. I have pre-mixed the Logic stuff on one channel and can influence the EQ a little bit and manipulate the sounds with a Kaoss Pad. I have Ableton on channels 1 & 2 for the main playback stuff and 3 & 4 are more for the main riffs and melodies that I want to manipulate with delays, reverbs and a Novation Launch Control Pad.
Korg Monotron Delay
WM: "This is the Monotron Delay, which is a little synth. I use it a lot at the beginning of a special song that we play.
"It's a very loud and intense little machine. It's very powerful, thick and fat and a nice gimmick. It sounds great in a big hall like this one."

Korg Kaoss Pad KP3
WM: "I use the Korg Kaoss Pad KP3. It's not the plus model, but the model before that.
"It has better sounds in it, so I bought 20 Kaoss Pads on eBay because that's the machine that I've used from the first show on. This is the one that I use for noises and especially for granular effects on the channels.
"Because it triggers and stutters the sound, I can do faster hi-hats going from 18ths to 16ths or a bass drum roll. That's all really easy to do with this machine - I trained it for a long time.
"I also have an electronic notepad to see all the lyrics. My brain is really bad, so if I have a blackout I can keep watch. I'll use it at the beginning of a tour because I have to learn so much stuff, but by the fourth show I'll more or less know everything."

Roland V Drums
AK: "The Yamaha Hexrack is the most robust system that I've found. I used to have a full Hexrack but it was so heavy there was no way I could fly around with it.
"The lighter components are made by a company called Jaspers who make aluminium keyboard stands that are super-light. It's a nice mix of a heavy and lightweight rack system, so when you hit the drums really hard they don't slip.
"I've been a Roland user since Booka Shade started because they make the most reliable equipment. I started with the old, small rubber pads because we needed everything to be really small to transport on the plane, but as the setups got a little bit bigger I chose the V Drums with the mesh head pads, which are much nicer to play."

Roland TD-30
AK: "My workhorse electronic drum kit used to be the Roland TD-20, but after a while I moved to the TD-30.
"It's a most reliable machine; you can switch it on and the really fat sounds are there straight away. I use it for all the basic sounds, especially snares because it has that fatness and a really tight sound."

Roland SPD-SX
AK: "For this tour, I sampled all the sounds from our productions into the Roland SPD-SX and trigger them with the TD-30. So I might have the fatness from a snare but a special clap from the SPD-SX, plus I have extra pads here of course.
"The whole system is made for me so that I have a lot of fun playing and can reach everything easily. The cymbals are acoustic because the sound they produce is still better than the machines.
"I used to have laptops and use effects from them, but got so annoyed with the fact you have to load things up, and then there's the latency of course. But this synth is super tight and very easy to use. Switch it on and it's all right there."

Bass/Vocals: Craig Walker
Craig Walker: "Booka Shade runs a compact and very well-organised live touring operation.
"When they asked me to join them for the touring of the Galvany Street album I had to go shopping for some new toys. I play a Fender Jazz bass that I've been using to record a lot with. I love these bass guitars as they're so reliable and look and sound great through any system. They also have the feel of an electric guitar when played live. Electric guitar is my first instrument and I want to have the same feeling onstage.
"I put it through an EBS Micro Bass II preamp that I bought especially for this project. It's an excellent piece of kit with only a minimum number of settings and nothing overcomplicated. It only has two channels - I use the more driven and lively input.
"The only onstage effects I use are a Boss Bass Flange pedal, which gives that classic New Order/Cure bass sound that the Booka Shade guys love.
"Finding the right sound to fit in with the already huge Booka Shade live sound took a little bit of time. We found that when playing higher up the neck the sound cut through much better and added to it instead of competing with the already bass-heavy tracks.
"As we do more shows it will develop and become more fine-tuned, so when everything is running at full steam it will feel like the bass is right there and ready to lift into orbit."
Booka Shade's new album Galvany Street is available now on Blaufield Music. For more information, visit their Facebook page.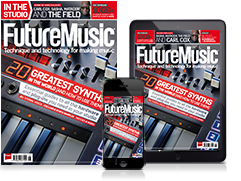 All-access artist interviews, in-depth gear reviews, essential production tutorials and much more.
Get the latest issue now!