NAMM 2023: IK Multimedia is adding a new, more affordable model to its AXE range of tone-shaping guitar audio interfaces, and AXE I/O One could be the hardware and software bundle that players on a budget have been waiting for.
IK Multimedia is no stranger to the odd interface. Its iRig range of plug-and-play devices seems to expand on a daily basis, and covers just about every recording situation you can imagine (and several you can't). The company's AXE range, though – and a clue is in the name – has always had guitar and bass recordists in mind.
The range is not the cheapest – at least by IK's famous budget standards – but the company's new AXE I/O One 1-in/3-out interface looks set to change this. It delivers a lot of what the AXE range is noted for – easy recording, tone shaping and fast workflow – but does it at an almost silly price.
For €129.99 (plus your local tax), you start with IK's Z-TONE impedance control which gets the tone shaping going right away. It allows you to change your guitar or bass input impedance to alter the sound from tight and sharp to a warm and mellow. A Class A JFET control enables you to add tube warmth; you can see we're already shaping our tones and we haven't even hit the inevitable software bundle yet.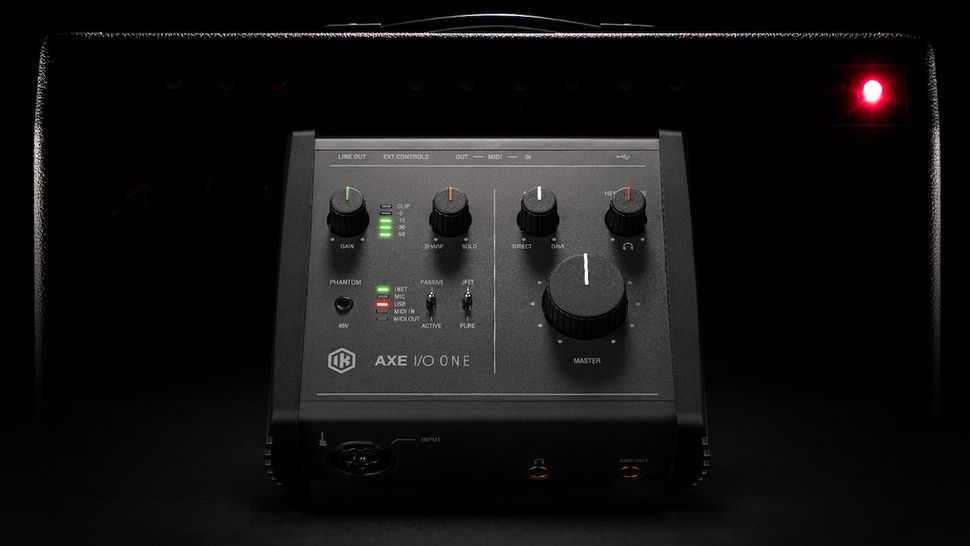 Inputs and outputs include an Amp out option so you can plug into and mix in your existing amps, or just use your existing guitar effects on a dry recorded signal. External controller inputs let you slot in pedals and switches to the setup so you can control your software hands-free.
And, OK, let's talk about that software, because it's IK and we know there will be a big bundle of extras. You get AmpliTube 5 SE, and while 'SE' usually means 'cutdown', this still gives you access to 80 bits of virtual gear (pedals, effects, amps, cabs and more).
Meanwhile, TONEX SE lets you experience the new world of AI modelling where any real guitar rig can be modelled and made into a virtual one. Add in 6,000 AmpliTube presets and 10,000 TONEX tone models and there's a lot to explore in the virtual realm.
And that seems to be the message: AXE I/O One is attempting to marry both real and virtual guitar worlds, making it easy to mix and match the two and use whatever you want of each. Hey, we should have written the press release.
AXE I/O ONE is USB-C bus powered, and also features a MIDI I/O, an XLR mic input, Class-A mic preamp and (up to) 192kHz recording. As we mentioned, you get all of this for a shade under €130 which seems very reasonable - that would get you no more than a bottle of water in some places these days.
Learn more from IK Multimedia and get more of the latest NAMM news from our NAMM 2023 main page.