Alexi Laiho on new Children Of Bodom album I Worship Chaos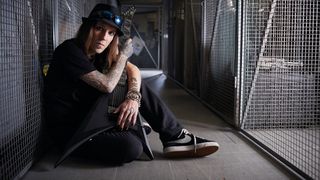 Introduction
Not many bands could handle losing a guitarist of 12 years three days before recording an album. But then again, as singer/guitarist Alexi Laiho explains, Children Of Bodom aren't your average band...
Before we get into it, we wanted to ask you about something that happened recently – you were commissioned to compose a piece that you performed with 100 other guitarists in Helsinki's Senate Square. How did that come about?
Parting ways
This is the first COB album with just you on guitars. What made you part ways with long-serving guitarist Roope Latvala?
Don't think too much...
You have Antti Wirman filling in as a live guitarist. What are the chances of him becoming a full time member?
"He's actually our keyboard player's brother and I think he's an amazing player. He's only filling in for the rest of the year so we don't have to cancel any of our live dates. But he's not a permanent member or planning to become one, so we're working on finding a new guy. There are a couple of options we're considering but nothing's finalised yet! It's very exciting though."
Does it ever get hard to think outside of the box nine albums in? How do you find new sources of inspiration?
Kemper convert
So tell us more about the gear you used to get those heavy tones on I Worship Chaos?
"I wrote and recorded with the same gear – ESP guitars and Marshall amps. I stay with that sound because I know it works for me. But there were a few parts here and there where I used a Strat and Kemper Profiling Amp.
Precision = practice
Looking back, as far as the neoclassical side of your lead playing is concerned, how did you master the techniques behind playing fast runs with such precision?
"It takes a lot of practice for sure, but sitting down with a metronome doesn't kill the rock 'n' roll vibe like some people think. You have to get the techniques down and then you can actually start playing. It's a necessity before you do the main thing.