Greg Graffin talks acoustic guitars, alternate tunings and Millport
Introduction
Bad Religion frontman Greg Graffin takes an unexpected left turn into acoustic country music... and it works! "I've had this music in my blood the whole time", he tells Joel McIver
Millport, the third solo album from Bad Religion founder and singer Greg Graffin, is a thing of sonic beauty by anyone's standards. Widescreen acoustic guitar vibes permeate the songs, alongside layered vocals that pay obvious tribute to the Laurel Canyon sound of 1970s Los Angeles – a time when the radio and TV airwaves were dominated by smooth country, folk and Americana groups such as Crosby, Stills & Nash. It's a lovely album, all right.
Artists specialising in this particularly luscious sound crop up on a regular basis, but what makes Graffin unusual in this context is that arch-punks Bad Religion - on the surface at least - have always been the antithesis of such mellow sounds. It reminds us of Stuart Maconie's amusing theory about how all men get into country-rock when they hit their 40s.
"That's wonderful!" laughs Graffin when we put Maconie's theory to him. "I've been waiting for those questions. Another great cliché is the one about the aging rock legend who hits his 40s and 50s and makes a country record... but in my case, I feel it's very important that I get the message across that this is in fact the third country-rock-influenced album I've done, and that they've been released over a 25-year period. My first one, American Lesion, came out in the 90s."
Don't Miss
Bad Religion's Greg Graffin: the 10 records that changed my life
Still, Bad Religion were and remain one of the most anti-establishment bands ever formed, forging the pop-punk template for bands such as Green Day to exploit, and railing against authority with apparently inexhaustible venom. Where do the cheerful Laurel Canyon vibes come from, then?
"You know," observes Graffin, "a lot of people don't realise that Bad Religion was started when I was 15. My singing style back then was usually described as really aggressive, but quite a few music writers commented on the fact that my approach was also 'rootsy' or 'folksy'. I didn't know what they were talking about at the time, but I realised many years later that what they were getting at was my background in what we call old-time music.
"It's the predecessors of country, stuff like Doc Watson and Woody Guthrie and the Carter Family: the stuff that Johnny Cash evolved from. It's music that you can sit on your front porch with your family and sing along to, and that's what we did in my family.
"We sang music with pianos and acoustic guitars. I brought that style to Bad Religion, which is well known - but what is less known is that I've had this music in my blood the whole time."
Folk roots
Got an example, Greg?
"Sure. If you listen to 'Suffer' [1988], which became a famous record - but not at the time it was released, because it was coming out of a void at the time - the chords are really nothing more than Cowgirl In The Sand [1969] by Neil Young, but at 250 beats per minute. The musicians whose influences you can hear on Millport are the exact same artists who we tried to sneakily camouflage in Bad Religion."
Asked about the musicians who helped him hit those vintage-sounding notes on the new album, Graffin explains:
"We've got David Bragger, who's my friend and my partner in my solo music. He also appeared on my last record, Cold As The Clay [2006]. David is a virtuoso on banjo, fiddle and mandolin and he handles all of those on the new record. I wrote the music on those instruments, although I'm really very shabby at mandolin.
"One day maybe you'll hear the demos, and think 'Ah, that's what it was supposed to sound like from the songwriter's perspective!' David adds a real layer of virtuosity. Also, Johnny 'Two Bags' Wickersham from Social Distortion played some of the acoustic guitars. I played some too."
So what's the gear we can hear?
"Most of the instruments are vintage," he explains. "I reluctantly buy new instruments, I usually buy vintage stuff. You'll hear some Gibson J50s from the 1940s and 50s on there.
"The really expensive ones stay in the studio, though. On tour I'll bring out a Martin 000-28 from the 1970s, which is considered vintage now. It's still very valuable, but it's not like the older ones."
Readers of a more cotton-pickin' persuasion will be interested to hear that Graffin has considered the other acoustic instruments with care, as he tells us.
"The banjos are old too. There are some very good banjo makers in the US who make them in the old tradition, so it's not as important to get an old one, although I guess some people might say that the wood is better. Banjos aren't about the wood as much as guitars are.
"We use Bart Reiter for banjos, and the fiddle is interesting, too. The one David uses wasn't some famous old brand, it was an inheritance from his family that has been around since the 1920s. Finally, the mandolin I have is a Gibson from the 1920s. It's in great shape. Imagine that - companies used to build things to last!"
Instrumental
What is it about vintage instruments that Graffin admires so much? Is it the tone, the playability or the heritage?
"It's mostly because of the social circles that I move in," he says. "Guys like Johnny 'Two Bags' and David Bragger are students of this stuff. They'll tell you straight up, 'Listen, they don't make these instruments anymore and you can't get that sound from the new ones.'
"That said, I do have a guitar from the 1990s, a handmade Jubal by a guy named Aaron Cowles from Michigan, who died a few years ago. He used to work at the Gibson plant at Kalamazoo, where they built all the 1940s jumbos that sounded like the ones you heard on the radio.
"He knew how to make them, because he had the know-how, so the pickguard on my guitar is from the 1940s. It's a cherrywood guitar and it really does sound like one of those old guitars, so you can get the vintage sound from luthiers who know what they're doing, but the way to really get that sound is to buy an old instrument."
Does Graffin like to try alternate tunings on these amazing instruments, we ask? "I like that question," he chuckles, "because normally I couldn't answer it! Normally I use straight tuning, but the banjo can probably be tuned in 127 different ways, or something.
"One of the tunings that David showed me is a famous one here in America called 'sawmill tuning' [D, G, D, G, C, D, low to high]. Some of my favourite oldtime songs are in this tuning. Look up Clarence Ashley Walkin' Boss or Doc Watson's The Cuckoo Bird. I love that tuning so much that I wrote a song called Sawmill on the new album.
"There's some depth to it, philosophically: I've been thinking a lot lately about reducing my carbon footprint and trying to heat my house with more wood, so I've spent time learning about and milling my own firewood."
Punk professor
Is Graffin planning to tour the Millport album?
"Yes, I'll be touring. I really want to get some shows in the UK, and I really hope that the people reading hear that call, because it's been a dream of mine for many years to bring my solo act over there.
"Bad Religion has a fairly busy year ahead, but I've built my life around juggling my music and academic lives."
Ah yes: as well as balancing his band and solo careers, Graffin is also the only punk musician we can think of who also lectures in evolution, in his case at UCLA in California and Cornell University in New York. He's also a published author on evolution and related subjects, although as he tells us:
"I've started to scale my commitments in the academic world back a little bit, but I still have projects going on: it's just that the time on campus takes away from my time making music. I just wrapped up my last semester in evolution in December."
Don't Miss
Bad Religion's Greg Graffin: the 10 records that changed my life
We can't help but make a semi-funny joke about the current regime in America (apologies to any Trump fans reading this), and suggest that Graffin's work in evolution may well soon be replaced on the academic syllabus by a course on creationism. He laughs, thankfully, and says:
"Optimism doesn't come from my president... that's usually the way it works! Politics are always a drag, so if you can actually find anything valuable that's being spewed about in the media right now, that's good. Otherwise you'll have nothing but a disheartening view of the future. You've got to focus on what's right in front of you, day to day."
Amen to that.
Millport is out now.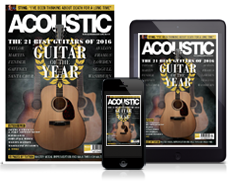 We're the UK's only print publication devoted to acoustic guitar.
Subscribe for star interviews, essential gear reviews and killer tuition!