Fender Custom Shop celebrates 30th anniversary with documentary and 8 Founders Design guitars
Founders keepers
Fender's Custom Shop offerings are the highlight of any NAMM - just take this year's as an example - and 2017 marks the Shop's 30th anniversary. To honour the occasion, it's releasing eight Founders Design guitars, as well as a 10-minute documentary.
The documentary, which you can watch below, utilises archive footage and photos alongside interviews with the Corona, California Shop's Founding Master Builders, which include Michael Stevens, John Page, George Blanda, Fred Stuart, J.W. Black, Mark Kendrick, Alan Hamel and Gene Baker.
These same builders put together the eight guitars that comprise the Custom Shop's Founders Design Project, which you can view in the gallery ahead.
Only 30 units of each design will be built and released throughout 2017 via select dealers - head over to Fender Custom Shop for more details.
George Blanda Founders Design Jazzmaster
PRESS RELEASE: As an R&D guru, George's creative process has always centered on fixing players' problems – looking for a fusion of fit, form, function and emotional response to get a guitar or bass right.
"I've always been a fan of the golden age of industrial design, from the '30s up to the '50s and even '60s," he said.
His Founders Design Jazzmaster is inspired by the classic image he has of an early '60s Jazzmaster – a white guitar with white pickups, a tortoise shell pickguard and rosewood fretboard.
The Founders Design Jazzmaster with modified pickups features a White Blonde ash body, giving an all-white appearance, but with some visible wood grain.
The pickguard and fretboard are both crafted from dyed and stabilized maple burl wood, which is reminiscent of tortoise shell but with more depth, movement and a splash of color.
The Jazzmaster comes with a custom kit and G&G plush case.
J.W. Black Founders Design Stratocaster
PRESS RELEASE: J.W. Black always thought his time at Fender was completed, until he got the call to design a guitar for Fender Custom Shop's 30th anniversary in 2017.
Outside of his work with artists for Fender Custom Shop, J.W. built guitars for a large number of doctor/lawyer clientele. "They were a weekend warrior guitar player collector group, and when you talked to them, you knew they were making a special gift for themselves," he said.
J.W.'s Founders Design Stratocaster is inspired by this FMT "figured maple top" doctor/lawyer model he became known for. The '50s-style Stratocaster features a lightweight ash body with a Tobacco Burst color.
Players will immediately notice the 5A quilt maple top true to his FMT models, alongside a 5A birdseye maple neck and '50s Stratocaster headstock. The golden hardware includes vintage-style staggered tuning machines.
"It's still about Leo and how he served the musician," he said. "It's taking his greatest designs and just adding modern twists, artist input, player input, and coming up with something that honors his original concept, but brings it up to standards for the modern player."
Alan Hamel Founders Design Sparkle Telecaster
PRESS RELEASE: The Alan Hamel Founders Design Sparkle Telecaster is inspired by the signature sparkle finishes that originally brought him into the Fender Custom Shop.
"Everything about this guitar was ideas that I already had running around in my head," he said. "I didn't need to really think about it too long, because I automatically knew what I wanted to do."
In Alan's true retro, neo-vintage style, all hardware on the alder and ash Telecaster is vintage-style chrome, except for the compensated brass bridge saddles. He also opted for his signature sparkle finish – black sparkle burst.
Alan is most excited about the pickups; the neck pickup is a variation of the Twisted Tele neck pickup, while the bridge pickup is a replica of an early model Broadcaster pickup with specifications coming from Alan's research for the Blackguard book.
By using a special five-way switch and wiring designed for this project, players will be able to pre-set a blend of both pickups, in addition to the standard Tele switching.
Fred Stuart Founders Design Herringbone Telecaster
PRESS RELEASE: Fred Stuart's Founder Design Herringbone Telecaster is inspired by the pre-World War II Martin® Herringbone D28 guitar, from which he took a motif and applied it to a Telecaster.
After playing in bluegrass bands over the years, he saw guitar players venturing into electric music switch from a Martin D28 to a Telecaster. Both, he says, have that kind of "initial defining quality."
The Founders Design Herringbone Telecaster is made of a two-piece roasted ash '52 Telecaster body and a Bear Claw Sitka Spruce top with white herringbone-purfled binding.
Other features include an original Fred Stuart design single-ply Tortoiseshell pickguard and Fred Stuart's Custom Blackguard Telecaster single-coil bridge and neck pickups.
Fred primarily focuses on aesthetics and detail in his design, applying that to the Herringbone Telecaster. "You can never put too much attention to detail," he said. "I have a motto: I'd rather be accused of copying quality than creating mediocrity."
Michael Stevens Founders Design Esquire
PRESS RELEASE: The inspiration for Michael Stevens' Founders Design Esquire stems from his vintage roots at Guitar Resurrection, where he and Larry Jameson loved blonde ash Stratocasters with gold hardware; they called these instruments Mary Kayes.
"Some sassafras slipped into the run of '54 Strats, early '54s, that many people, for years, have been trying to figure out what it was," he said.
It is Michael's belief that it was quartersawn, one-piece sassafras. So, instead of ash, the Founders Design Esquire is one-piece sassafras.
At first glance, the front is classic Fender, with the control cavity switched backward. However, Michael insists that players will discover other custom features once they pick up the guitar and take a closer look.
Under the bridge cover is a pickup in a left-handed bridge – reversing the traditional Telecaster orientation – and when the guitar is turned over, there's a cutaway for the player's wrist and thigh, adding comfort in the sitting position.
"A lot of it is ergonomic," he said. "My thing, my style, pretty much is form follows function. Bauhaus. I love those guys."
Gene Baker Founders Design 'Stelecaster'
PRESS RELEASE: Gene Baker's Fender Custom Shop 30th Anniversary "Stelecaster" was inspired by the early mashups of the Stratocaster and Telecaster from Mike Bump, his former apprentice and now-R&D guru at Fender.
"I just always felt that it belongs at Fender," he said. "When you look at the model, just about everything is the Strat and the Tele 50/50 right up the center line. Mirror images of each other when you look at it. It looks very vintage and very familiar and friendly, although it makes you take a second thinking, 'Whoa, what is that?'"
The model follows Gene's "modern vintage" style – taking the best of both models to maximize form, fit, function and flow.
The Stratocaster/Telecaster body is lightweight ash with a wide-fade Chocolate 3-Tone Sunburst color. The quartersawn maple neck features a multi-tier Telecaster-over-Stratocaster headstock, bone nut and Founders Design decal with Gene Baker's signature on the back of the headstock.
Gene opted for nickel/chrome hardware with vintage-style tuning machines and American Vintage Synchronized Tremolo, but chose modern Telecaster wiring.
John Page Founders Design Double F-Hole Esquire
PRESS RELEASE: John designed the original concept for his Founders Design Double F-Hole Thinline Esquire during his early days at the Custom Shop. For the past 30 years, this design has been called the "Page-o-caster" and only a handful were previously made.
An avid guitarist, singer and songwriter, John wanted an electric guitar that was very acoustic and resonant, one he could write with and play without plugging in.
It's always been his goal to create "uniquely familiar" instruments that inspire the player, in an effort to not lose sight of the passion for the music that is being created.
The Double F-Hole Thinline Esquire has a roasted Genuine Mahogany body and natural finish. It features John Page's JP Woodtone ebony saddles, and in lieu of the original "Page-o-caster" spruce top, John chose a highly figured koa top as a tribute to his mentor Freddie Tavares, a creator of the Fender Stratocaster.
"He was my mentor," he said. "That was my little piece of Freddie that I wanted to put in there just so I never forget where I came from, and who I owe it to."
Mark Kendrick Founders Design Stratocaster
PRESS RELEASE: Mark Kendrick looks for inspiration all around him, finding creative ideas from the sky, sunsets and sunrises, to the California coast and Technicolor movies.
His Founders Design Stratocaster is an amalgam of the work he did during his time at the Custom Shop – focusing on simplicity, as well as his three core design elements: color, lines and sound.
The golden teal sparkle burst with transparent walnut back and sides is inspired by the "Cholo low-rider culture" out of Santa Ana during the '70s.
The Stratocaster will feature three Mark Kendrick OEM Strat pickups, and the control plate is a tip of the hat to George Fullerton, who did something similar but less characteristic to a Stratocaster pickguard, on an unreleased '50s guitar.
Taking on a vintage feel, the Stratocaster features nickel/chrome hardware with vintage-style staggered tuning machines and an American Vintage Synchronized Tremolo bridge.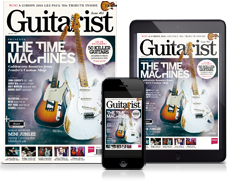 The magazine for serious players
Subscribe and save today!