Best in tech 2018
2018 has flown by at a rate that clearly goes against the laws of physics and now we're into the final stretch, that part of the year where we pause and reflect on what has come to pass.
And what better way to take stock on the past 12 months than with a jolly good ol' reader poll, where everyone gets to decide on who and what they think has been the standout performer.
As ever, it has been a good one for new music technology gear, especially if you're into big flagship polysynths, with the likes of Waldorf, Sequential and Moog all pulling the trigger on some huge releases this year.
It's not all about the big name players though, as at the cheaper end of the market, IK Multimedia dipped its toe into the hardware synth arena with the Uno Synth.
It's also been another big year for drum machines, percussion synths, MIDI controllers, DJ gear, audio interfaces and studio equipment, with plenty of new products for you to choose from.
We're also including categories featuring the best artists, DJs and producers that have made their mark on 2018 with huge releases and floor-filling performances.
Click through the gallery for all the categories in the best in music tech 2018 reader polls and get voting.
Who is the best house producer/DJ of 2018?
House music is a huge minefield of so many sub-genres it hurts the brain. Well, we've left that particular brain-hurt at the door. In a bid to keep things simple in such a convoluted world, we've split the genre into just two categories. First up is the best house DJ or producer.
Imagine trying to choose your favourite house producer from just the one list – impossible. So, we've left that particular headache up to you.
This year we lost a legend with the untimely passing of Avicii at the age of 28. The Swedish DJ and producer, who collaborated with numerous artists but will perhaps be best remembered for his hit Wake Me Up, had been working on his third album at the time of his death.
If Tim Bergling, or any of the other nominations ranks as your favourite house producer of 2018, then hit the vote button and you're done. Oh, and tell your friends.
Who is the best electro house, tech-house or trance producer/DJ of 2018?
You may have noticed the euphoric sounds of trance have been working their way back into the mainstream over the last twelve months or so. But what of the true denizens in the genre? Who would be your pick of the DJs and producers who have absolutely smashed it in the trance stakes this year?
Whether you're a fan of the old guard who constantly show they can still rack up the big numbers, or the new young turks proving their worth in the world of trance, they all need your vote.
Who is the best techno producer/DJ of 2018?
Whether you're into Detroit, electro, dub, industrial or the more melodic strains of techno, it is of no consequence here. We've corralled the best names in techno this year for you to choose your favourite.
This list isn't quite as long as both our best house DJ/producer polls; however, there are still plenty of names to whet the most sparse and Germanic of musical appetites.
It's all very simple: pick your fave, hit the vote button and you're done, but choose wisely as you have but one chance to make your mark.
Who is the best bass music or DnB producer/DJ of 2018?
A wise man once said: "Bass! How low can you go?!" These words will have resonated with the artists included in the following list. Like a call to arms, the lower frequencies in the musical spectrum stir a creative force in these producers, compelling them to create music to test the most powerful of sound systems.
Whether it's drum and bass, dubstep or bassline, this year has seen the release of a fair few stonkers, but which has floated your boat the most? Trawl our list and submit your vote for the best bass music DJ/producer of the year.
Who is the best hip-hop, R&B or grime producer/DJ of 2018?
Hip-hop has been getting a bad rap of late, with some saying the quality of rhyme has dropped off in recent years. Sure, the times have changed since hip-hop's golden era, but let's not focus on the artist and lyrics here. Instead, let's focus on the brains behind the music.
We can't let hip-hop take all the accolades here, though. That's why we've also included the finest trap, grime and R&B producers to have made a mark on 2018, so get to it and start voting!
Who is the best electronica, ambient or underground DJ/producer of 2018?
It would be all too easy to call this category 'other electronic music', such is the stranglehold of the likes of house and techno on the charts. However, that would be doing a disservice to such a diverse category.
From downtempo beats to lo-fi treats, there's plenty of electronic juiciness for you to tuck into, but which artist deserves your click in this year's poll?
Who is the best live electronic act of 2018?
It's all very well for the vast majority of us producers to crank out the tunes whilst sat in the comfort of our own studios, but performing them live? That requires another set of skills altogether.
Cast your vote for the artist who you feel possesses this unique set of skills, and therefore deserves to be crowned this year's winner.
Who is the best record producer of 2018?
This category doesn't need much explanation. Quite simply, who do you think are the best producers of some this year's best-selling records? And it's not just about what you might call 'generic pop' music, either – our list covers producers from multiple genres.
There's no ignoring the influence of house music on today's hit-parade, so you won't be surprised to find a few house producers on this list. Are they the ones responsible for crafting the year's biggest and best tracks, though? Time to decide.
Who is the best music tech personality of 2018?
Ah, YouTube. The biggest social video platform around is home to many music tech personalities who spend their time reviewing tech and teaching production techniques.
That's what we do too, of course, but the world of music tech is small and friendly, so we're happy to acknowledge some of the other brilliant personalities within it. So help us do so by casting your votes for this year's best music tech personality.
What is the best new high-end hardware synth of 2018?
Doing your sound-design in the box is fine, but there's something about getting hands-on with real knobs, buttons and sliders. And if money were no object, well, the possibilities would be endless, wouldn't they?
Which is why us synth nerds will always lust ofter those things that are, possibly, just out of our reach. Whether you can afford them or not, the release of a big 16-voice polysynth is going to set tongues wagging, and 2018 has seen its fair share.
Yep, high-end hardware synthesizers are alive and well, as evidenced by the list below. So get your vote on and tell us which one should be the winner...
What is the best new affordable hardware synth of 2018?
Even if common sense says that you don't need one, you can always find a way to justify the purchase of another hardware synth. In 2018, the temptation to add to your collection has been almost impossible to resist, especially with an ever-growing number of synths available for under £600.
But which one is the best hardware synth at the keener end of the fiscal scale this year? We've put together a shortlist of the best-reviewed products on MusicRadar over the past 12 months, and we want you to vote for your favourite.
Put your click in the relevant box below, and keep an eye out for the results soon...
What is the best new drum machine or sampler of 2018?
Electronic musicians know that there's more than one way to skin the rhythmic cat, but using a drum machine is undeniably one of the most satisfying. Equally, while you can do your sampling in software, getting hands-on with a dedicated hardware box can take you down hitherto unexplored creative avenues.
When we're judging the best new music tech gear of 2018, then (which we are, by the way) drum machines and samplers need to come into the equation. Vote for your favourite product below, and then wait on the edge of your seat until the results of our poll are published.
What is the best new MIDI controller or sequencer of 2018?
In 2018, there are more MIDI controllers and sequencers on the market than ever before. You'll find keyboards, pads and other devices that look more like they belong in a sci-fi show than a studio.
We've reviewed all the most high-profile controller and sequencer releases of the year, and the very best of them are listed below. Give your vote to the one that you think deserves it the most, and we'll bring you the results of the poll soon.
What is the best new audio interface of 2018?
Your audio interface is the forgotten hero of your studio. You might not think about it too much, but it sits there dutifully doing its essential job, never getting a word of thanks in return.
As such, we thought it only right and proper to invite audio interfaces to our gear of the year party. Below you'll find a list of some of the finest I/O boxes to have come to our attention in 2018. It's up to you to decide which one of them deserves to be crowned the best of the year.
What is the best new studio gear of 2018?
Those studio essentials - the cornerstones of all productions - have a new home in our 2018 polls. We have grouped all the hardware effects, monitors, headphones and microphones into one category for you to decide on.
Our shortlist of new products covers multiple price points, with some of the biggest names in the industry being represented. We want you to browse through the list and vote for the best of 2018: it's a tough job, but someone's got to do it.
If you're wondering where all the audio interfaces got to, there were too many to fit in here, so they get their own poll (here).
What is the best new effect plugin of 2018?
If you can think of something that you'd like to do to your audio, there's a pretty good chance there's a plugin out there to help you out. And if such a plugin doesn't already exist, someone somewhere is probably developing it.
Yep, the plugin market was already huge, and in 2018 it got even huger. We've seen new takes on old favourites, and cutting-edge processors that seek to break new sonic ground.
Our favourites from the past 12 months are listed below. Take a look and pick your favourite.
What is the best new virtual instrument plugin of 2018?
Although synths tend to dominate the virtual instrument headlines, it's worth remembering that plugins can be used to generate pretty much any kind of sound you want – whether 'real' or electronic.
You'll realise this as you browse through our list of the year's best new software instruments, which covers everything from classic keyboards to drums and electric bass. And of course, there are some next-gen synths in there, too.
Check out the runners and riders below and help us to pick a winner.
What is the best new Eurorack gear of 2018?
The ever-growing Eurorack bubble has shown no sign of bursting over the past 12 months. Indeed, we've started to see even more manufacturers vying for a slice of the modular pie.
The market is so diverse that it's hard to say that one product is better than all others, but we invite you to take a look at the list below and give it a darn good go.
What is the best new DJ gear of 2018?
There was a time when every DJ used a similar setup, but not any more. The technology is developing so fast, and in so many different directions, that it's actually getting more and more difficult to say where DJing stops and music production starts.
2018's crop of gear releases give DJs more creative options than ever before, no matter how they like to ply their performance trade. Booth hounds really have been spoilt for choice – let us know which product from the list below you rate most highly.
What is the best new iOS app or hardware of 2018?
iOS devices are getting more powerful every year, and so are the music making apps that run on them. We might not quite be at the stage when an iPad (or possibly even an iPhone) could become your primary production platform, but we're not too far away from it.
The products listed below have all played their part in making 2018 another great year for iOS musicians, but which one has had the greatest impact? Have a good think and then cast your vote.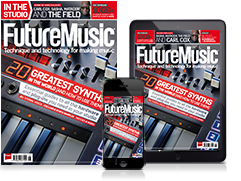 All-access artist interviews, in-depth gear reviews, essential production tutorials and much more.
Get the latest issue now!