Best in guitars 2018
As we begin to wrap up another year, it's time to reflect on what has made guitar land such a vibrant place over the last 12 months.
This year we've enjoyed some wonderfully pioneering guitar gear, inspirational players and fantastic music. Now it's time to celebrate the best that the guitar world had to offer in 2018.
We've drawn up shortlists of what we consider to be the players and the gear that made 2018 such an exceptional year for guitar. Now we want your help to crown the most deserving winner in each category.
Click through the gallery to browse the categories and place your votes. We'll start announcing winners from the start of December. You know what to do…
Voting closes at midnight on 21 November 2018.
The MusicRadar Best in guitars awards are brought to you in association with Ernie Ball. #colorsofrocknroll
Who is the best rock guitarist of 2018?
2018 has been a fantastic year for rock music, reflected in this shortlist of fantastic guitarists who have released an album or hit the road in the last 12 months.
Best rock guitarist is always a hotly-contested category and each player on this list deserves to win. From rock guitar icons still at the top of their game, to new contenders to the rock throne, which lord or lady of the riff gets your vote this year?
Last year's winner: Brian May
Who is the best blues guitarist of 2018?
Blues has never been more popular, and the list of unbelievable guitarists inspired by the genre is ever-growing.
The players nominated below sit at the very top of the blues table. Some are household names who have been laying down sizzling blues licks for decades; others are fresh faces taking the genre into bold new realms.
As the year draws to a close, we want to know who gets your motor running. Check out the list and place your vote below.
Last year's winner: Tyler Bryant
Who is the best prog guitarist of 2018?
Creativity, virtuosity and intelligence lie at the core of the world's best prog guitarists, and the musical masterminds listed in this category are at the very forefront of the genre.
Best prog guitarist is always one of the most fiercely-fought categories in MusicRadar's end of year polls, such is the unfathomable talent of the nominees, and the dedication of their fanbases.
It's difficult to ignore the supreme talents of every prog guitarist on this list, but you can only pick one. So, who would you choose as your prog guitarist of the year?
Last year's winner: Plini
Who is the best metal guitarist of 2018?
2018 has been an unbelievable year for heavy metal in both the progression and extremity of the guitar playing on display. So much so that this list was incredibly hard to whittle down.
Which guitar monsters have blown your mind with their sledgehammer riffs in 2018? Take a look at the shortlist below and cast your vote in our best metal guitarist category.
Last year's winner: Synyster Gates/Zacky Vengeance (Avenged Sevenfold)
Who is the best alternative guitarist of 2018?
Alt-rock proudly rebels against the mainstream, as do the genre's guitarists. These musicians are more than capable of plying your ears with big slabs of riff, but their music goes so much further than that in terms of sonics, attitude, depth and emotion.
There's plenty of phenomenal guitar players to choose from in the alt world - the cream of which you can see below - but who gets your vote?
Last year's winner: Emily Kokal, Theresa Wayman (Warpaint)
Who is the best acoustic guitarist of 2018?
Talent within the acoustic guitar world has reached fever pitch in recent years, with percussive acoustic pioneers, epic singer songwriters and classical phenomenons constantly pushing the envelope.
Proving that you don't need to be turned up to 11 to make the world sit up and watch, this list of unplugged masters deserve your attention, and your votes.
Last year's winner: Mike Dawes
Who is the best new guitarist of 2018?
Whilst there are plenty of guitar legends still grabbing headlines, at MusicRadar we get just as excited about emerging talent. We're talking about the players right at the start of their careers, but with all the star quality and talent to ensure we'll be talking about them in the same breath as the guitar icons in years to come.
This is our pick of the guitarists who turned heads this year. Who is your choice for best new guitarist of 2018?
Last year's winner: Chris Buck
Who is the best bassist of 2018?
The bass guitar provides an essential foundation for most of our favourite music. Without the bass, the majority of music just wouldn't feel the same.
Bass players come in many forms, just take a look at the nominee list below for proof. The question is, which low-end legend has created the backbone for your favourite music this year?
Last year's winner: Robert Trujillo (Metallica)
What is the best guitar album of 2018?
Recorded music is often where guitarists create their most defining musical moments. Getting in the studio is an opportunity for players to finely craft their riffs and make a permanent entry on the timeline of their guitar career.
The albums listed below take in everything from geek-out solo albums from the biggest names in guitar, to longplayers from well-known rock bands and one acoustic revolutionary. What unites each of them is that the guitar playing is some of the finest we've heard all year. Let us know which one tops your list this year.
Who is the best online guitar personality of 2018?
The internet is rammed with great (and not so great) guitar content. Whether it's a star player demonstrating their blistering licks on Instagram, an educator sharing their wisdom on Facebook, or side-splitting guitar spoofs on YouTube, there's plenty of inspiration to be found online.
In this new category, we want to celebrate those individuals who are truly helping push the guitar world forward with their digital content. So, get voting!
Of course, if you're not familiar with any of the personalities on this list, we heartily recommend you go give them a follow now.
What is the best guitar video of 2018?
From Rob Scallon's Shovel Metal to this awesome Racer X guitar cover, the guitar world has seen its fair share of viral video gold over the years, and when an unmissable video rears its head, it spreads like wildfire around the guitar community.
This year we've been entertained by amazing performances, unique music projects and a Foo Fighters fan living his dream, and we want to celebrate them. Check out the videos below and vote for your favourite!
What is the best new electric guitar of 2018?
This is a very prestigious award and the guitars listed below are all leaders in their field, offering amazing tone and looks, and reliability on the road or in the studio. What's more, a guitar of this calibre requires considerable research and development, testing and resources, which mustn't be underestimated when placing your vote.
This year's best electric guitar shortlist includes a brace of big guns from legendary brands, across a range of price brackets. So, which new guitar ticks all the right boxes and gets your vote?
Last year's winner: Chapman ML2 Modern
What is the best new signature guitar of 2018?
Signature guitars can be a mixed bag, but when done right they represent the ultimate combination of style and sound for fans of a particular guitarist.
The guitars nominated here are the result of hours of collaboration between manufacturer and guitarist, culminating in a guitar that, not only is the artist proud to put their name to, but one which fans will get a kick out of playing too. Which signature guitar gets your endorsement? Place your vote below!
Last year's winner: Epiphone Lee Malia Explorer
What is the best new acoustic guitar of 2018?
From ballads to busking, the acoustic guitar is a potent tool in any guitarist's collection. From budget strummers to beautifully crafted works of art, this year has seen a huge range of fantastic acoustics hitting the shops.
With so many options to choose from, which of these ace acoustics turned your head this year?
Last year's winner: Martin 00LX1AE
What is the best new guitar amp of 2018?
We've been lucky enough to get hands-on with all manner of amps this year, from punchy combos, to cutting-edge modelling amps and even a compact head approved by a modern guitar hero, and been rightfully impressed by the work the big brands have been doing behind the scenes.
Your guitar amp forms an important part of your sound, so choosing the right one is critical - thankfully there's never been more choice, and the names below are the best of 2018. Place your vote now.
Last year's winner: Blackstar HT Club 40 MkII
What is the best new guitar effects pedal of 2018?
The guitar effects you use say a lot about you as a player, so it's a pleasure to see so many options available to players looking to refine or define their sound.
From reverb and drive pedals to multi-effects and compact preamps, there were plenty of new options to boost your sonic arsenal this year. Which one topped your list in 2018?
Last year's winner: Electro-Harmonix Canyon
What is the best new guitar innovation of 2018?
Innovation is key to keeping the guitar industry forging ahead, and thankfully there are plenty of visionaries still conjuring new ways to encourage guitarists to be creative and make great music.
From unique multi-effects to portable drum machines for guitarists, 2018 has been a great year for gear progression, and these industry pioneers deserve your recognition. Take a look at the shortlist below and place your vote now!
Last year's winner: TC Electronic MASH footswitch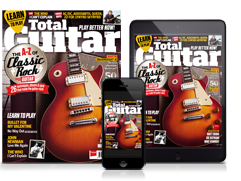 Stay up to date with the latest gear and tuition.
Subscribe and save today!