Avian's 2017 acoustic guitar range takes flight
If you've followed our acoustic reviews over the past few years, you'll have seen that Avian has made quite a splash - most notably with its exceptional Fan Fret models - and now the company has given its entire line a refresh for 2017.
The range comprises five acoustic guitars - Dove, Songbird, Skylark, Ibis and Falcon - all of which are available in Standard and Deluxe versions, while the Songbird, Skylark and Ibis also come in a multi-scale, fan-fret design.
New logos and branding appear across the guitars, which are designed by US luthiers Michael Bashkin and Harry Fleishman.
Every Avian guitar is built with hand-selected tonewoods, including an AA-grade solid Sitka spruce top and a choice of solid Indian rosewood or solid mahogany for back and sides, while solid maple is offered on the Deluxe series.
Standard series come with or without the Avian Demi-Cutaway on the Songbird, Skylark and Ibis, while the Deluxe series adds a Ryan-style arm bevel and multi-scale fan-fret design.
All guitars are available as electro-acoustics, fitted with BBand pickups, and feature fitted hardcases.
The Standard Series starts at £1,175/$1,175, while the Deluxe Series starts at £1,360/$1,360.
Head on through the gallery for a closer look at each model, and hit up Avian Guitars for more info.
Avian Dove
PRESS RELEASE: The Avian Dove is a modern interpretation on a 19th century French Parlour guitar, available in a traditional form or with a modern arm bevel design.
The Dove's tone belies its small footprint and is much loved by singer-songwriters and blues players for its tonal character and comfortable feel.
Avian Songbird
PRESS RELEASE: The Songbird is an extremely versatile, medium size guitar that is an excellent canvas for which to add our custom features such as the Demi-Cutaway, Ryan-style bevel and Fan Frets.
The dimensions, scale length and nut width will all feel very familiar and comfortable, and the Songbird is used by songwriters, flatpickers and technical finger stylists alike.
Avian Skylark
PRESS RELEASE: The skylark came to be with the intention of creating a comfortable, interesting, harmonically rich guitar that would encompass many of the design ideas Harry Fleishman had been developing over several decades.
It excels at strumming, flat picking, and fingerstyle. The off-center soundhole gives more spacial sound to the player and expands the soundboard's active surface.
Avian Ibis
PRESS RELEASE: The Ibis is a big-bodied guitar influenced by traditional large American guitars but with contemporary features and looks.
The Ibis readily lends itself to rhythm and flatpicking with power and projection, and is designed to have a generous low end response but with clarity due to the reduced body depth.
Avian Falcon
PRESS RELEASE: The Falcon baritone is designed to carry and project a huge expansive bass and fat trebles while still comfortable to play, especially with the Ryan-style arm bevel.
The Falcon is a true baritone with a 28" scale and .016 -.070" strings tuned to B, and offers the throaty low voice only achievable from a baritone.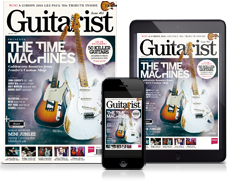 The magazine for serious players
Subscribe and save today!