Antares is, of course, most well known for its mighty Auto-Tune vocal tuner, which has become a mainstay of music production over the last 25 years. Ever since Cher sang 'Believe' in 1998, the charts have been full of this recognisable hard-tuning effect. And for Black Friday you can get half off pretty much every Auto-Tune plugin and vocal effect on the Antares site.
Nowadays, Antares has a version of Auto-Tune for every occasion and it tops our list of the best pitch correction plugins. On top of the standard Auto-Tune Artist and Pro editions that deliver the most accurate vocal tuning to date, there's Auto-Tune EFX+ which features the trusted Auto-Tune pitch correction and is also brimming with high-impact vocal effects. There's also Auto-Key 2, the dynamic key, scale, and tempo detection plug-in; Auto-Tune Vocal Compressor which analyses your track to suggest optimum compression settings; and Auto-Tune Slice which brilliantly combines the effect with the latest sampling technology.
In fact, there are a total of 11 different Auto-Tune titles, but it's not just this range that Antares is discounting this Black Friday – it has half price on a big range of other vocal processors too!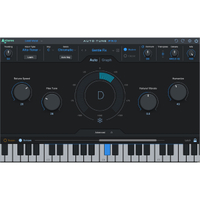 Antares Auto-Tune Pro X: Was £459, now £229.50
Described by Antares as 'the most advanced Auto-Tune edition ever' Auto-Tune Pro features the most finessed vocal tuning of all 11 Auto-Tune editions. You can process using the more standard Auto Mode or go into more detail with Graph Mode for more precise pitch and time editing.
With a new Multiview Mode that enables you to see the UI from within other plugins, Antares has clearly been focussing on ease of workflow, so Pro is probably the slickest, fastest, and most accurate Auto-Tune out there. And at half price, now could be the time to get 'pro' with your tuning. Read our full Antares Auto-Tune Pro review here.
Antares has around a dozen other vocal effects which it is slashing by 50% this Black Friday too, including Choir which produces multi-track vocals from a single source; Mutator which creates otherworldly voices; and Articulator which emulates the classic talk box sound made famous by artists including Peter Frampton and Bon Jovi.
Better still, buy any plugin and Antares will give you a one-year pass to one of its subscription services for free!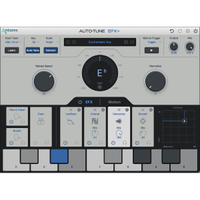 Antares Auto-Tune EFX+ 10: Was £229, now £114.50
In many ways, Auto-Tune EFX+ is the ideal all-round Auto-Tune. As well as its legendary Auto-Tune pitch correction capabilities, it is packed with other vocal effects like Breath, Reverb, Echo, Chorus, Compress, Low-pass, and EQ.
It has four modular-style effects slots which you can reorder for maximum signal flow versatility, and this latest v10 features a refreshed UI that is resizeable and supports both light and dark modes. Auto-Tune EFX+ 10 gives you the best of all vocal processing worlds, from the legendary Auto-Tune sound to every effect you need for better vocals.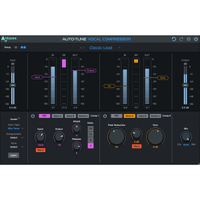 Antares Auto-Tune Vocal Comp: £179, now £89.50
Auto-Tune Vocal Compressor uses machine learning to choose the best compressor settings for your vocals so is the perfect partner to the regular Auto-Tune for a pro vocal processing experience. It features two compressors, each of which can access four popular compression types including FET, Opto A, Opto B, and Modern.
The plugin analyses your audio and comes up with optimum settings depending on which type you have chosen. Then it leaves any further tweaking up to you so you can refine your sound. Like everything Auto-Tune this Black Friday, now is the time to get a copy of Auto-Tune Vocal Compressor at half price!
Shop more software offers on our Black Friday plugin deals page.